Style
The Week In Style: 09.09.15
What worked -- and what didn't -- this week at the Deutsche Bank Championship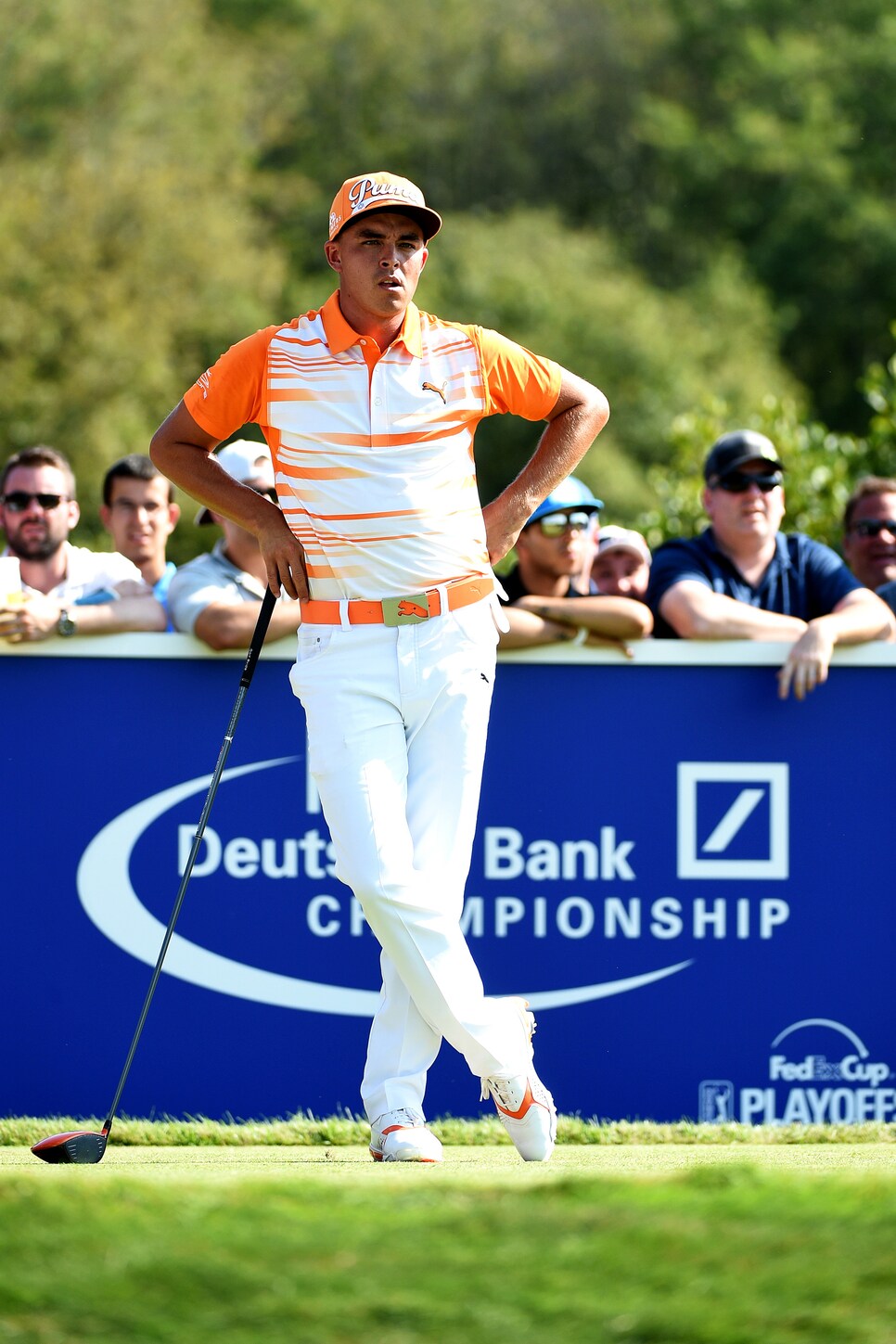 Photo By: Ross Kinnaird/Getty Images
Photo By: Ross Kinnaird/Getty Images
Photo By: Maddie Meyer/Getty Images
Photo By: Maddie Meyer/Getty Images
Photo By: Ross Kinnaird/Getty Images
Photo By: Maddie Meyer/Getty Images
Photo By: Harry Engels/Getty Images
Photo By: Maddie Meyer/Getty Images
Photo By: Ross Kinnaird/Getty Images
Photo By: Maddie Meyer/Getty Images
Photo By: Harry Engels/Getty Images
By Alex HolmesRickie Fowler
Rickie played well down the stretch on Labor Day Monday at the Deutsche Bank Championship, pulling out the W in this orange and white setup. I'm digging these multilayered stripes. Although orange has always been his signature statement, Rickie is getting better at balancing this color with the rest of his wardrobe. Well done all around.
Puma
Photo By: Ross Kinnaird/Getty Images
Zach Johnson
On the other hand, ZJ often struggles balancing bold color coordination. Yes, technically, black matches everything. That doesn't always make it the right way to go with your outfit, however. Black tends to contrast highly with whatever else your wearing. It's a good idea, then, to work other darks or soft slate shades to balance your look.
Oakley
Photo By: Ross Kinnaird/Getty Images
Jason Day
This look is as good as Day has sported of late, which isn't saying much. As I've mentioned before, it's time for Adidas to give this guy his own iconic look. That triple-stripe motif is so strong and has such incredible brand recognition it would be great if Adidas could reinterpret a unique signature for Day. Imagine if Adidas grabbed somebody from the Kanye Capsule Collection team. I'm sure he/she will rustle up something unlike anything we've seen so far. What's it gonna take?
Adidas Golf
Photo By: Maddie Meyer/Getty Images
Rory McIlroy
Rory continues to rock these Lunar Control kicks, and I've yet to see a bad color combo on them. Last weekend's choice is a new, limited edition version of the Lunar Control 3. If he could just clean up his trouser fit we'd really get a good look at 'em.
Nike Golf
Photo By: Maddie Meyer/Getty Images
Spencer Levin
Levin is the opposite of Chris Farley in "Tommy Boy" -- Skinny guy in a biiiggggg polo! Dude looks like he's teeing it up in the '93 Honda Classic.
Photo By: Ross Kinnaird/Getty Images
Henrik Stenson
Stenson is such a strong, imposing figure sometimes, but it's his simplest outfits that are his most impactful. It's hard to go wrong with a gray trouser and white polo, especially when you tie it together with that modern matte-gray belt.
Hugo Boss
Photo By: Maddie Meyer/Getty Images
Ben Evans
As much as we love the monochromatic moves, the tan-man look is not exactly what we've got in mind. Head-to-toe khaki is great for blending in with desert terrain but not a terribly flattering look in most other environments.
Chervo
Photo By: Harry Engels/Getty Images
Kevin Chappell
Nike tour pros have all adopted this ombre look, and while I still think the style is a bit off, it works best in softer, subtler colors like the shades of gray Chappell wore well Friday at the TPC Boston. This kid's got a very cool, clean and modern aesthetic, and there's not much he doesn't wear well.
Nike Golf
Photo By: Maddie Meyer/Getty Images
Jordan Spieth
Not the best week for Jordan given his second straight missed cut, but this teal blue polo sure looked good, so he's got that going for him. Spieth is obviously partial to basic blues, but we've been seeing a lot more of these saturated greens on tour. He'd do well to add a few more into his closet as they'd be a nice compliment to all that navy he's got in there.
Under Armour
Photo By: Ross Kinnaird/Getty Images
Charley Hoffman
Look closely and you'll notice Hoffman has on wool trousers as opposed to the polyester pants most players were wearing last week. Wool gets a bad wrap for being itchy and uncomfortable when in fact lightweight, worsted wools are some of the most comfortable, high-performing fabrics you can wear. No matter where you work, I'd check out some breathable wool trousers before you throw yet another pair of cotton chinos into your rotation.
Travis Mathew
Photo By: Maddie Meyer/Getty Images
Lee Slattery
The Englishman won last weekend's M2M Russian Open, and in the process gave us a great example of how to stand out stylishly in very simple setups. Pairing varying shades of gray is easy to coordinate and compliments all types of skin tones. That said, simple doesn't have to mean boring. Anytime you're working with solid pieces the smallest details can really pop. Check out the fine stripes on Slattery's collar and how they elevate the entire outfit. Slattery has been voted among the European Tour's best dressed players and with images like this, it's easy to see.
Hugo Boss
Photo By: Harry Engels/Getty Images