Social Media
The Week In Instagrams: 02.06.17
Super Bowl excitement, rowdy crowds in Scottsdale, and Sergio wins again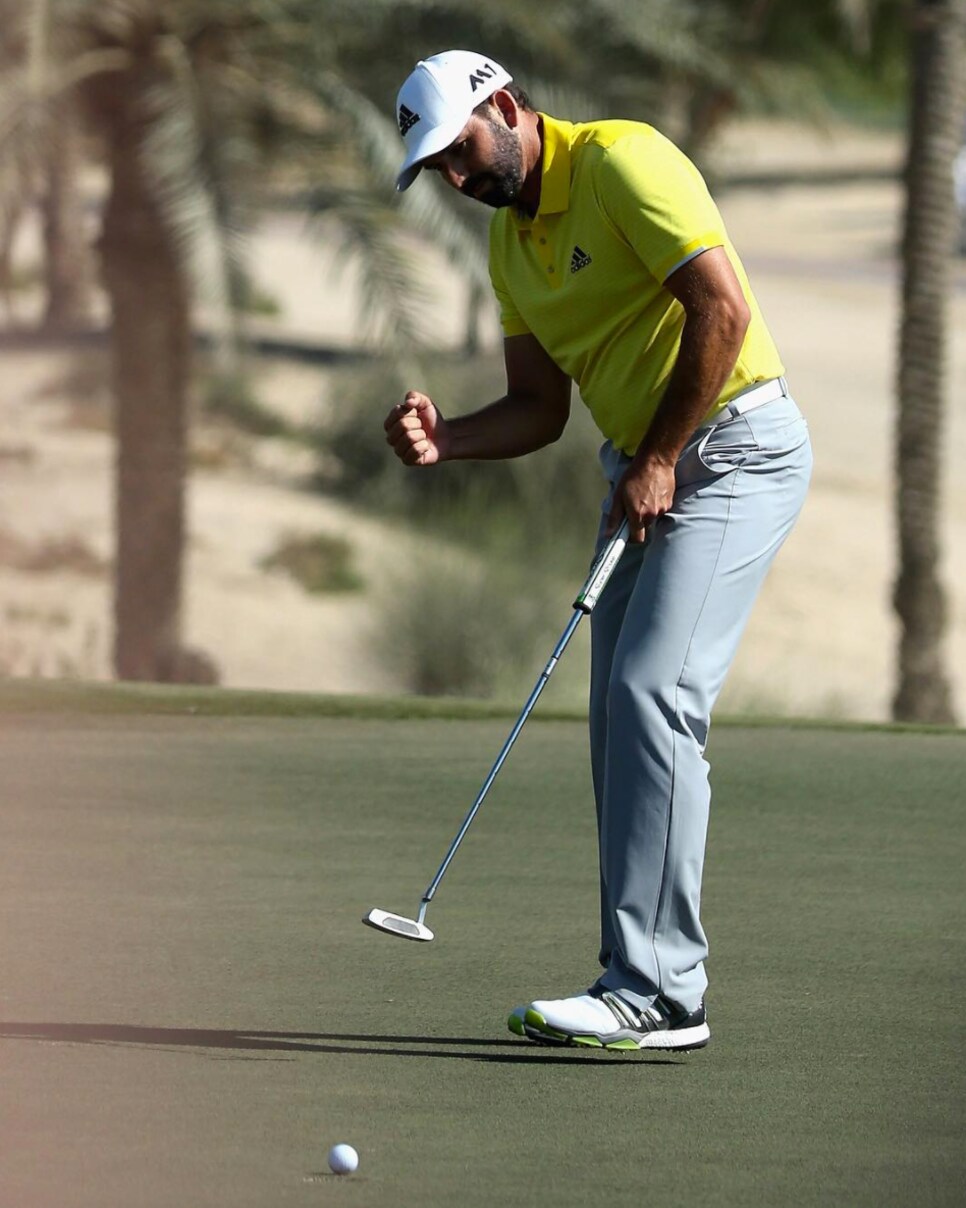 European Tour @europeantour
Celebrating before it drops 💪💪🏼 #DDC17
Golf Digest @golfdigest
Tom Brady and the Patriots have DONE IT AGAIN. Brady now has five Super Bowl rings and a single-digit handicap .
Michael Phelps @m_phelps00
Pleasure playing and watching
@jordanspieth
..... keep it up man!!!
Belen Mozo @belenmozo
It's pretty solid when you have that one person in your life 💪🏼👫pretty darn solid !
@robertfarah
#fbf #cartagena #colombia
Andrew 'Beef' Johnston @beefgolf
I had to put some of my fave
@arbys
food on here 💪🏼👫😀💪🏼👫😀😀💪🏼👫😀😀👍💪🏼👫😀😀👍🏻. Arby's wedge
Keegan Bradley @keeganbradley1
I looked over early in the 4th and
@jillian_bradley
was going rally cap, it worked! #letsgoooooo #rogerthat
Ashley Mayo @ashleykmayo
What a Saturday!
@Oakley
's suite by the 16th green was a great place to camp out and absorb the energy of the WMPO. Watching players and caddies welcome the noise and pump up the crowd was AWESOME!
Waste Management Phoenix Open @wmphoenixopen
55,654 fans attended Sunday's final round, brining the total attendance for the week to 655,434, breaking the previous weekly attendance record of 618,365 set just last year. All told, four attendance records were broken during the week of #thepeoplesopen – the weekly attendance mark, as well as single-day records on Wednesday (77,906), Friday (169,004) and Saturday (204,906). #WMPO #greenestshow #RESPECT
@wastemanagement
Carly Booth @carlyabooth
Beach time 💪🏼👫😀😀👍🏻💕💪🏼👫😀😀👍🏻💕🏖 #Melbourne #golfbabes #girlswholift #beach
Ryann O'Toole [@ryannotoole](https://instagram.com/ryannotoole
PGA Tour @pgatour
Back-to-back champion. FedExCup leader.
Rickie Fowler @rickiefowler
Tried to make a run...this one on 16 was nice to see go in!! Thanks again @wmphoenixopen for an awesome week!! A📷cred
@allanhenry
Tommy Morrissey @onearmgolfer
Cheering 4 this #GOAT #TomBrady #SuperBowl2017
TPC Sawgrass @tpcsawgrass
No. 18 A📷🔥A📷🔥🔥A📷🔥🔥🔥
Cory Bradburn @corybradburn
Must. Play. Golf. Soon.
Michelle Wie @themichellewie
Bears Club Crew ❤❤ Y'all got to check out the #BigEasyMiami Restaurant in Brickell!! It's absolutely AMAZING!! I'm officially a huge fan of South African food A📷🔥🔥🔥🤗 #SouthAfricanEats
@ernieelsgolf
Morgan Pressel @mpressel
.#happycaddyhappygolf #gopats A📷🔥🔥🔥🤗😜
Justin Thomas @justinthomas34
May have missed the cut, but got to do a little hiking this am! Came out pretty unscathed, only managed one fall by
@jilliangrace3
A📷🔥🔥🔥🤗😜😂
Natalie Gulbis @nataliegulbis
Sean Ogle @breakingeighty
I'm not sure if the 16th at Riviera was my absolute favorite par 3 from the LA trip (I think that award goes to #15 at LACC), but there's no denying, it's a damn good golf hole. Especially at sunset.
Paige Spiranac @_paige.renee
So inspired by all of the incredible Special Olympians at
@wmphoenixopen
Special Olympics putting challenge today! I feel so lucky to have been a part of such an amazing event ❤ This is what it's all about and these are my most favorite moments that I'll cherish forever. #growthegame
Lexi Thompson @lexi
Birthday dinner on the Ave for this girl
@jayemgreen
! #23