News & Tours
The most controversial captain's picks ever
Davis Love III's selections (so far) have been pretty conventional, but that hasn't always been the case with captain's picks through the years.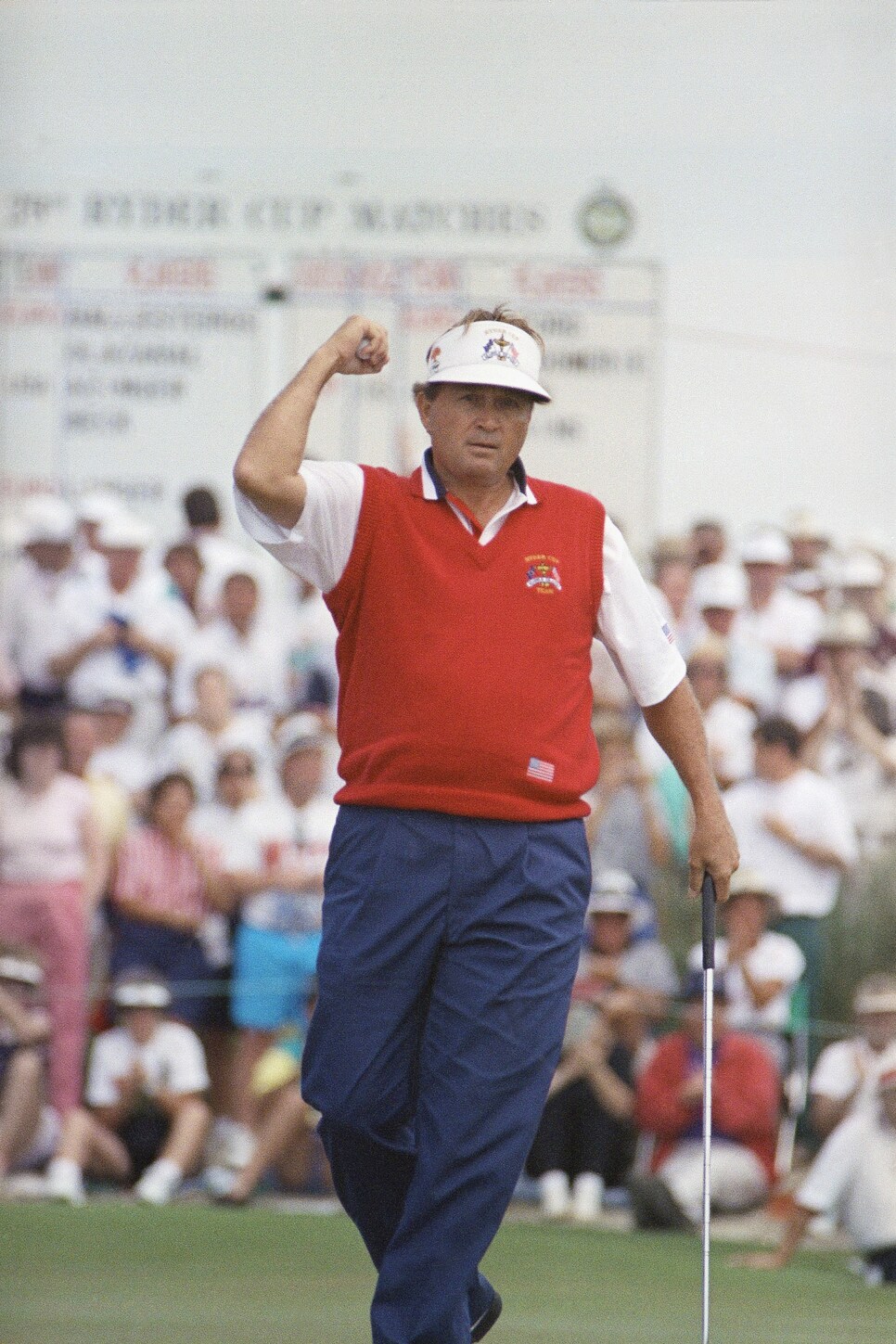 Photo By: ASSOCIATED PRESS
Photo By: ASSOCIATED PRESS
Photo By: PA Wire/Press Association Images
Photo By: PA Wire/Press Association Images
Raymond Floyd (1993 Ryder Cup)
Tom Watson tabbed Floyd, 51, as the oldest captain's pick in Ryder Cup history. The wily vet justified the selection by going 3-1 and helping lead the U.S. to a one-point win at The Belfry.
Photo By: ASSOCIATED PRESS
Curtis Strange (1995 Ryder Cup)
Fellow former Wake Forest golfer Lanny Wadkins picked Strange for the team despite Strange not having won a PGA Tour event in more than six years. The move backfired as Strange went 0-3 at Oak Hill and the U.S. lost by a point, which better explains his pose in this photo.
Paul Azinger (2000 Presidents Cup)
Despite being 24th in the Presidents Cup standings, Azinger was picked by Ken Venturi. "He's a leader, he's a team man, he's a wonderful match player," Venturi said. "I feel this could be his swan song, and I'll get more than 100 percent from him." Azinger went 1-2, but the U.S. won easily. Of course, he proved that leadership at the 2008 Ryder Cup as the U.S. captain.
Photo By: ASSOCIATED PRESS
Fred Funk/Jay Haas (2003 Presidents Cup)
Neither pick was particularly controversial (Funk was 11th in the standings, Haas 14th), but Jack Nicklaus picking both made some waves since they were a combined 96 years old at the time. They combined to go 3-4-1 in the Americans' tie with the Internationals in South Africa.
Photo By: AP
Adam Scott (2009 Presidents Cup)
Coming off a season in which he missed more cuts than he made, few thought Scott was worthy of a pick. But captain Greg Norman showed faith in his fellow Aussie. Scott only went 1-4 in the Internationals' loss, but he calls getting selected to the team a turning point in his career.
Photo By: AP
Rickie Fowler (2010 Ryder Cup)
With just a year of pro golf under his belt and zero PGA Tour titles to his credit, Rickie Fowler got the nod from U.S. captain Corey Pavin. Fowler had an up-and-down showing at Celtic Manor that included a rules violation in one match and a furious birdie rally for a halve to keep the U.S. chances alive on the final day. In the end, the U.S. lost by a point.
Photo By: PA Wire/Press Association Images
Padraig Harrington (2010 Ryder Cup)
On the flip side, European captain Colin Montgomerie was questioned for his selection of an experienced champion. A struggling Harrington was picked most notably over Justin Rose and Paul Casey, and he wound up with a 2-2 record for the victorious Europeans.
Photo By: PA Wire/Press Association Images
Tiger Woods (2011 Presidents Cup)
Similar to Greg Norman throwing Adam Scott a lifeline in 2009, Fred Couples gave the benefit of the doubt to his friend in 2011. Woods rewarded him by playing well at Royal Melbourne and securing the clinching point in his singles win over Aaron Baddeley. It was a sign of things to come as Woods, who was winless in 2010 and 2011, would go on to win eight times over the next two seasons.
Photo By: Kyodo
Michelle Wie (2013 Solheim Cup)
Despite falling to 82nd in the world rankings and having failed to win in more than three years, Michelle Wie got the nod from captain Meg Mallon. Wie went a respectable 2-2, but the U.S. got stomped by the Europeans 18-10 at Colorado Golf Club.
Photo By: AP
Webb Simpson (2014 Ryder Cup)
Simpson famously changed captain Tom Watson's mind with a last-ditch, middle-of-the-night text message, and he wound up having an overall rough time at Gleneagles. He popped up his opening tee shot in a blowout loss and then didn't play until singles when he salvaged a meaningless halve with Ian Poulter after Europe had pulled away. Oh, and he had to wear those sweaters. . .
Photo By: AP
Paula Creamer (2015 Solheim Cup)
Creamer had fallen out of the top 40 in the Rolex Rankings and had just one win in the past five years when she was picked to represent the U.S. in 2015. Many believed her selection was in large part due to her bond with captain Juli Inkster. Whether it was or not, the two got to celebrate together again when Creamer earned the winning point as the Americans pulled off the biggest comeback in the event's history.
Photo By: AP
Phil Mickelson (2015 Presidents Cup)
Yes, captain Jay Haas picked his son Bill, but he was the next man up in the Presidents Cup point standings. Phil Mickelson, to be kind, was not. At No. 30, the elder Haas reached pretty far to grab the only golfer who has played in every Presidents Cup. And the bold move played off. Mickelson was Team USA's best player with a 3-0-1 record. And as for Bill Haas? He earned the winning point for the Americans in front of his proud papa.
Photo By: AP