Frame-by-frame analysis
Swing Sequence: Tyrrell Hatton
Straight driving will make Tyrrell Hatton a valuable teammate at this year's Ryder Cup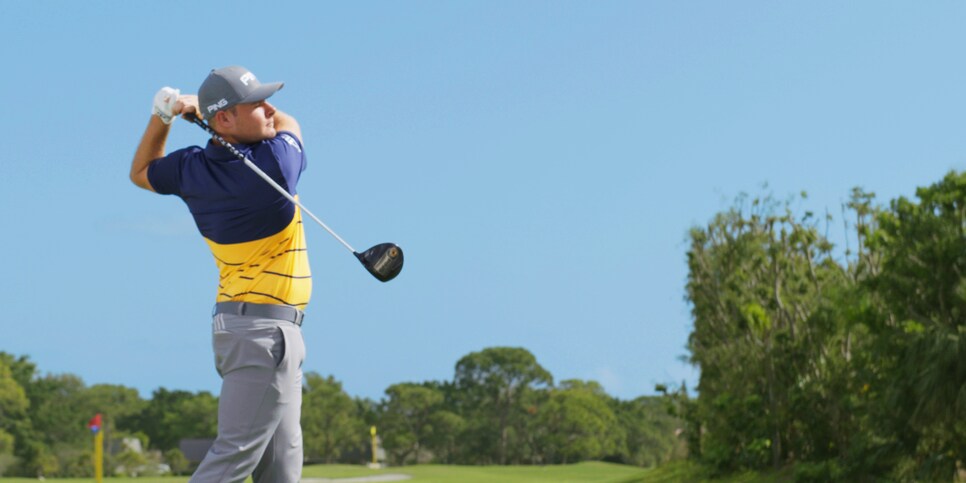 How This Ryder Cupper Hits Laser-Straight Drives
Although only 26, England's Tyrrell Hatton has a mature golf swing built over a decade that he trusts in the most pressurized situations. For that reason, unlike many pros who tinker, Hatton's practice is based on keeping his swing just the way it is.That's why Hatton's father, Jeff, describes himself as a swing mechanic and not a coach."I get involved with his game if something is off," Jeff says of Hatton, a three-time winner on the European Tour and virtual lock to play in this year's Ryder Cup. "If he's playing well, I don't need to provide input. It's been nearly 10 years since I've had to do any true coaching."Instead, the Hattons focus on Tyrrell's setup, two positions in his backswing (the start and the top) and good balance. The goal is to produce a swing that produces the straightest ball flight possible. Tyrrell says he shapes the shot only when necessary."Ninety percent of the work we do in the studio is with launch monitors and high-speed video," Jeff says. "My eyes are mostly drawn to the sidespin numbers. The less, the better!" — E. Michael Johnson
GETTING READY
A good swing starts with the basics, says Jeff Hatton, Tyrrell's father and swing coach. They constantly check things such as alignment, balance, shaft lean, etc. When it comes to gripping the club, Tyrrell's left-hand position is a little weak. "He likes to see only one knuckle," Jeff says.
---
PRO-FILE: TYRRELL HATTON
AGE: 26 / 5-9 / 165 pounds/ Marlow, England
DRIVER: Ping G400 LST (8.5 degrees)
BALL: Titleist Pro V1X
CHECKPOINT ONE
The Hattons constantly monitor Tyrrell's takeaway. "Although it's difficult to see from this camera angle, we're looking to make sure the shaft is parallel to his foot line when it's parallel to the ground," Jeff says. "We also want the clubface matching his spine angle."
PLANE TRUTH
Tyrrell swings back with minimal lower-body movement, which promotes balance and helps set the club on plane. "The shaft is rarely off plane in Tyrrell's swing," Jeff says. "If we get in the proper slot, we're good. If not, his tendency is for his swing to be too vertical."
CHECKPOINT TWO
Notice the butt end of the driver is directly over the right heel at the top of the swing. That's ideal, Jeff says. Hatton's weight is loaded onto the back foot, and it's even from heel to toe. The shaft is short of parallel and the left knee turned in. "Tyrrell should be feeling very balanced in this position," Jeff says.
SPECIAL DELIVERY
Hatton's downswing fosters the lag many tour pros possess and sets the club in a great position for impact. "We want the shaft to be parallel to the foot line on the way down," Jeff says. "That delivers the club in a straight line to the target."
COPY CAT
At impact, Tyrrell's left arm is slightly bowed, like Jordan Spieth, to keep the clubface square to the target longer.
After impact, he's up on his toes, like Justin Thomas, because it helps generate more power, Jeff says. "He's been doing that since he was a young boy."
STICK IT
Despite getting up on his toes, Hatton returns to the ground and plants his left foot solidly ending the swing with his hips properly facing the target, Jeff says. The orientation of the hips facing the target is key, Jeff adds, but "most importantly, it's a balanced finish," he says.
"Everything we do works toward a philosophy of aim straight, hit straight." — Jeff Hatton