Frame-by-frame analysis
Swing Sequence: Robert Streb
A throwback swing with some modern touches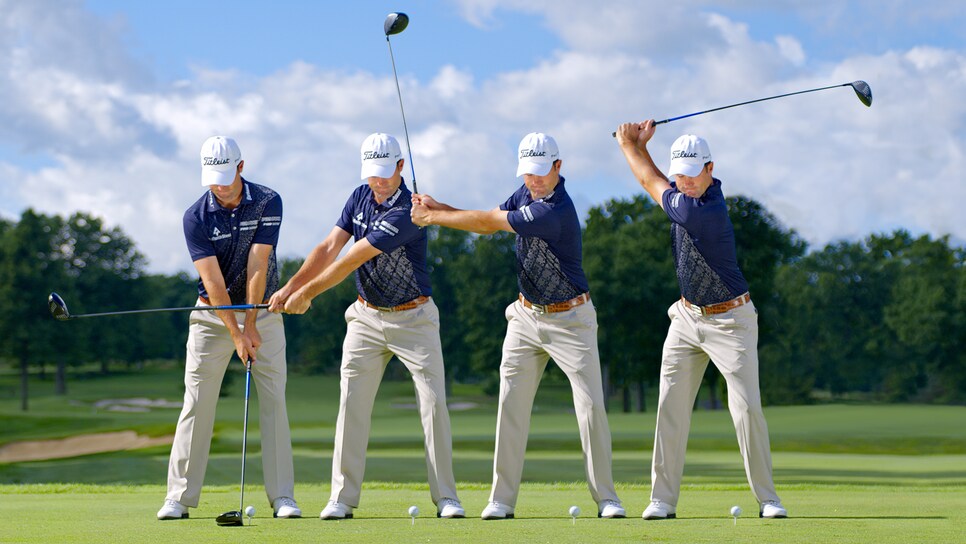 Robert Streb might be best known for his prowess with a sand wedge–not from the bunkers but on the green. During the final round of The Greenbrier Classic in July, he tossed his putter back to his bag, and the shaft snapped. Because the rules didn't allow him to replace the club, he putted with his 56-degree, making five birdie putts–including a 25-footer–to get into a sudden-death playoff, which Danny Lee won.But Streb, a Kansas State grad who just finished his third year on the PGA Tour, should be known for his smooth swing and exceptional ball-striking. A look at these sequence photos reveals solid technique that should keep him around while he refines it with teacher Tosh Hays, director of instruction at Coffee Creek Golf Club in Edmond, Okla.Better yet, Streb's demeanor rarely changes. Not only was he unfazed by the putter incident, he kept his cool in August when he learned that, because of a mathematical error, he went from 12th to 16th in Presidents Cup points. The PGA had miscalculated his McGladrey Cup win. "Hey, it's human error," he said. "These things happen." Good swing, even better attitude.
PRO-FILE: ROBERT STREB
Age: 28 / 5-10 / 165 pounds
Resides: Shawnee, Kan.
Driver: Titleist 913D3 9.5 degrees
Ball: Titleist Pro V1x
LOOK MA, NO GLOVE
His instructor, Tosh Hays, wants Streb to have sound fundamentals and the ability to work the ball. It starts with a grip that promotes good feel. Not only does Streb skip wearing a glove, he puts all 10 fingers on the club. "He was a hockey player when he came to me at age 16," Hays says. "I saw no reason to change it."
GREAT EXTENSION
Streb takes pride when others say his swing is a throwback to an earlier era. "The high-hands finish influences other positions in his swing," Hays says. "Going back, Robert has only a small hip turn, and I love the tremendous arm extension. He takes the club back much straighter than when he was in college."
IDEAL AT THE TOP
Streb's swing used to be flatter at the top. "A few years ago his hands would be level with his head here," Hays says. "Now he's more upright, and his hands are not behind him." Note the clubface is slightly closed, perfect for hitting a controlled draw. "This position holds up well under pressure," Hays says.
HIDDEN POWER
"I always say you don't need to know a lot about the golf swing, but you do need to know a little about yours," Hays says. "Starting down, Robert knows his power comes from hitting it solid, not swinging hard. One key is leading with his lower body and transferring weight to his left foot." That starts the chain reaction into the ball.
LAUNCHING IT
At impact, Streb looks like the best player from another era: Jack Nicklaus. Streb's head is well back, but his weight and hands are forward. "He's feeling the release of the clubhead with his forearms, which creates speed," Hays says. "I love the bowed left wrist and the angled stripes on his shirt, showing he's swinging up on it."
OLD-SCHOOL FINISH
"Robert has awesome arm extension in the through-swing," Hays says. "One thing he's working on is keeping his left foot planted as he swings through the ball, which would give him a more stable base."
Those high hands in the finish position, Hays says, promote a draw–and who doesn't like that?