Golf Instruction
Swing Sequence: Justin Thomas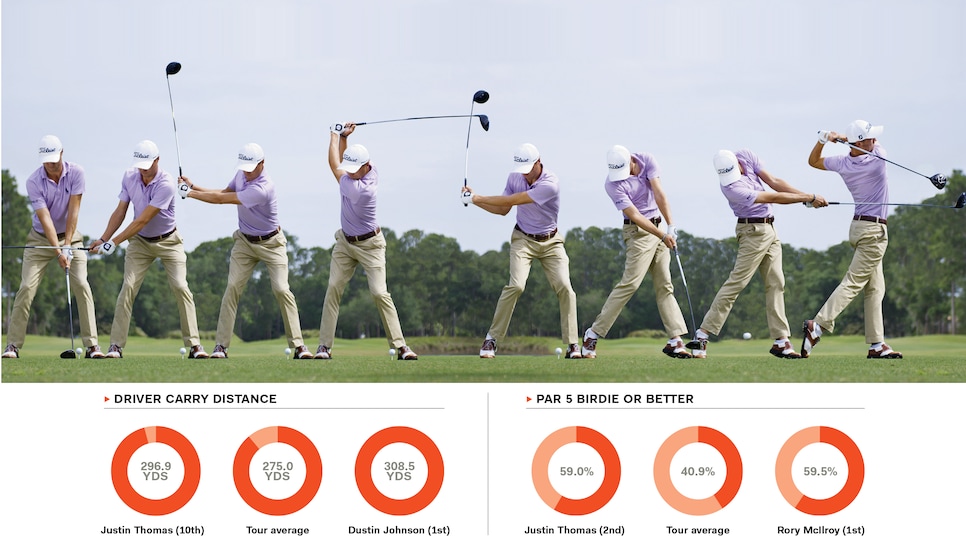 Age: 22 | 5-10 | 145 pounds | Jupiter, Fla. | Driver: Titleist 915D4 7.75 degrees | Ball: Titleist Pro V1xJustin Thomas is a PGA Tour rookie, but he sure seems like he has been around, partly because of his golf pedigree. His grandfather, Paul, played in the U.S. Open and U.S. Senior Open, and his father, Mike, is the pro at Harmony Landing Country Club in Goshen, Ky. That's where Justin learned to play, mostly by hanging out with the members starting when he was 3."I taught Justin a lot less than I taught other students," Mike Thomas says. "I'd tell him, 'I can give you five minutes, but then I might need to go teach Mr. So-and-So.' " As a result, Justin figured out a lot on his own.At age 7, he watched Tiger Woods win the 2000 PGA at Valhalla Golf Club in nearby Louisville. That made a huge impression, and could be where he learned his incredible hip speed through the ball. "You can't teach that," his father says. "I've been more like a coach with him than a teacher."Justin played two years at Alabama, where in 2012 he was voted the nation's top collegiate golfer. Now he's hitting it with the longest drivers on tour, averaging 301 yards (T-17). "I got lucky and had an easy student," Mike Thomas says.
LOOKING ATHLETIC
"I always tell my students that good players look like they're going to hit a great shot at setup," says Justin Thomas' father and teacher, Mike. He notes that Justin looks athletic, his legs flexed and arms extended. Halfway back, his lower body has hardly moved, but his hands and the clubhead are well away from his body.
WIDTH STARTS HERE
As Justin's left arm reaches parallel to the ground and his shoulder turns under his chin, his legs are exactly where they were at address. "This is the sign of a stable lower body and the creation of torque," Mike Thomas says. "Also notice his head tilts to the right—that's just part of the personality of his swing."
TURNING ON TOP
Although Justin's hips don't turn much, his shoulders rotate a full 90 degrees. "That resistance of the upper body against the lower is a huge power generator," his father says. Justin's left knee at the top has not changed much from address. "The golf swing is from the waist up, and the lower body supports that."
DON'T FIX THE FOOT
Starting down, see how Justin's right heel comes up and out? "It's another part of the personality of his swing," his father says. "We worked on keeping it down, and he couldn't hit the ball at all. So we forgot about that." Thomas also notes that Justin's hips have turned much more than his shoulders through impact.
EFFECTS OF POWER
Even Justin's front foot comes off the ground, similar to other bombers like J.B. Holmes and Bubba Watson. "Something's gotta give when the club's coming in at 118 miles an hour," his father says. "He keeps his spine angle and head position. And you can draw a line from the clubhead up the shaft to his left shoulder."
PHOTO FINISH
"His position past impact shows extension and speed," Mike Thomas says. He notes that the finish is only a result of what happened before: "The ball is gone, so the finish doesn't influence anything," he says. "But balance is an indicator of a good swing. As in the setup, Justin looks athletic, like he just hit a great shot."