Instruction
So You Want to Be a Caddie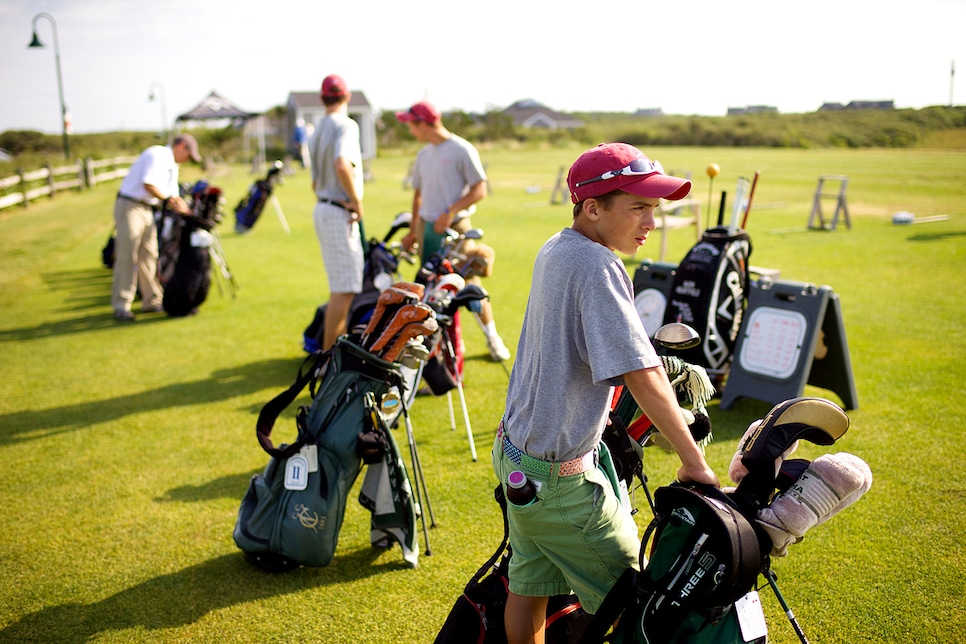 Photo By: Jensen Larson Photography
Photo By: Jensen Larson Photography
Photo By: Jensen Larson Photography
Photo By: Jensen Larson Photography
Photo By: Jensen Larson Photography
Photo By: Jensen Larson Photography
Get training.
Most club caddie masters hold an orientation/training session for prospective caddies prior to the beginning of the season. These sessions orient you both to the club itself and to the job -- where to stand, how to hold the bag, how to take care of divots, keeping clubs clean, tending the flagstick, etc.  Don't miss it. And don't be afraid to ask questions when you're there. It's good to have the caddie master, who assigns loops, know your name. One of the most basic questions is, "Do you schedule individual caddies or is it first come, first serve?" That makes a big difference as to when you have to be in the caddie yard.
There are training films on the web that can help, too.
Photo By: Jensen Larson Photography
Be brave. Most golfers don't bite.
It's daunting to walk into the world of private clubs, much less the sanctum of a golfer's round. For some kids, it's plain scary. Just know the nerves will calm and you'll meet golfers and staff members who will go out of their way to help you get comfortable. You'll not be asked to do more than you're capable. And if you should be, say, asked to "read" a putt that you have no clue about, just say, "I don't know." No demerits for honesty. Golfers are often asked to rate their caddies. Ask the caddie master for feedback when someone rates you. You'll learn faster that way.
Photo By: Jensen Larson Photography
Attitude is everything.
Dan Costello of Caddiemaster, which staffs and manages caddie programs for resorts such as Whistling Straits and Pebble Beach, says dress professionally, and present yourself with confidence, even if you might not be feeling it. He sounds like your Dad. "Look people in the eye. Shake their hand with a firm handshake. You see so many kids who aren't like that. I wasn't like that as a kid. I was shy. I wish my parents had coached me to be better on that."
Photo By: Getty Images
Talk to kids who caddie already.
Whether you're a golfer or not, talking to caddies will really help. They will begin by giving you the universal caddie commandments: Show up. Keep Up. Shut up. But they'll tell you a lot more about how things go during a round, tricks to tracking a ball, how to deal with different personalities and what they want from a caddie.
Photo By: Jensen Larson Photography
Live in the right part of the country.
At clubs in the Midwest, where the Evans Scholarship was born, and the East, home to the Ouimet and Widdy Neale grant programs,  caddie programs thrive. In the South and Southwest, services like Caddiemaster take care of exclusive clubs and offer caddying as a kind of luxury, and those companies also offer jobs. Sometimes you can make an arrangement with a golfer neighbor or friend who plays at a local course where there are no caddies but would like to have one. You work for him.
Photo By: Tom Fowlks
Get to know the game.
If you don't play golf, talk to friends or family members who do. It's a simple game in some ways, but complicated in its rules and etiquette. Ask golfers you know about why they play, what makes a round fun, and if they've ever taken a caddie. If you do play, think of what you do for yourself. Keep the clubs clean. Take care of the turf. Read putts. Tend the flagstick. You know a lot already.
Photo By: Jensen Larson Photography
Develop the first caddie virtue: patience.
You'll do a lot of waiting, both before you're assigned a bag and during the round. Use the wait to get to know other caddies and learn from them. On course, use the walk itself to work off any "antsy-ness." Remember, they're going to pay you for this!
Photo By: Jensen Larson Photography
Be part of the team.
Geoff Ogilvy, the great Australian tour player, talked about the player-caddie relationship at the pro level. Some of what he said applies to amateur caddying as well: "The hardest part of the job is keeping the player happy. That means talking only at the right times, not talking at the wrong times – and saying the right things when you do say something." Don't overdo it, of course, but once you know what a good shot is, occasionally praising your player for hitting one won't hurt. Think of yourself as a team, and if he's smart, he'll reward you for that.
Photo By: Jensen Larson Photography