The Masters
Rory's Bulletproof Plan For Augusta
9 keys for McIlroy to win the Masters and claim the career Grand Slam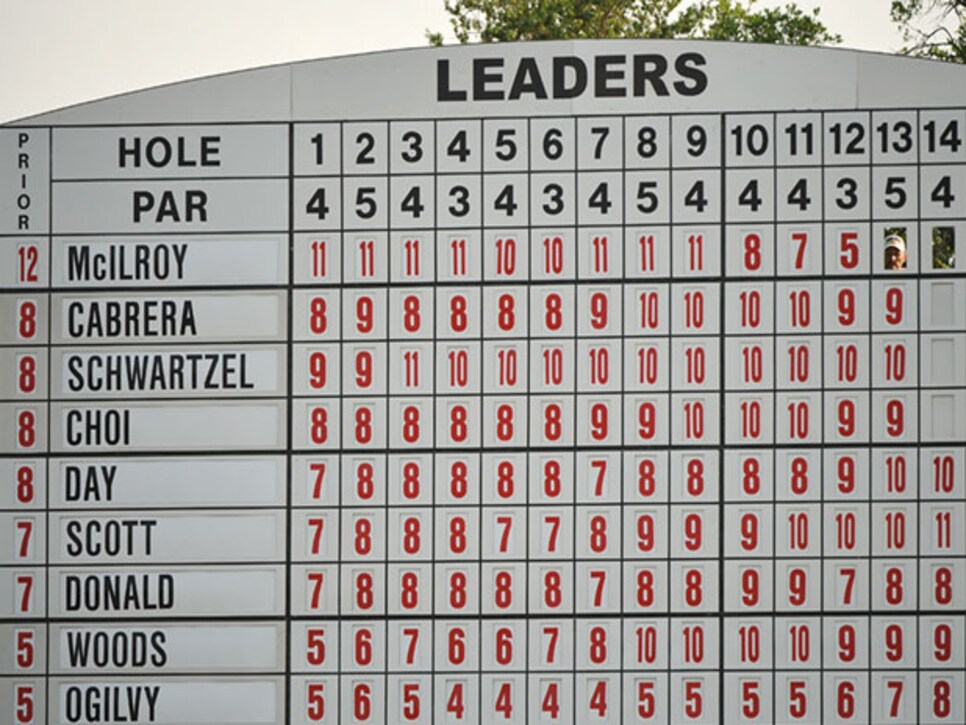 Stay away from the blow-up round
Sure, this seems obvious. But except for his debut in 2009, McIlroy has never played the Masters without shooting at least one round of 77 or worse. The big numbers explain how his scoring average is over par at Augusta (72.364) despite shooting par or better in 14 of 22 rounds. Only two champions have shot a 77 when they won (Sam Snead, 1952; Nick Faldo, 1989), so it's critical Rory keep from going AWOL one day next week.
Welcome some rain
In all four of his major championship wins, McIlroy has benefited from a course softened by wet weather. Given Rory's reliance on playing the game in the air, soggy conditions naturally work to his benefit. His distance advantage off the tee only is amplified if balls aren't running out. That's not to say McIlroy can't win if Augusta plays firm and fast. But it will require him to work harder to do it.
Tighten things up on the par 5s
In 2013-'14, McIlroy led the PGA Tour in par-5 scoring (4.55). He makes his share of eagles and birdies on the three-shotters at Augusta as well (36.36 percent conversion rate) but also strangely makes a lot of 6s and 7s. His bogey or worse percentage on par 5s is 13.64 percent, not all that different than on the par 3s (14.77) and par 4s (15.26) -- and worse than his rivals.
Take advantage of his superior driving game
McIlroy averages 305 yards with his driver, but where he's improved the most the last two years is his ability to stay in play with the club. When he won at Hoylake and Valhalla last year it was thanks largely to being almost automatic off the tee. Augusta doesn't require the precision other major venues do, but it still behooves you to be in the fairway on a regular basis. If McIlroy plays from the tee with confidence, it allows him the best chance to succeed.
Control distances with his irons
Last season, McIlroy ranked in the top 16 on tour in approaches from 125 to 150 yards, 150-175, 175-200 and 200-225. By comparison, no one else ranked that high in more than two. It's another area where McIlroy has sped past his peers. With proper distance control, McIlroy can more precisely determine when to attack hole locations at Augusta. More specifically, he'll know when to take his foot off the gas and hit to conservative parts of greens on certain holes, still giving himself birdie opportunities but keeping bogey (or worse) out of the equation.
But don't put himself in spots where he can three-putt
The downside with playing to conservative parts of the greens at Augusta is being too conservative, and then leaning too heavily on your short game. Interestingly, McIlroy's three-putt avoidance stats on tour are suspect. He ranks T-95 this season and before ranking 13th in 2014, he had never been better than T-58. Likewise, McIlroy's short putting is surprisingly poor. Except for 2012, McIlroy has never ranked better than T-125 from three feet or shorter, missing 10 in the last two seasons. Tiger Woods missed only nine from 2003-'09.
Take a 4 on the par-4 10th and run to the 11th tee
We all remember the final round in 2011, McIlroy staring helplessly from beside the cabins left of the fairway as he began to give away the Masters that was his to lose. His triple-bogey 7 wasn't the only time, however, that "Camellia" has given him headaches. McIlroy is 12 over on the hole for his career, and has never made a birdie on it in competition. His 4.545 scoring average is by far his worst on any individual hole at Augusta.
Take a 4 on the par-4 11th and run to the 12th tee
McIlroy's play on No. 11 isn't much better. He's six over on "White Dogwood" during his career with a 4.273 stroke average. When he birdied the hole in the final round last year, it was just the third time he had done so in his career.
Continue to capitalize on Nos. 13-18
Since McIlroy has so frequently spit the bit before getting to the final six holes at Augusta, his performance coming into the clubhouse hasn't gotten much attention. However, Rory plays this finishing stretch really well. He is 12 under for his career on Nos. 13-18, which is remarkable considering he's eight over for his career on all holes at Augusta. Should he be in contention on the back nine on Sunday, history suggests the holes favor his chances of winning his first green jacket.