Swing Sequence: Ben Curtis
As a rookie Ben Curtis won the British Open in 2003. Find out how he hopes a change in swing path will yield more PGA Tour wins. View frame-by-frame photos with swing analysis by Steve Johnson, the Director/Instructor for Hank Haney Golf.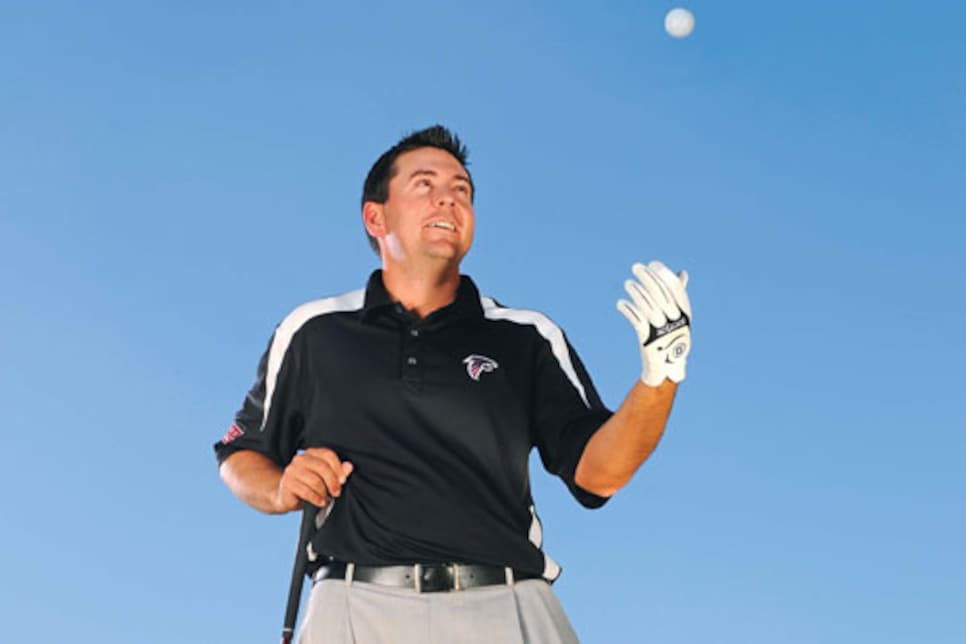 HAVIN' A BALL
AGE: 31 | HEIGHT: 5-feet-11 | DRIVER: Titleist 907D2 | BALL: Titleist Pro V1x | 2008 DRIVING DISTANCE (RANK): 284.7 yards (121st) | 2__008 SCORING AVERAGE (RANK):__ 69.98 (13th)After winning the British Open as a rookie in 2003, I think the pressure to win again got to me. When I first came out on tour, I just wanted to make cuts, but after that win, I started pressing. So last year I went back to focusing on making cuts, and it has helped me be a more consistent player. That mind-set put me in position to win more often, especially in the second half of last season. I'm feeling more comfortable now and having more fun.-- Ben Curtis
SWING KEY: A NEW ROUTE TO SUCCESS
Curtis hopes a change in swing path will yield more PGA Tour winsBy Ron KaspriskeMany golf fans remember that Ben Curtis won a British Open, but he has two more victories on the PGA Tour and helped the U.S. team reclaim the Ryder Cup last fall, beating Lee Westwood in his singles match. It seems appropriate to list some of the highlights on his résumé, says his teacher Steve Johnson, because most people don't know how good a golfer Curtis really is."I'm telling you, he has the kind of mind that can win tournaments," says Johnson, who teaches at the Hank Haney Golf Ranch at Vista Ridge in Lewisville, Tex. "Ben keeps his thoughts simple, he's patient, he battles through adversity, and he's not easily rattled. He doesn't need someone standing behind him trying to analyze every shot. He wants to understand his mistakes and the corrections, and then practice them during off-weeks."At the top of Curtis' to-do list is to groove a better swing shape for more power and accuracy. Early in his career, according to Johnson, Curtis swung the club back too far to the inside, which caused him to make a series of compensations to get it into a good hitting position. In doing that, he relied too much on his timing. "Like a lot of players, Ben would have to save the shot by manipulating the club with his hands at impact," says Johnson.To improve Curtis' consistency, the pair has been working on the first part of the backswing. "One key is getting Ben to hinge his wrists up and down as if he was hammering a nail or casting a fishing rod. Combine that with the proper turn and forearm rotation, and he's able to keep the club in position to produce more consistent and powerful shots."Curtis' new swing is a work in progress, though. As Johnson reviewed these photos, he noticed remnants of the old swing still lingering (see Johnson's frame-by-frame comments). "I've seen improvements each time we've gotten together. Ben, or any pro golfer, gets more confidence in a technique change when he can see that the change is producing better results," says Johnson. "The new swing is definitely starting to take."
Frame 1: Ben has strong legs and quite a bit of knee bend, which makes his upper-body posture more upright. He's set to swing the club around his body, but careful not to get too far inside.
Frame 2: This early wrist hinge counters his old habit of swinging the club too flat going back. It results in the clubhead starting outside his hands in the takeaway.
Frame 4: His left knee moves behind the ball to allow more turn on the backswing. Then, when he starts down, his lower body makes an aggressive move toward the target.
Frame 5: We're trying to keep his right heel on the ground longer in the transition to the downswing. This lifting is a carryover from his old swing.
Frame 6: Check out the back of Ben's left hand at impact: It faces the target, proving he has squared the clubface.
Frame 7: Ben's fast hips lead the way coming down (frames 5 and 6), but his shoulders catch up through impact.
Frame 8: Curtis' new swing is a work in progress, though. As Johnson reviewed these photos, he noticed remnants of the old swing still lingering.