Courses & Travel
Wounded Warriors Tour Ireland
Golf Digest sponsors the U.S. Wounded Warriors on a tour of Ireland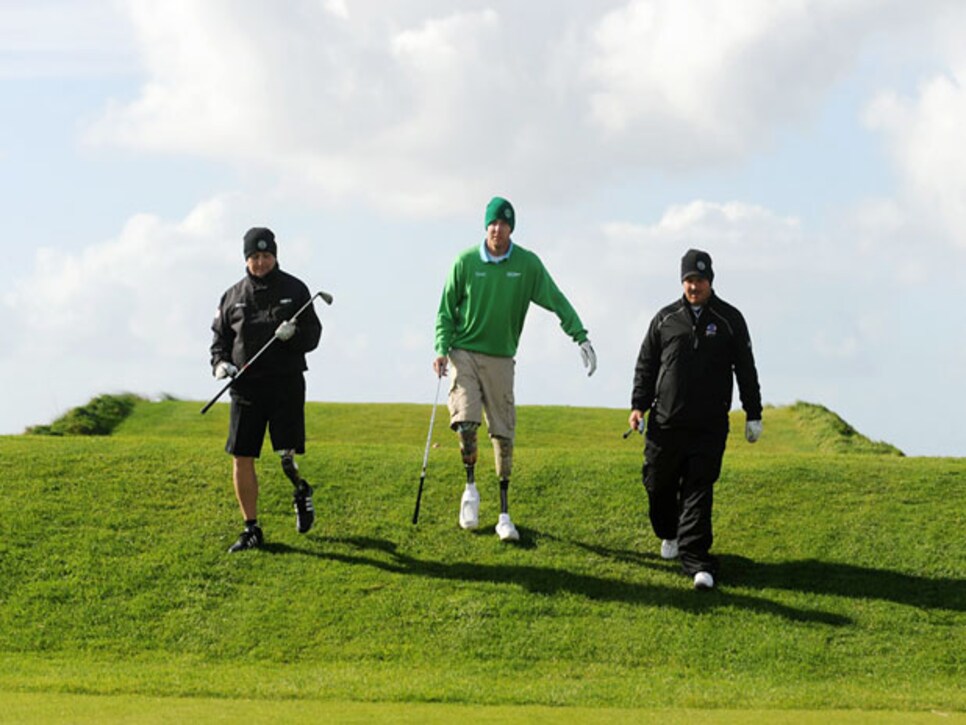 Chad Pfeifer from Arizona, B.J. Jackson from Iowa and Ed Pulido from Oklahoma make their way down Ballybunion Golf Club's eighth hole.
B.J. Jackson tees off on Ballybunion's opening hole.
Ed Pulido and B.J. Jackson pose at Ballybunion.
Ramon Padilla from the DC/Maryland area (originally from Mexico), prepares to tee off at Tralee Golf Club. Sgt. Padilla joined the Army in February of 2000. He was part of the 173rd Airborne Brigade serving Afghanistan when he was struck by a rocket-propelled grenade (RPG) on July 8, 2007. His injuries included severe brain trauma and loss of his left arm.
Wounded veteran Brian Donarski poses with a statue of Arnold Palmer, the course designer of Tralee Golf Club.
Wounded veteran Diana Trevino, center, from Oklahoma, with her guest Aubrey McCormick, left, and veteran Tim Lang, left, from Michigan, and Golf Digest Irish Tours staff Colin O'Brien, right, dining at Tralee Golf Club.
The Killarney Jaunting Cars tour of Killarney National Park offers site seeing the old-fashioned way.
The tour arrives at Waterville Golf Links.
Ed Pulido prepares for a round of golf at Waterville Golf Links
Ramon Padilla celebrates making a par putt on Waterville Golf Links' 14th hole.
B.J. Jackson takes his second shot on the first hole at Old Head Golf Links.
Chad Pfeifer chips onto the 2nd green on Old Head Golf Links.
Danielle Green, a standout basketball player at Notre Dame before serving in Iraq, now devotes her athletic talent to golf.
Ramon Padilla tees off at Waterville Golf Links, where he rarely missed a fairway.
The wounded veterans lay a wreath at the Ringfinnan Garden of Remembrance in Kinsale, where 343 trees were planted in honor of the firefighters who lost their lives at the Twin Towers Disaster on September 11, 2001.
Chad Pfeifer, at Dromoland Castle Golf Club on the last day of the trip.
Chad Pfeifer, in the glow of holing a long putt.
Danielle Green, who lost her left arm in Baghdad in 2004, contemplates the ninth fairway at Royal County Down.