Golf Courses & Travel
Photo Essay: Sand-Green Courses
The golf courses are short, the people playing them friendly, the vibe about as unstuffy as the game can be. And there isn't a blade of grass on the greens.Click on the "ENLARGE" button to enjoy expanded images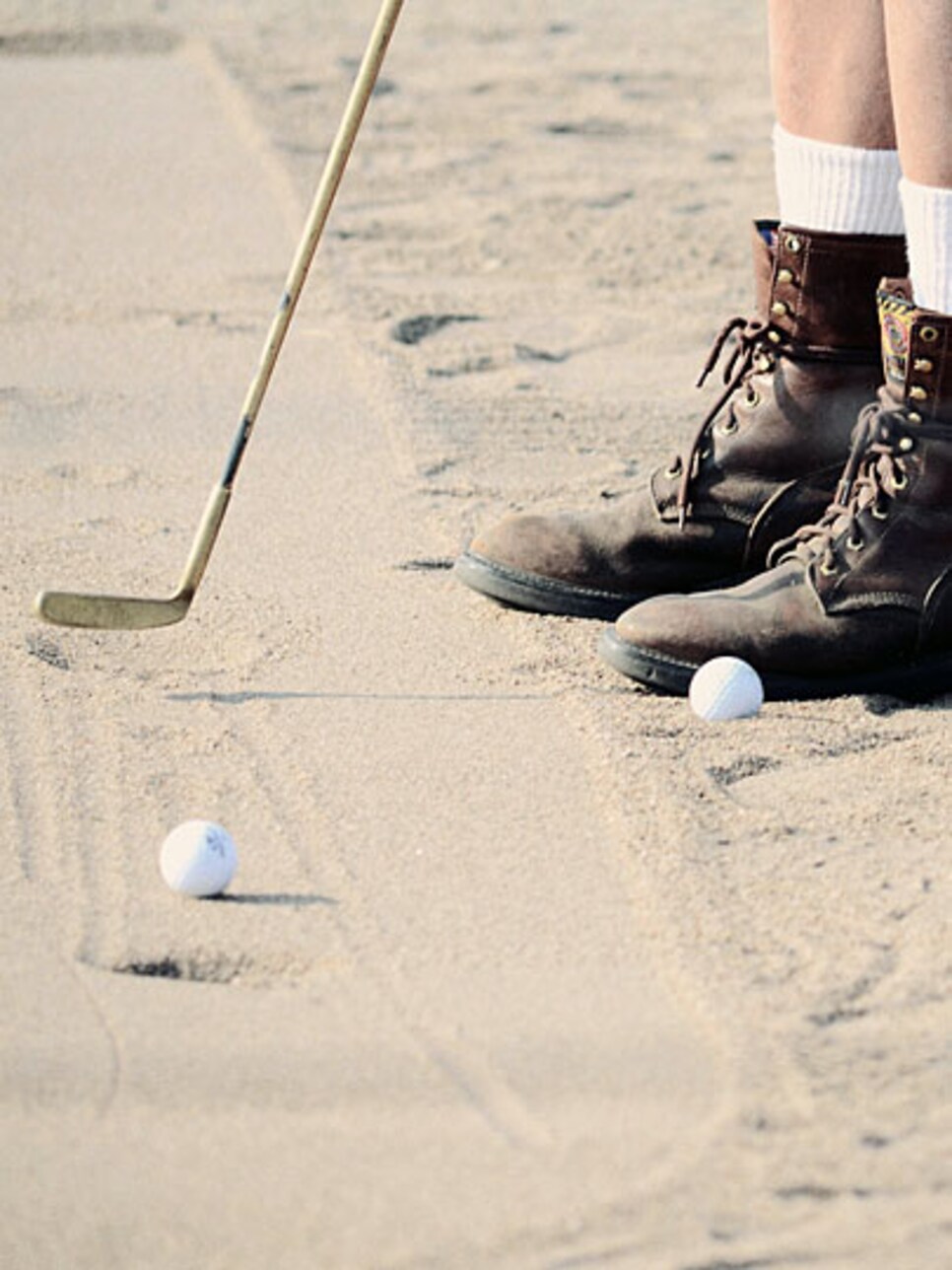 Sand-green courses, of which there are an estimated 100 or so left in the United States, mostly nine-holers in the Great Plains, offer about as basic a golf experience as a person can have.Fairways are usually mowed once a week, and the grass is as green as Mother Nature -- not a superintendent or club president -- decides it should be. Situated in small towns and rural locales, sand-green courses are about camaraderie and competition not finely manicured turf or fancy clubhouses. (There may be an important lesson in that attitude.)As for putting on dirt (sand moistened by biodegradable oil these days), it is different. Once every player in a group has reached the flat green, typically a 30- or 35-foot diamater circle, there is symphony of activity. You don't putt from where your ball ends up but from an equivalent distance along a corrider smoothed by a heavy "drag" or "mop." After completing a hole, the sand is raked for the next group.Stimpmeter and sand greens don't belong in the same sentence, because the surfaces aren't very fast, but they putt better than you would imagine. It's interesting that two very fine putters, Mark McNulty and Hale Irwin, each started out in golf on sand greens. You have to give the ball a firm rap to get it to the cup.I'd never been to a sand-greens course until visiting four of the throwback layouts during a recent trip to Nebraska. There are fewer than 20 left in the Cornhusker State. I photographed four: Fairview GC in Pawnee City; Riverside GC in Central City; Lawrence (Neb.) CC; and Dannebrog (Neb.) GC.
Dan Sunneberg, a farmer, putts on No. 2 at Fairview GC in Pawnee City, Neb., which opened in 1922, while Garry Klein looks on. The tee shot on the quirky, uphill par-3 plays over a hog barn used during the annual county fair on the property.
Sand-green courses are mostly located in low-key, rural settings. This is Riverside GC, next to the Platte River in Central City, Neb.
Jerry Streff and his son-in-law, Neal Jacobson, on the second green at Lawrence (Neb.) CC, a 2,820-yard course that is home to the Cow Chip Open.
Don Barnett looks for a wayward tee shot on the fourth hole at Fairview GC in a setting befitting the "Cornhusker State."
The hues of sand-green courses are often muted, in sharp contrast to a colorful pair of chairs outside the brightly colored clubhouse at Riverside GC.
Motorized carts are a common part of the culture at sand-green courses in the Great Plains, but Karol Evans, shown on the first hole at Lawrence CC, was hoofing it on a hot July day.
An unusual cart decoration -- turkey feathers and an antler -- was a backdrop for Tim Nicholas as he hit a tee shot at Riverside GC.
A late-afternoon view of the fourth green at Fairview GC. "They're not very big," member Terry Borcher says of the club's putting surfaces. "If you three-putt a sand green, you're not doing a very good job."
A golfer rolls a putt on a green at Riverside GC. In less environmentally-conscious days, courses put used motor oil in the sand. "Now, we apply about six gallons of mineral oil to a green once or twice a year," says manager Tim Nicholas. "The sand will stay on, and it putts a lot easier. It compacts it. In the old days, with that nasty motor oil, your shoes would get black and your ball a little greasy, but you could really putt."
The mowing equipment at Dannebrog (Neb.) GC. Caretaker Tom Lauritsen mows the 2,660-yard course about once a week. "Due to the roughness of the course," according to a local rule, "a player may improve the lie of his ball on the fairway by moving it to the right or left or to the back from its stopping position."
As the edited sign at Dannebrog GC indicates, prices have gone up a bit, but sand-greens golf is still a bargain.
Jerry Streff, an 84-year-old retired telephone-company worker, has played Lawrence CC since it was organized in the mid-1950s. "I used to mow this place," he says. "Now my grandson does." Streff struck this 3-wood on the 179-yard second hole to about 10 feet and made the birdie putt.
Many players at sand-greens courses have known each other a long time. Riverside GC just named an event for a member who passed away. "The people that support the club are the best guys," says Tim Nicholas. At Dannebrog GC, a golfer was remembered with a plaque on a ball washer near the clubhouse.
Francis Johnson putts on the first green at Dannebrog GC, while (from left) Larry Obermiller and brothers John and Paul Janulewicz look on.
A handmade, weathered hole marker at Dannebrog GC, whose farmland setting gives the course a linksy feel.
Leaving a green as you found it: Garry Klein prepares the third green at Fairview GC after his group played it during a recent Thursday evening league competition.
A hole marker behind the ninth green at Lawrence (Neb.) CC, set against a pretty July sky.
Art of the drag: A golfer prepares a putting path, or "road" on a green at Riverside GC. The speed of a putt can depend on the pressure applied during the smoothing process.
Honor boxes for green fees are a usual sight at sand-green courses. This is the one at Riverside GC, which has a $7 "dawn to dusk" rate for visiting golfers. "Vandals have tried to get in it," says Tim Nicholas, "but they haven't been man enough."
Neal Jacobsen readies a putting alley on the first green at Lawrence CC.
John Janulewicz hits his tee shot on the unique, 145-yard, par-3 No. 2 at Dannebrog GC, where the green is enclosed by a three-foot-tall section of a grain bin.
"This is our signature hole," Francis Johnson says of Dannebrog's No. 2, which golfers tackle during the course's annual Bull Pen Open. Golfers have to loft the ball up and over the metal barrier. If a ball comes to rest on the outside of the wall, he gets two club-lengths of relief without penalty.
"This is about as low-key as golf can get," says Denny Wagner, a regular at Riverside GC. Here he is eyeing a friend's tee shot on the ninth hole.
Sand-green courses are low-budget operations. According to Tim Nicholas, Riverside GC gets by on about $6,000 annually. "I don't think our total budget would buy us one grass green," he says. Fairview GC (shown) is unusual in that it has hoses to water the tees.
The green at the 280-yard ninth at Dannebrog GC. Like the other greens except the grain-bin guarded second, every putting surface is surrounded by a barbed wire fence because most years cattle graze over the course. "They decided not to put cows out here this year," says a member, "and the rough is really, really high."
Marie Nicholas uses the "Nebraska wedge" at Riverside GC while husband Tim (left) and Denny Wagner (right) watch during Wednesday evening league play. The course installed artificial-turf putting surfaces a couple of decades ago, but golfers didn't like the faux grass as well as sand.
Tom Lauritsen (facing camera) plays cards with two friends in the Dannebrog GC clubhouse prior to a recent league night.
A homemade out-of-bounds marker on the ninth hole at Riverside GC.
Tools of the game: Rakes and drags at Dannebrog GC.
Garry Klein tees off on the eighth hole at Fairview GC. "I think it's going to hang on," says club president Terry Borcher of Fairview's future. "We don't see it closing, but we have lost a lot of golfers to the nearby grass course."