Diaz
The Best U.S. Open Venues
Jaime Diaz ranks his favorite U.S. Open sites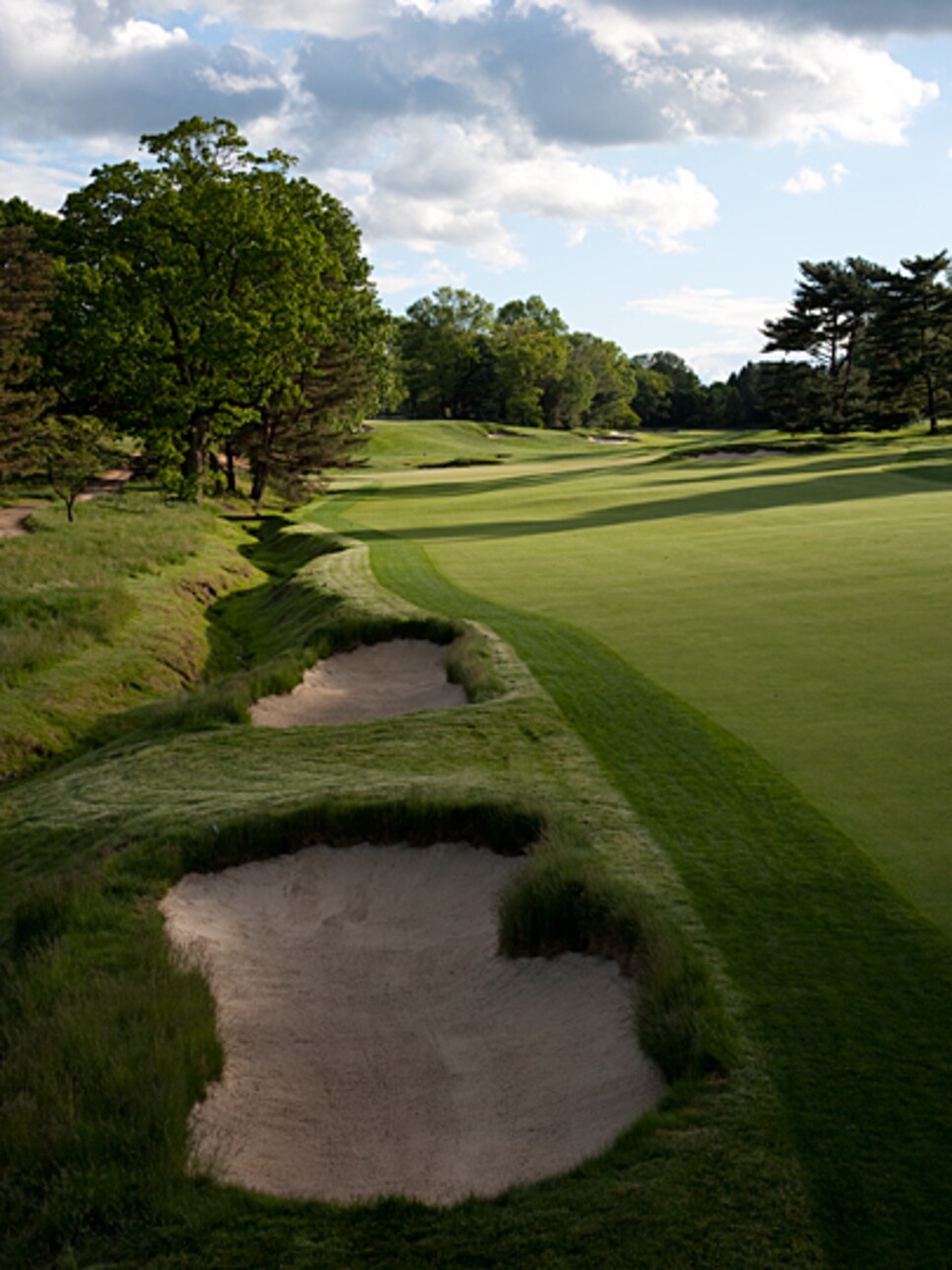 Photo By: Stephen Szurlej
Photo By: Stephen Szurlej
Photo By: Stephen Szurlej
Photo By: Kathy Willens/AP Photo
Photo By: Stephen Szurlej
MerionMerion is simply a perfect site: compact, charming and distinctive -- golf's version of Fenway Park or Wrigley Field. I love Merion for its whicker baskets, for the ambiance around its veranda-bordered first tee, but most of all for its pacing. Hugh Wilson blends short holes (five par 4s under 400 yards and a 127-yard par 3) that require precision, but offer scoring opportunities with long beasts where the goal is survival. The East Course is tough at the beginning, fun in the middle and brutal at the end. Its less than 7,000 yards won't feel short in 2013. Hogan's comeback win in 1950, and Trevino's playoff victory over Nicklaus in 1971 give Merion claim to arguably the two greatest Opens ever. And David Graham's closing 66 in 1981 was pure.
Photo By: Stephen Szurlej
OakmontA beast, but never a boring one. Oakmont may be country club, but you feel the Pennsylvania's working man spirit in the very lived-in green clubhouse, and the rugged, unadorned landscape. Oakmont was intended to be the toughest course in the world, the greens still the fastest extant, and its stark design has gained beauty and nuance since a massive tree clearing several years ago. History happens at Oakmont: Hogan at his best in 1953, Nicklaus supplanting Palmer in their playoff in 1962, Johnny Miller's record 63 in 1973, Larry Nelson's 10-under par final 36 to beat Tom Watson by one in 1983. It also gave Ernie Els his first major in 1994, while Angel Cabrera put on arguably the greatest exhibition of controlled power driving ever in 2007.
Photo By: Stephen Szurlej
Winged FootIt may not quite match the aforementioned in intangibles, but largely because I'm partial to the work of A.W.Tillinghast, I believe that shot for shot, no U.S. Open course exceeds Winged Foot West. Without any overtly spectacular holes, the course is all of a piece, with green complexes and bunkers so unrelentingly artful they make just assessing an approach shot a great pleasure. Tillinghast believed that "a controlled shot to a closely guarded green is the surest test of any man's game," and Winged Foot administers that test with rigor and fairness. Billy Casper won his first U.S. Open here in 1959, Hale Irwin his first of his three in 1974, while Fuzzy Zoeller waved the white towel at Greg Norman in 1984. Of Phil Mickelson's five seconds in the Open, the closest came at Winged Foot.
Photo By: Stephen Szurlej
Shinnecock HillsNo American venue has a more elegant old timey-ness. It starts with the simple but majestic white clapboard Stanford White clubhouse on the high point of the property. In the summer, the warm Long Island sea air and surrounding mansions evoke "The Great Gatsby." But all this would be irrelevant if the course weren't a masterpiece. On mostly open land that presents a constantly changing combination of natural elements, the humpy fairways framed by native grasses have a more multi-hued links quality than any other U.S. Open course. In 1986, Raymond Floyd used all his wiles and skill in a sweet victory, and Corey Pavin did much the same in 1995. The USGA got the setup wrong in 2004, but it wasn't the course's fault, and now the 2018 Open is eagerly awaited.
Photo By: Kathy Willens/AP Photo
Pebble BeachPebble has so many things going for it -- the Pacific, the incredible stretch along its cliffs from the fourth through the 10th, and all the surrounding scenery -- that it's closer to being a wonder of the world than perhaps any other course. Considering the possibilities, no course has ever been more effectively routed. Ironically, it's the very cliffs along the surf that can make the viewing experience less satisfying than at the other great Open venues, as spectators are forced to watch from only one side of a hole, with the greatest cost in atmosphere coming at the otherwise awesome 18th. Still, it's a stage that brings out the best of the best. Nicklaus' windblown 290 in 1972 won by three, Watson holed "The Chip" in 1982, and Tiger Woods had his monster moment in 2000.
Photo By: Stephen Szurlej