Golf Equipment
What's In My Bag: Hunter Mahan
Age: 31 | Resides: Dallas | __Story:__The five-time PGA Tour winner ranks among the top 30 on the all-time money list, with more than $24 million over 11 seasons.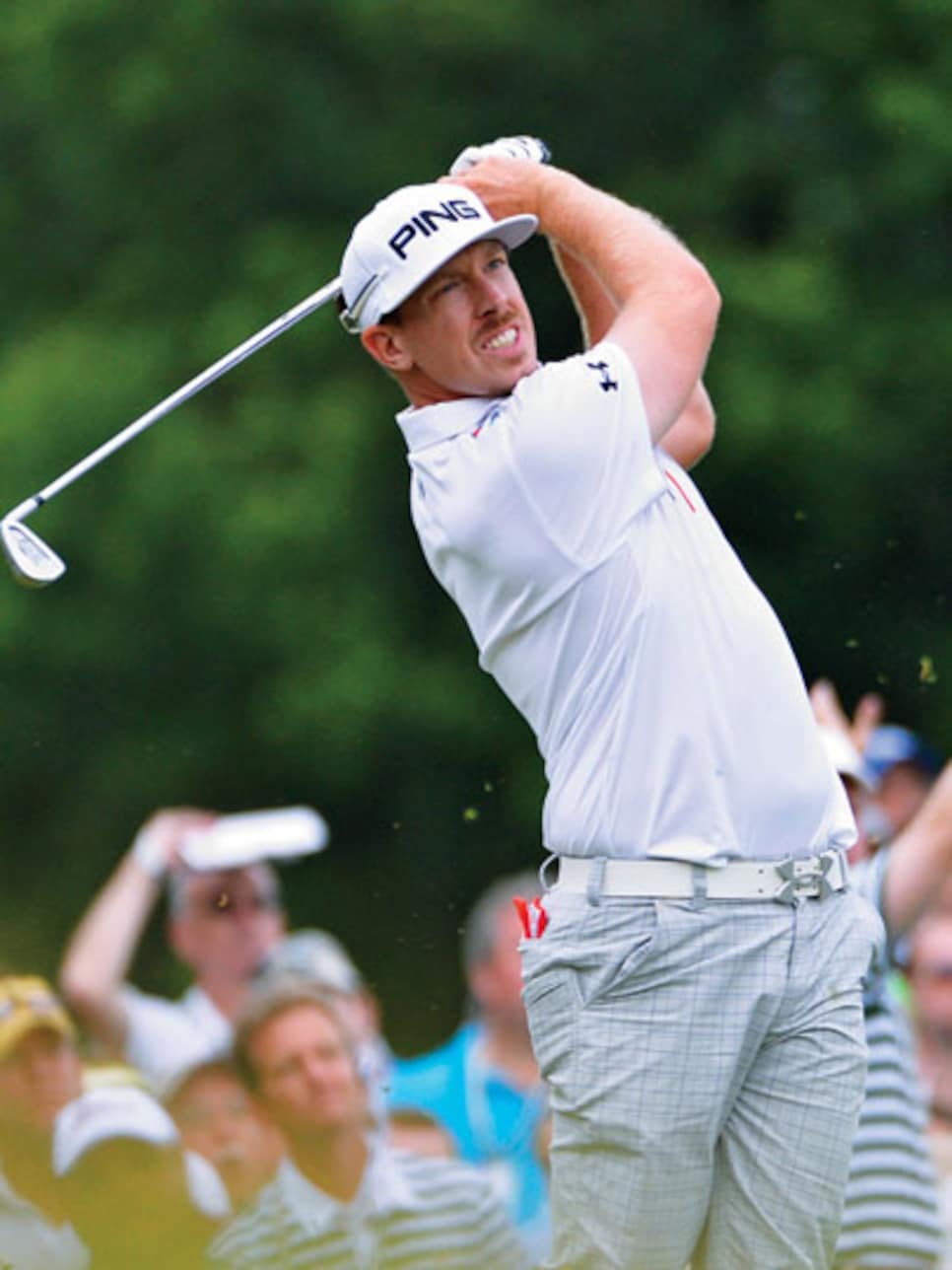 MEET THE PARENTSLeaving the Canadian Open with the second-round lead to be with my wife, Kandi, for the birth of our daughter, Zoe Olivia, was an easy decision. It was such a natural moment, and I loved it all. It was amazing to watch life start. Kandi and I are really enjoying being parents, and we're learning a lot about each other while raising Zoe. Your child is a reflection of you, so this has given me a chance to step back and make sure I'm the person that I want to be.
Photo By: J.D. Cuban
GIVEN THE GREEN LIGHTBy many standards, my 2013 season was solid. I contended at the U.S. and British Opens and represented our country when we won the Presidents Cup. It's been nice to use my downtime after the Cup to focus on my game. My goal this season is to trust my abilities, remove any urge to control my game, and just be aggressive. I'm feeling good about it.
DRIVERThe driver is the most important club in any golfer's bag. And that's definitely true with my Ping G25 (45¼-inch Aldila RIP PhenomNL 60 X-shaft). I'll tinker with the loft from time to time. It says 9.5, but it's actually more like 10.5 degrees.
FAIRWAY WOODI switched to the Ping G25 fairway wood (14.5 degrees, 43-inch Aldila Tour Blue 85 X-flex shaft) in the middle of the year. I also adjusted this from 15 degrees to half a degree stronger. Off the tee or out of the fairway, I can hit all the shots with this club.
IRONSI was excited to hit the Ping S55s (True Temper Dynamic Gold X100 shafts) ever since I heard they were being developed. I put them in play during the FedEx Cup playoffs. That might seem like odd timing, but I knew I liked 'em right away.
HYBRIDMy Ping Anser hybrid (17 degrees, Aldila Tour Blue 85 X-flex shaft) is a club I've come to rely on. Many courses we play have long par 3s, and you must launch it high so the ball lands soft. With this, I can do that—and hit penetrating shots.
WEDGESMy Ping Tour Gorge wedges (53 and 58 degrees) have wide high-bounce soles (13 and 11 degrees, respectively). Extra bounce helps me get up and down from tight lies.
PUTTERI first put this Ping Scottsdale TR ZB-S model (34 inches, 2½ degrees of loft, 350 grams) in my bag when I nearly defended my title at the 2013 WGC-Accenture Match Play. Speed is most important, and I feel like I get a true roll on every putt with the grooves on this insert.
SLASH AND BURNI've always tried to mark my Titleist Pro V1x differently. During the season, I switched to a slash through the number. Up until then, I had used the Greek letter Lambda, like the Spartans did on their shields.
LET'S DRINK TO THATIt's crucial to maintain my energy level during a tournament. I usually have a BioSteel drink at the turn and after my round. The electrolytes help boost my energy, and the amino acids aid recovery.
I GOT A GRIPMy orange and black Golf Pride New Decade MultiCompound grips allow me to show support for my alma mater, Oklahoma State University, a little more subtly than Rickie Fowler's traditional Sunday outfit. Either way, go Pokes!
BIRTH CERTIFICATEThere's a cool tradition at Ping: A gold-plated putter is given to players to commemorate a win. But Ping gave me one to congratulate Kandi and me on the birth of Zoe. It even has her weight and date of birth on it.
A ROUND IN THE 60SI try to use the same coin to mark my ball on the green, especially if I'm on a good stretch of play. A quarter is my go-to, but I'll use a nickel from time to time. If I can find a 1960s coin, that always brings positive thoughts.