Web-extra feature
From Arnold (Palmer) To (Babe) Zaharias
An in-depth look at Golf Digest covers, from A to Z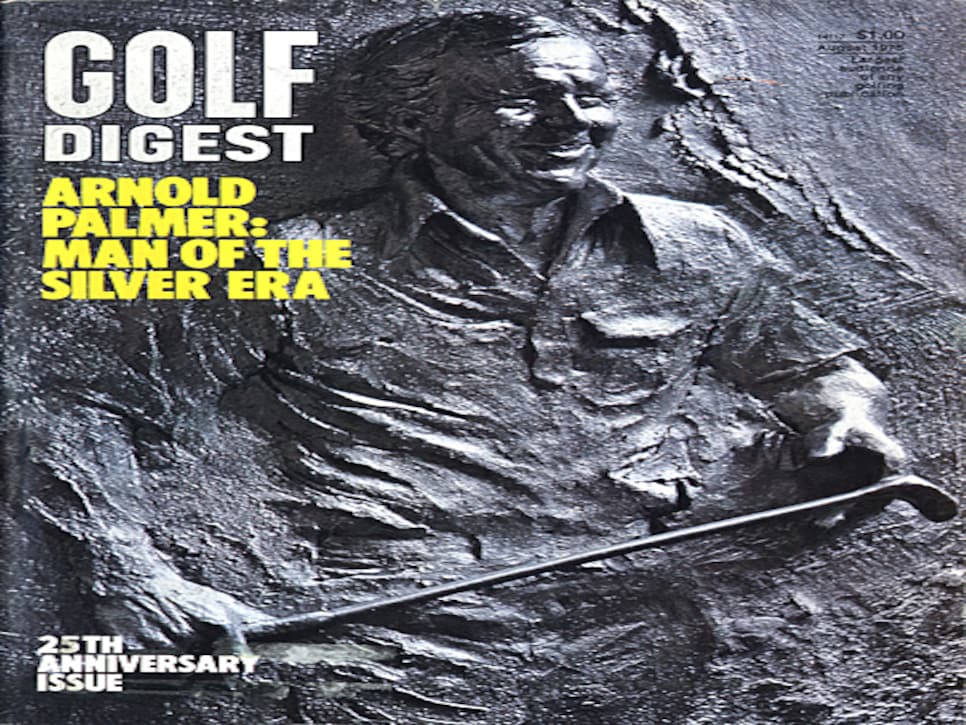 A ...
One of golf's most iconic figures has appeared on 29 covers of Golf Digest, the first being August 1957 and the most recent being September 2009, his 80th birthday. We've covered Arnold's rise to the top of the sport, and his current stage as an entrepreneur and course architect.
B ...
Hogan appeared on our cover 11 times, the first coming in Sept. of 1953, the last coming in Oct. of 1997. Despite never playing in all four majors in the same season, Hogan remarkably won nine majors in only 16 attempts, limited by travel difficulties and a near-fatal car crash.
C ...
Golf Digest featured celebrities on the cover quite often in its first decade to attract readers, adding a little glamour to the magazine. One such cover was Bing Crosby and Bob Hope on June 1953. Since we have always emphasized our instruction expertise, our cover philosophy gradually adjusted to spotlight tour players and top instructors. We still go the celebrity route from time to time, however. Crosby was a singer/actor who immersed himself in the game. He died in 1977 on a golf course in Madrid at La Morajela. Along with Hope, Crosby originated the pro-am format, a fixture on the PGA Tour.
D ...
So much of our magazine is devoted to golf instruction from the world's best instructors that we've appropriately featured them on our cover, too. Golf instructors have appeared on about 100 covers of our magazine, but none have done so more often than Leadbetter. He's been on 19 Golf Digest covers, starting in October of 1989, and is a current Golf Digest Teaching Professional.
E ...
The most famous golfing father in the history of the game. Fathered one of the best golfers in the history of the game and appeared on one of our favorite covers featuring one of our favorites articles, titled "The Spirit of Tiger Woods" by Tom Callahan.
F ...
The six-time major winner and now-successful golf broadcaster has appeared on six covers, the last one being this one, our preview of the 2008 Ryder Cup. Faldo is one of the most enjoyable color analysts in sports, mixing his colorful prose with expert golf knowledge on a weekly basis.
G ...
Golf Digest was a pioneer in the formation of the golf school concept. Employing the most respected and knowledgeable teachers while selecting top resorts as the host clubs, Golf Digest set up a network of multi-day golf schools around the country. The powerhouse teaching lineup was utilized on the cover as well, including Todd Anderson, Scott Davenport, Chuck Cook, John Elliott, Jim Flick, Hank Haney, Hank Johnson, Peter Kostis, Mike and Sandy LaBauve, Davis Love Jr., Jack Lumpkin, Tim Mahoney, Tom Ness, DeDe Owens, Gale Peterson, Paul Runyan and Bob Toski.
H ...
Debuting in 2004, Golf Digest became the first golf magazine to name the hottest equipment. The Hot List has continued to be the most comprehensive listing in the world, all designed to help our readers find the best options for your game, and why. If you're in the market for a piece of equipment (and really, who isn't?), this is your go-to source.
I ...
One of the most famous presidents of all time is also likely the most famous golfing president. Ike was a member at Augusta National, and developed a friendship with Arnold Palmer, playing often with the iconic golfer.
J ...
The Englishman's June 1971 cover was unique in that Golf Digest did not often have foreigners on the cover, Gary Player notwithstanding. Others from Great Britain to appear on our cover include Henry Cotton (May 1957), Laura Davies (Feb. 1996), Luke Donald (July 2007, October 2011), Nick Faldo (six covers), Bob Hope (June 1953, Jan. 1979), Sandy Lyle (April 1989), Graeme McDowell (Sept. 2010, March 2011), Rory McIlroy (July 2009, March 2011), Ian Poulter (July 2010) and Ian Woosnam (July 1991).
K ...
The 1992 U.S. Open winner, and four-time runner-up in a major, wins this category over only one competitor.
L ...
The most accomplished left-handed golfer of all-time (Sorry Bob Charles), Phil Mickelson has appeared on 17 covers of Golf Digest. While we questioned whether he was the next Nicklaus on the first cover on which he appeared, Lefty has won four major titles to date.
M ...
The last two U.S. Open champions might hail from a country the size of Connecticut, but their success has made them international stars. These Northern Irishmen appeared in one of our most creative cover photographs of the last decade.
N ...
Jack has been on the cover of our magazine the most of any subject (52), beginning in his amateur days when he and Deane Beman were on together in October 1961. But after winning his first pro title at the 1962 U.S. Open over Arnold Palmer, Jack became a cover constant, his regularity interrupted by an 11-year gap from 1993 to 2004 when he was not a Playing Editor. His most recent cover came in 2010, during our 60th-anniversary year.
O ...
One of four presidents who made the cover, all while in office, Obama's fellow POTUS covermen include Dwight Eisenhower (July 1953), George H.W. Bush (September 1990) and Bill Clinton (November 2000).
P ...
The diminutive South African has appeared on our cover 14 times, the first coming in 1961 and the last in 1998. He wasn't as big a cover subject as his fellow Big Three partners Arnie and Jack, but we often utilized Player's fitness fanaticism in instruction articles for the small-sized player or senior golfer.
Q ...
The Land Down Under has provided plenty of cover subjects, with Australians Bruce Crampton (Aug. 1973), Bruce Devlin (Oct. 1964, May 1965), Steve Elkington (July 1992, March 1996), David Graham (Sept. 1981, Nov. 1983, Aug. 1984), Greg Norman (seven covers), Adam Scott (March 2004, July 2006, July 2011) and Jan Stephenson (Jan. 1982, Dec. 1986, Nov. 1991). (Aaron Baddeley (Aug. 2003) was born in the U.S. but moved to Australia). And a pair of New Zealand subjects includes Michael Campbell (Sept. 2005) and Bob Charles (July 1964). Surprisingly, five-time British Open champion Peter Thomson never appeared on the cover.
R ...
We've kept things in the family somewhat through the years on our cover. Spouses of tour players on the cover include Gardner Dickinson (June 1986), himself a tour player and husband of Judy Clark Dickinson; Dick Mayer's wife Doris (Sept. 1957), and Jack's wife Barbara Nicklaus (March 1975). Children on the cover include Debbie and Marlyn Bensmiller (March 1963) and Debbie and Trey Gill (Dec. 1953), who have been our only brother/sister duo. Sisters include the Bensmillers and the Bauers, Marlene and Alice. We've had the husband and wife pairing of Mike and Sandy LaBauve, (pictured) (Feb. 1997 and March 1998). And representing fathers and sons who have been on the cover, not necessarily together, are Bob and David Duval; Claude and Butch Harmon; Davis Love Jr. and Davis Love III; Jack and Jay Lumpkin; Jack, Jackie and Steve Nicklaus, and Earl and Tiger Woods.
S ...
The Slammer was a perennial presence in Golf Digest, beginning with the first issue in 1950 when he was mentioned instructionally. He ranks fifth in number of covers with 22 and was usually in the magazine for his swing insights and tips. We liked to utilize his playful manner, as when he posed with a pair of pigeons to promote a book on games and betting. His most recent cover in June 2010, however, spotlighted his main attribute as a classic swinger of the club.
T ...
With 33 covers, Woods ranks behind Nicklaus and Watson for most appearances. Whether the subject was instruction or his phenomenal play, a Woods cover always caused a stir and was a provocative pick for some readers. His debut cover in November 1994 focused on a unique part of his swing action.
U ...
Our National Open gets a preview treatment in every June issue and we have had some creative cover looks. One of the best was the June 1983 nose-to-nose image of Nicklaus and Watson in preparation for the Open at Oakmont that year. And yes, they actually sat that close to each other.
V ...
The country is one of eight foreign locations shown on the cover. On the July 1966 cover, Billy Casper is shown visiting troops in Vietnam.
W ...
The eight-time major winner's 37 cover appearances rank second to Nicklaus' 52. TW's cover stories were a combination of our appraisals of his play on tour as well as the instruction pieces he does for us as a longtime Playing Editor.
X ...
For our entire existence we have been close watchers of the great trends and developments in the game, and we've used a multitude of covers in which we've showcased a special theme or talent. One of our favorites is the April 1977 cover of Seve Ballesteros, who was still in his teens and ready to electrify the golf world. We wrote of his extra special talent and he didn't disappoint.
Y ...
When Yang appeared on the November 2009 cover, he was continuing a tradition Golf Digest started back in the 1950s. Early on the magazine found it advantageous to put a fresh major championship winner on the cover within a short timespan of the victory. It doesn't happen all the time, but 41 times a subject's first time on the cover has been the result of a major win.
Z ...
Including models from the early years, 43 women have been on the Golf Digest cover, but The Babe's May 1954 cover is perhaps the most memorable, coming as it did in the midst of her courageous battle with cancer. Other women professionals to grace the cover are Alice Bauer, Marlene Bauer Hagge, Laura Baugh, Patty Berg, Susie Berning, Jane Blalock, JoAnne Carner, Laura Davies, Vicki Goetze, Juli Inkster, Betsy King, Nancy Lopez, Meg Mallon, Lauri Mertin, Lorena Ochoa, Se Ri Pak, Judy Rankin, Betsy Rawls, Marilynn Smith, Annika Sorenstam, Jan Stephenson, Michelle Wie, and Mickey Wright.