Golf Equipment
What's In My Bag: Alvaro Quiros
Age: 28 | Resides: Cadiz, Spain | Story: Has five wins on the European Tour. His average driving distance has been 300-plus yards for five straight years.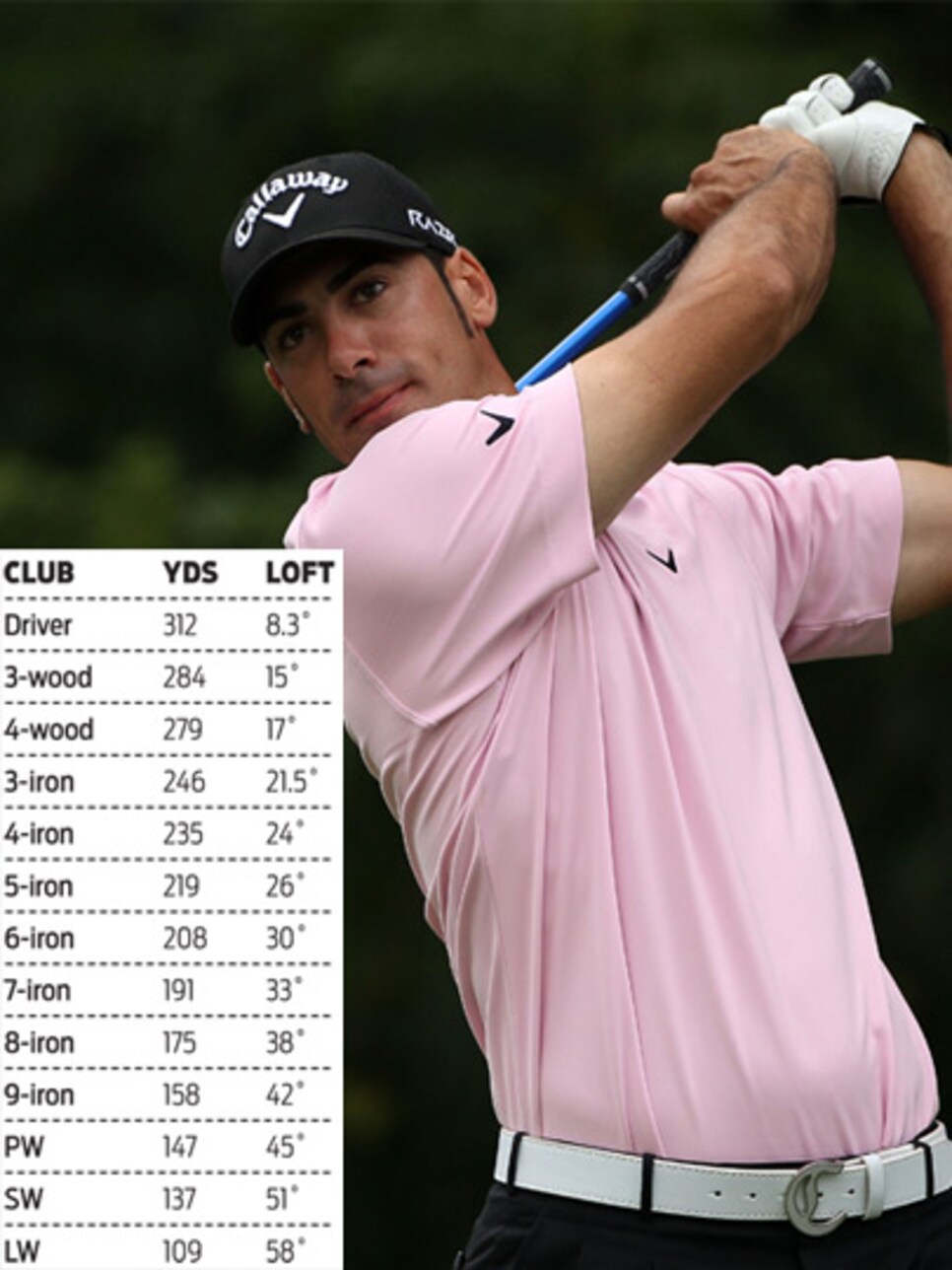 LONG STORYI grew up playing golf with older friends, so I didn't realize I was longer than guys my age until I was 16 or 17. After that I started to believe I was a long hitter. I think probably the length of my arms is one reason -- from hand to hand is two meters. Plus, I'm not a heavy guy, so I'm pretty quick.
ON THE CAPTAINJose Maria Olazabal is my golfing hero because of his two Masters wins, sure, but apart from that he's a gentleman on and off the golf course. Unfortunately, I'm too young to have seen the golden moments from Seve. But obviously he was greatness.
FEELING A SWINGMy father was my first teacher. But my second teacher was a friend of my father, called Pedro. He taught me to play golf without the ball, just watching my swing. We used to spend hours just doing the swing without the ball.GOLDFINGERI like James Bond. He kills the bad guys like a gentleman. The women love him, and I love the women, too.
FOR YOUR EYES ONLYI play the Callaway Tour i(z) and mark it with eight points, four on each side of the logo. I carry a collection of markers, and I use different colors so I always know it's my ball.
THUNDERBALLThe driver is the real test, so I practice it a lot. Even though people hit 7-irons to correct mistakes, I know that if I'm a good driver, I can hit a good iron. So it's good for me to carry some tape in case of blisters.
A VIEW TO A KILLI use this Bushnell range finder during practice rounds because I'm sometimes looking at targets that other players don't worry about. I remember hitting driver-driver to reach a 606-yard par 5 at the 2009 PGA Championship.
CASINO ROYALEWhen I'm farther away from the hole, I use these casino chips to mark my ball. But unlike Mr. Bond, I have never been in a casino. It is true.
DRIVERMy driver is a Callaway RAZR Hawk. (It says 9.5 degrees, but it's actually 8.3.) The shaft is a 45½-inch Grafalloy Blue, X-flex. My grips are Golf Pride Tour Velvet BCT with two wraps underneath.
FAIRWAY WOODSI play a 15- and a 17-degree Callaway X fairway wood (Grafalloy Blue shaft, X-flex). Both are D-4 swingweight.
WEDGESMy two wedges are Callaway X Forged (52 degrees, bent to 51, and 58 degrees). I use the same shaft on my wedges as on my irons.
IRONSI'm 6-feet-3, so I get my irons one inch over standard length. I play Callaway Tour Authentic X Prototype irons, 3-iron through pitching wedge (Royal Precision Rifle Lite, 8.0 flex).
PUTTERThe grip on my Odyssey Black Series-i (35.17 inches) has the flag of Spain on it.