PGA Championship
2010 PGA Championship: Highlights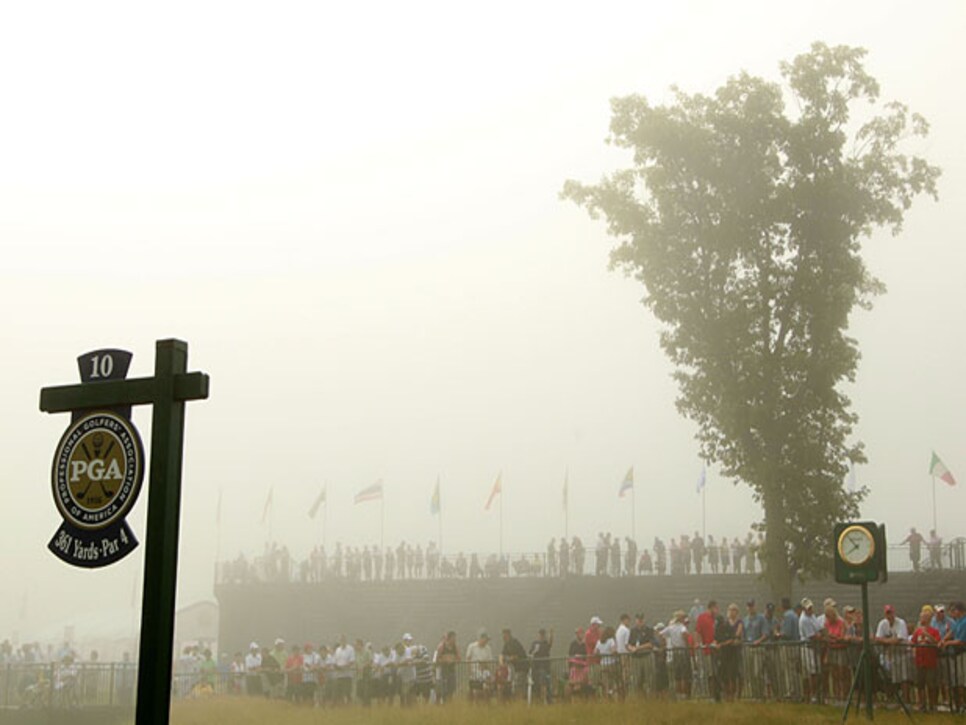 First RoundFog delayed the start of the first and second rounds.
First RoundMatt Kuchar kicks things off with a lead in the first round.
Second RoundThere was no shortage of Tiger Woods fans at Whistling Straits.
Second RoundWhen Woods finished up his second round play on Saturday he was not high on the leaderboard.
Second RoundMartin Kaymer waits on the 12th green during the continuation of the second round.
Second RoundIan Poulter made a retro fashion statement.
Third RoundNick Watney seized the lead in the third round.
Third RoundPhil Mickelson takes the ball off the lap of Matt Reinhart after his ball landed there on the 11th hole.
Third RoundThe gallery and Lake Michigan form a backround for Tiger Woods on the second hole.
Final RoundFiasco: Dustin Johnson prepares to play his second shot on the 18th hole. Johnson was given a two stroke penalty for grounding his club and did not make it into the playoff.
Final RoundA PGA of America rules official informs Dustin Johnson of the bunker rules.
Final RoundBubba Watson shot -11 and made it to a three-hole playoff with Martin Kaymer.
Final RoundMartin Kaymer celebrates on the 18th green after defeating Bubba Watson during the three-hole aggregate playoff.
Final RoundMartin Kaymer hugs his caddie Craig Connelly on the 18th green.
Final RoundMartin Kaymer wins his first major.