Holiday Season
Our holiday wish list for golf's players and personalities
The movers and shakers of golf have fame and fortune, and more importantly, access to the world's greatest courses. But no matter your age or status in life, everyone lights up at a personalized gift during this season. Without further ado, here is GolfDigest's holiday wish list for golf's players and personalities: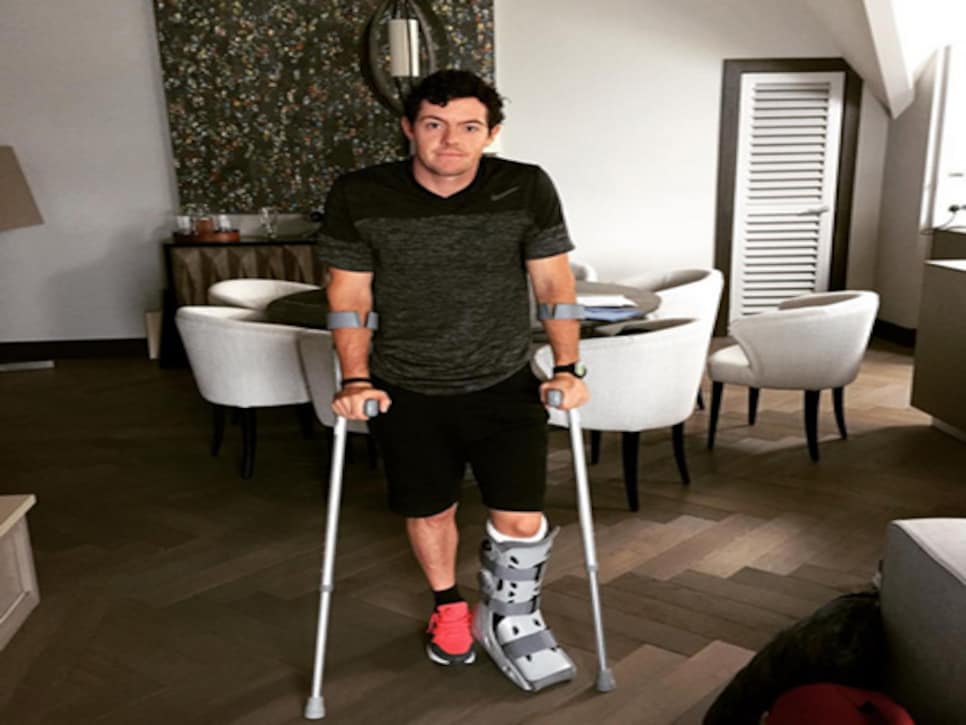 Photo By: Ross Kinnaird/Getty Images
Photo By: 2015 Getty Images
Rory McIlroy: EA Sports FIFA 16
The four-time major winner has vowed to "retire" from soccer following his injury from a backyard kickabout last summer. Quitting the game cold turkey won't be easy, so hopefully the FIFA video game will satiate McIlroy's football thirst.
Danny Lee: eHarmony account
Lee made the mistake of letting the media in on his loneliness at The Greenbrier, saying "I love it here. My one wish is that I had a girlfriend. It wouldn't be so lonely in my room." Fellow pros Pat Perez and Rickie Fowler playfully started a #FindDannyAGirl
campaign
, but our Cupid intentions are legitimate, which is why we are signing Lee up to the #1 online matchmaker.
Photo By: Ross Kinnaird/Getty Images
California courses: A rain dance
The Golden State, home to over 900 golf courses, is in the midst of a disastrous four-year drought. The water shortage has forced many clubs to severely cut their irrigation practices, with some courses shutting down completely for conservation purposes. Here's hoping the rains return to California.
Dottie Pepper: A mirror
As in, be yourself. Pepper is taking over for David Feherty as an on-course reporter for CBS Sports. Though there's pressure to fill Feherty's witty, irreverent void, that's not Pepper's forte. The former LPGA star is a sound reporter and analyst in her own right, and will be a solid addition to the CBS presentation.
Photo By: Getty Images
Dustin Johnson: The Way of the SEAL
One of the best books on building, maintaining and exercising mental fortitude, DJ gets this stocking stuffer to help combat his falters on golf's major stages.
Photo By: Getty Images
Masters champions: Pepto-Bismol
Early indications point to a
Texas barbecue spread
from 2015 winner Jordan Spieth. For the uninitiated, this delicacy, while a party in your mouth, does a number on your digestive system. As stated in our Thanksgiving
piece
, Masters week is our favorite time of the year, and we don't want anyone on the sidelines because of a stomach ache.
Davis Love III: Four Days in October
We are giving Love, who is back at the Ryder Cup helm after the 2012 Meltdown at Medinah, this 30 for 30
documentary
on the Boston Red Sox 2004 championship to show it's possible to bounce back from a heartbreaking defeat.
Jim "Bones" Mackay: A microphone
For those that missed Mackay -- better known as Phil Mickelson's caddie -- in the booth at the RSM Classic at Sea Island, "Bones" brought an energetic voice and equable vibe that's foreign to golf broadcasts. As Mickelson's playing days come to a close, we'd love to see Mackay become a familiar face behind the mic.
John Daly: A rocking chair
Long John turns 50 in April, making the big man eligible for the Champions Tour. Daly remains hell on wheels, but, as illustrated with his health scare this summer, the tank isn't as full as it once was. Father Time is undefeated, and we want JD to be comfortable as he hits his older years.
Adam Scott: A "magical" putter
Between us, there won't be any supernatural elements with our flatstick gift to the Aussie. But Scott, who's making the switch from an anchor putter, needs to find confidence on the greens. If we need to trick the 2013 Masters winner that sorcery has touched his putter to regain that poise, so be it.
Photo By: US PGA TOUR
Donald Trump: Framed photo of Rory flinging his iron
Remember when McIlroy launched his club into a lake at Doral, which is now a Trump property? It summed up the frustrations of the WGC-Cadillac field at the Blue Monster's redesign, which many felt was too difficult. That the mild-mannered McIlroy lost his cool at the ridiculous layout should be a cautionary tale to Trump for future event setups.
Photo By: Getty Images
Suzann Pettersen: A Christmas Carol
No, we aren't calling Pettersen "Scrooge" -- although even Ebenezer wouldn't have pulled those Solheim Cup shenanigans -- but the Norwegian golfer can learn a thing or two about redemption through second chances.
Photo By: 2015 Getty Images
Miguel Angel Jimenez: A GoPro
The Most Interesting Man in Golf was
fitted
for the recording device during his infamous warm-up routine. But I need more; for those like me that want to live vicariously though Jimenez, having a live feed via GoPro can make that dream come true.
President Obama: Golf lessons
President Obama has played more than 200 official rounds in the White House, but, at least according to occasional playing partner Michael Jordan, he's not particularly
good
. With No. 44 ending his second term of service in a year, it stands to reason President Obama will have more time to hit the links, and as such, he needs to get his game in shape.
Ryder Cup teams: Subscription to GQ
The Ryder Cup, as well as the Presidents Cup, have a tradition of fashion faux pas. Time to add some style, boys.
Photo By: Getty Images
Robert Allenby: A bag and bib
As in, we want Allenby to walk a mile in a looper's shoes to see how
thankless
the job can be.
Photo By: Getty Images
Phil Mickelson: Adele's new album
No particular reason for this gift. I just want to picture Phil jamming out to "Hello."
Photo By: AP
USGA: Thomas Paine's Common Sense
No, American golf's governing body doesn't need a refresher on colonial independence. Rather, hopefully the pamphlet's title serves as a wake-up call for the USGA's nonsensical
handicap
ruling.
Jason Dufner: A cheeseburger, milkshake and fries
The Duf has lost a significant amount of weight in the past year. Alas, he's also lost his status as one of the game's top performers, dropping from 13th in the world rankings at the beginning of 2014 to 129th. Clearly there's a Samson's hair/food parallel with Dufner and golf, and because the sport is a hell of a lot more entertaining with the 2013 PGA Championship winner in contention, it's time the Duf hulks up, literally and figuratively.
Ernie Els: A trip to Dave Pelz Putting School
Lydia Ko: Rabbit's Foot
Lydia has a shot to become the greatest women's player of all-time. The only hurdle is her path is injury. Here's to wishing the 18-year-old good health.
NCAA: Lump of coal
I will never understand how the NCAA justifies punishing a
current team
for the sins of a past administration. Of course, this is an organization that once penalized Tiger Woods for breaking bread with Arnold Palmer.
Tiger Woods: A hug
Poor guy had multiple injuries, surgeries, embarrassments at the U.S Open, British Open and the Memorial, and went through a break-up. Sometimes we just need a shoulder to cry on.
Photo By: Getty Images