British Open
One Of These 12 Players Will Win The Open (We Think)
Rory McIlroy's injury and Jordan Spieth's late arrival add to the prognosticating nightmare that is the 2015 Open Championship. Yet with all of the focus on those two stars, plenty of intriguing characters figure to stand a chance of winning at St. Andrews.The winner will be one of these twelve: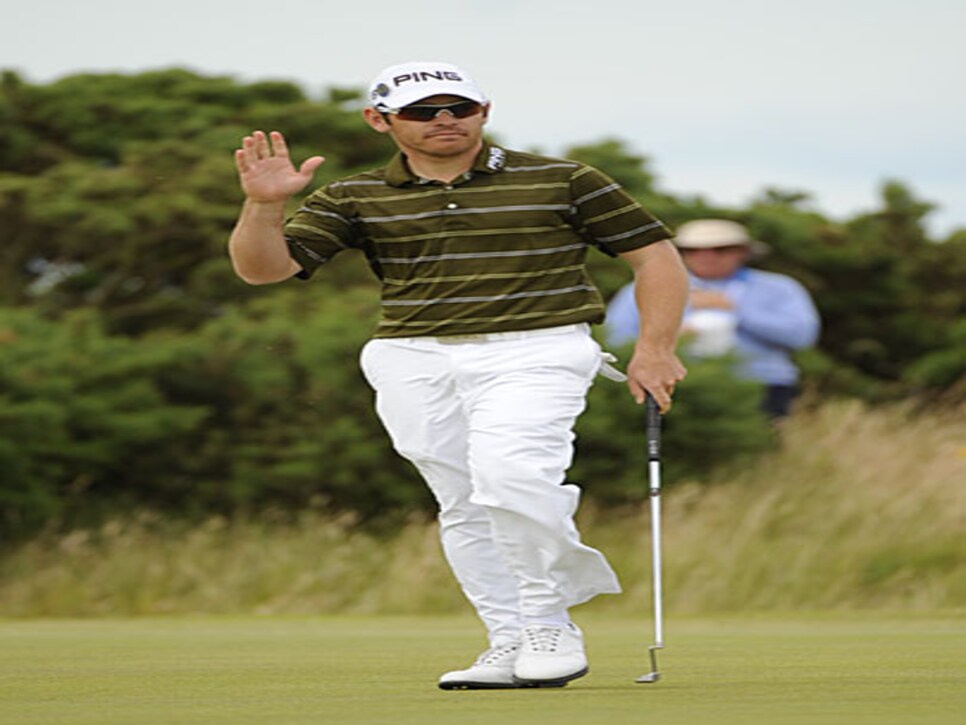 Louis Oosthuizen
The runaway Open winner in 2010 at St. Andrews is coming off a second place finish in the U.S. Open and seems to be physically healthy. He won't have the same caddie this time around but has no shortage of game and comfort level on a course that makes many feel so awkward. The pick.
Adam Scott
Stevie Williams is back on the bag and a nice Sunday run at the U.S. Open reminded these two why they love working together. Scott gears his year around the majors and while his play has been just so-so for a talent of his proportions, don't pay much attention to his lackluster PGA Tour play. He will be in St. Andrews soaking up all the history, nuance and information. Pair that with a caddie who lights a little fire and it makes him oh so dangerous.
Jordan Spieth
With wins in the first two majors, Spieth arrives Monday afternoon with loyalty-karma on his side. Or so he believes by playing the John Deere Classic, where he was granted a sponsor invite. The Golf Gods, however, may note his decision to roll into St. Andrews late, with his excellent caddie Michael Greller left with only a couple of days to learn the most intricate course on the planet. Still, Spieth should thrive here if the Golf Gods are feeling generous.
Bubba Watson
On paper the World No. 3 should love starting his big cut at the out-of-bounds that line the right side of most holes. But as controlled as his right-to-left may seem, that strategy might wear on someone of even his talent level. He missed the cut here in 2010 and hasn't exactly expressed a love for links golf, but his recent win at the Traveler's Championship and maturity bounce from painting over the General Lee car's Confederate flag car should bode well for him this time around.
Rickie Fowler
We have to draw a line through his U.S. Open debacle and chalk it up to not liking the course. Fowler posted a final round 67 at the Old Course to finish T-14 at the 2010 Open Championship. Watch his Scottish Open play, but one of the world's best players was a runner-up at Hoylake last year, loves links golf and is a native of Temecula, California, which means he can handle any wind.
Shane Lowry
A T-9 at the U.S. Open, combined with a strong record at the Old Course makes this emerging talent the Northern Irishman to watch. His 22-under par performance in the 2013 Alfred Dunhill at St. Andrews is his best finish at the Old Course, with a T-6 in last year's Dunhill to reinforce how much he loves the place. And Lowry played decently enough in the 2010 Open (T-37) to believe he has a chance to win here.
Branden Grace
Looking unshakable as a U.S. Open contender until that painful 16th hole tee shot Sunday, the South African has the low ball flight to contend if the wind is up. But the most eye-opening thing on his resume: a win in the 2012 Dunhill Cup at St. Andrews. While only two of the four rounds were played over the Old Course, a win there should never be taken lightly. Plus, he'll have the same caddie, Zack Rasego, on his bag that carried for Louis Oosthuizen's win in 2010.
Henrik Stenson
Watch his Scottish Open play, but this elite talent loves links golf and is really, really good at playing the shots necessary to win. Stenson is desperately overdue to win a major after his runner-up Open finish in 2013 and a T-3 finish in the last Open at St. Andrews sets up the Swede for his first major.
Justin Rose
Last year's Scottish Open champ could not parlay his win into a great Open Championship performance and since his T-4 as an amateur in 1998, Rose has not finished in the top 10 since. He missed the cut in the 2010 Open, too. So why pick him? Because he's older, wiser and too talented to not make another run at an Open. Admittedly though, 17 years is a long time.
Paul Casey
The third-place finisher here in 2010 only stumbled on Sunday as Louis Oosthuizen pulled away. But he was within reach through nine holes and his recent resurgence, reverence for the Old Course, fine play of late (lost in Traveler's Championship playoff) and five years of wisdom, makes him a strong contender for his first major.
Phil Mickelson
St. Andrews has not been his best major venue and he's carrying the usual off-course distractions that shouldn't phase an elder statesman who still glows from the greatest win of his career in 2013 at Muirfield. He loves links, better appreciates the quirks and would love nothing more than to add a win at the Old Course to his Hall of Fame resume. He just needs to get better with the blade, ASAP.
Lee Westwood
Speaking of needing to get better with the bladeI know, I know, he's had his day. But this elite ball-striking talent finished second at St. Andrews in 2010 and has shown enough form over the last year to at least make a run at the claret jug. Remember, anyone who has shown they like the Old Course enough to contend should not be taken lightly.Others to watch: Brandt Snedeker, Geoff Ogilvy, Tom Watson, Michael Hoey, Bernd Wiesberger