Simple Tips for Lower Scores
Set flexibility can change your game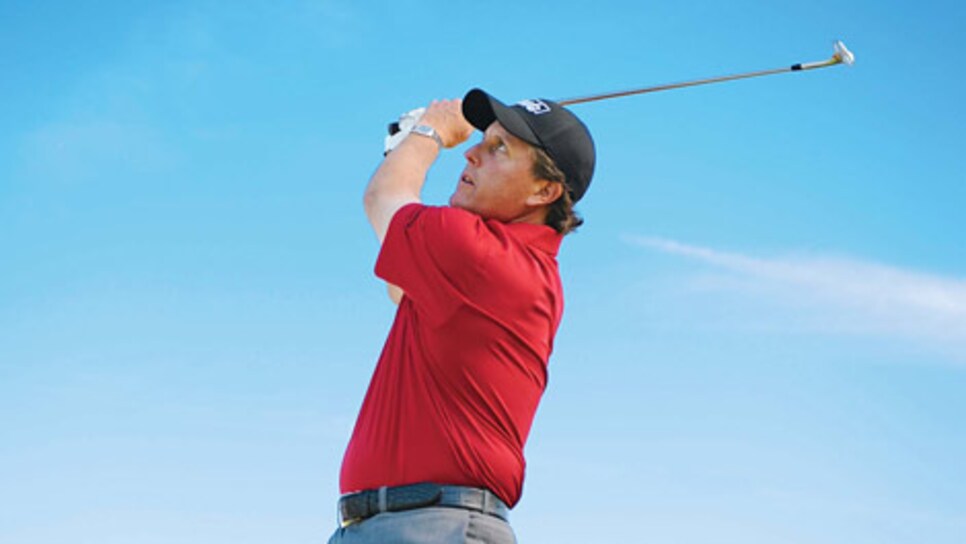 Set flexibility can change your game
Driver
Customizing my driver for a course used to be a complicated, multi-day process involving a lot of trial and error and club building, hunting for the right head-shaft combination.Now, I have a set of clubheads and shafts that click together with a simple wrench. I can interchange them to get exactly the effect I want. I travel with two lengths of driver shafts--one an inch longer than the other--and three very similar heads with slight differences in loft. If it's cold outside, or I'm playing a course like Augusta, where I want more run, I'll use a longer shaft and a head with less loft, to reduce backspin. To hit higher tee shots, I use a shorter shaft to produce a steeper angle of attack and more backspin.Instead of spending hours trying to find the right combination, I can do it with a few twists of the wrench. Saving time is nice, but the biggest benefit is not having to modify my setup to different shots. That's a big plus for you, too. You can make one swing and let the club--either an interchangeable one or a regular one built to different specs--do the work.
Hybrids/Irons
I interchange a 3-iron with a hybrid, based on course conditions and the shots I know I'm going to see. I use the hybrid--which goes 10 yards farther--about 80 percent of the time. It's really useful on courses that have thicker rough. The 3-iron goes in at Augusta, where it's perfect for the 240-yard fourth hole and the shot around the dogleg on the 13th, and a few other places where rough is less of a factor.I don't swing the club any differently, except that I take a small divot with the 3-iron, and the hybrid skids along the grass like a fairway wood. Be sure to match the lie angle and shaft specs of your hybrid to the rest of your irons, so you can make the same swing with all of them.
Wedges
The combination of wedges you use is your best chance to dial in your set for the course you're going to play. I have a pitching wedge, a gap wedge, a sand wedge and two lob wedges--a 60-degree and a 64-degree.Why do I have two lob wedges? Because they're each great for different shots. The 60-degree has 10 degrees of bounce, which makes it good for standard shots from greenside bunkers or rough and when the ground is spongy. The bounce helps guide the club for solid contact.The 64-degree wedge has a lot less bounce--6 degrees--which is perfect for sliding the leading edge under the ball from tight, firm lies. I used it a lot on the tight Kikuyu at Riviera to win the Northern Trust (L.A.) Open earlier this year, and it's an important club for me at Augusta.A super-high-lofted club can be nerve-racking for the average player to hit, but it doesn't have to be. The trick is to give the grooves on the face enough time to grip the ball and send it upward and forward.To do that, make a controlled, rhythmic swing. Don't give it a little extra burst of power through impact, like you might with a driver. If you do that, you'll cause the ball to crawl up the face, and the club will go right under and pop it up.
Putter
I'm using two new models of Callaway ball this year, the Tour i and the Tour ix, and both of them are a lot softer than the HX Tour ball I used last year.You might be surprised to hear that the biggest adjustment I had to make to the new balls was with my putter. Because the old ball was firmer, I used a softer insert in the face, so I could get a nice sound at impact and keep the ball from coming off hot.This year, the new balls weren't making any sound at impact with the soft insert, and they were actually coming off with a springlike effect. I switched to a harder insert to get back that sound I like, and also made my putter lighter.It's impossible to overstate how important sound is to your feel on the putting green. It doesn't matter how well the ball rolls. If you don't like the sound it makes off the putterface, you're going to struggle.