Instruction
Fifteen lessons from the game's highest level in 2012 that can help your game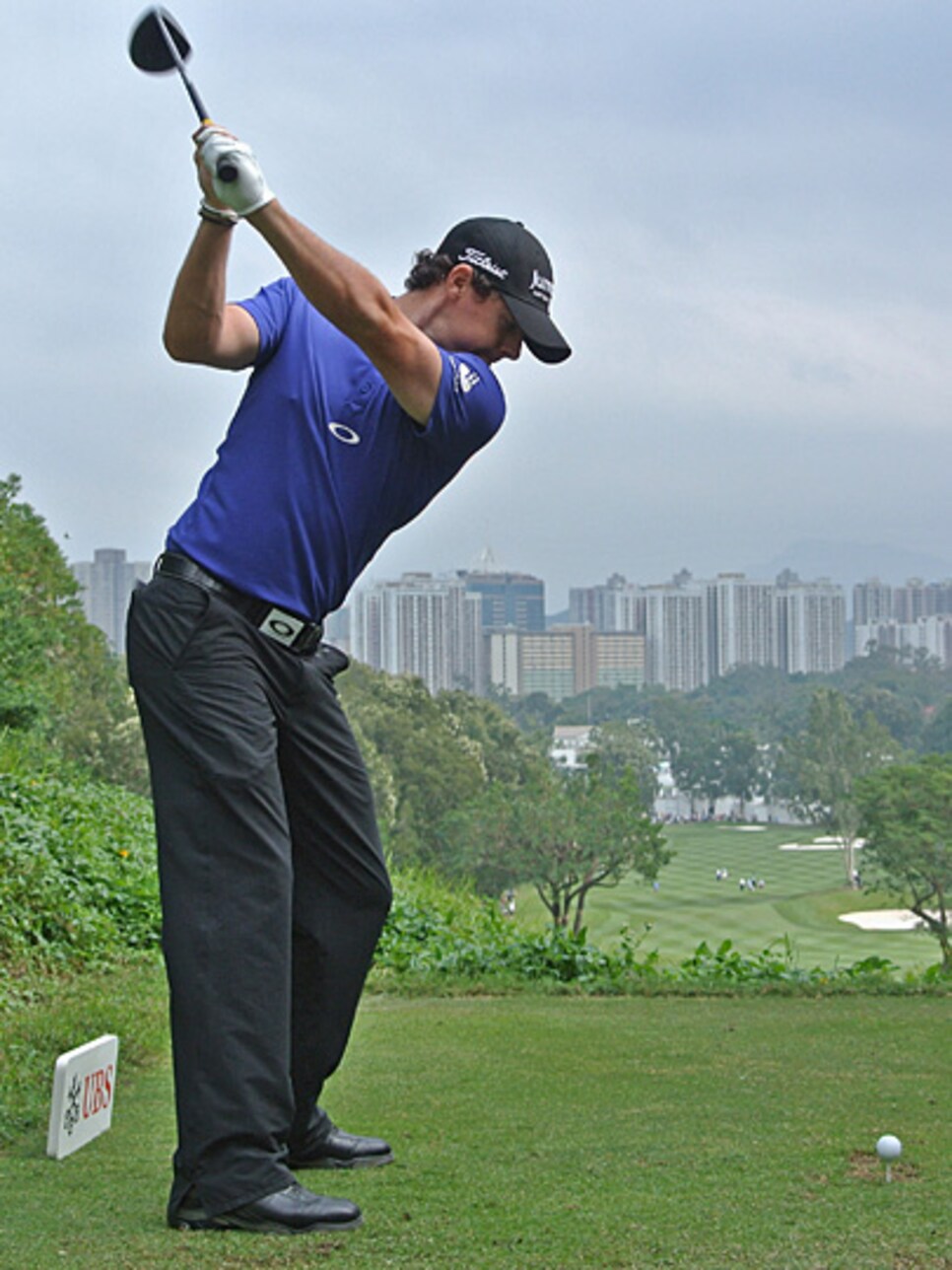 Hit a draw for more distance
Rory McIlroy's
hot stretch at the end of the season was due in large part to incredible driving that put him in position to be extremely aggressive with his approach shots. Are you ever going to be able to get off the tee like the World No. 1? Probably not, but that doesn't mean you still can't try to emulate him. A consistent, high draw is what allows McIlroy to routinely bomb it more than 300 yards, despite not being one of the bigger tour pros. A
look at his swing next to that of Tiger Woods
shows how McIlroy clears his hips fast on the downswing and swings his arms more out to the right to produce his right-to-left ball flight -- a way to maximize power if you are right-handed. Having a go-to ball flight will also give you confidence to hit the driver more often -- like Rory.
Photo By: Getty Images
There are no such things as 'gimmes' under pressureI.K. Kim was about a foot away from winning her first major at the Kraft Nabisco Championship. She wound up suffering perhaps 2012's most painful loss, as a stunning lip-out from close range led to a playoff defeat. Keep this in mind, the next time you sweep away that short par putt on your home course. Take your time, and square the putter behind the ball before you putt. Give them the respect they deserve." If one of the best women golfers in the world can miss a tap-in, you can, too. And oh yeah, don't be afraid to make your opponent putt them out every once in awhile as well.
Photo By: Getty Images
The ability to shape shots can come in handy
Bubba Watson
has long been known as one of the most creative players on the PGA Tour. Good thing, or he probably wouldn't own a green jacket. Faced with a 150-yard shot that needed to snap some 40 yards to the right, Watson hooked a wedge onto Augusta National's 10th green to beat Louis Oosthuizen in a playoff and run away with shot-of-the-year honors. To
bend it like Bubba
on a hook shot, Watson says to be super aggressive with your hands, rolling them to the point where the inside of your wrists "brush each other." Of course, you also have to practice -- and not just on the range. Attempting daring recovery shots during a typical round will prepare you better for when your really need to pull off some magic under pressure.
Photo By: Getty Images
Prepare Specific Shots For Specific CoursesPrior to his death in November, legendary instructor Jim Flick helped produce one of the season's most memorable moments through one of his students, Beau Hossler. The 17-year-old made waves by briefly leading the U.S. Open during the second round and Flick credited the pair's work on two Open-type of short-game shots:
pitching from a tight lie and pitching from deep rough
. You may not have a personal teacher, but that doesn't mean you can't focus on specific short-game skills. Identify the shots you face most often on your course, and focus your practice on those.
Photo By: Getty Images
Be Prepared For The Unexpected
Jim Furyk
appeared on his way to a second U.S. Open title when he arrived at the 16th hole of the final round. But there, Mike Davis and the USGA had a surprise for all the players, with the tee moved way up on the gargantuan par 5. While many players changed to hybrids or long irons, Furyk stuck with his 3-wood game plan and
hit a snap hook into the trees
, leading to a costly bogey. Bottom line: Don't let a surprise like this throw you off. Pick the best club for the shot you need to hit, and commit to hitting that shot.
Photo By: Getty Images
Stay Aggressive When BehindTrailing Adam Scott by seven shots with nine holes to go,
Ernie Els
could have coasted to the finish at Royal Lytham and received a lot of praise -- and money -- for a good showing. Instead, an incredible string of birdies as others faltered gave the Big Easy a second claret jug and a fourth major championship. Sure, he needed help from Scott, but Els
posting a 32 on the back nine
certainly didn't make it easier for the Aussie to close the tournament out. In other words, don't ever think you are out of a match/tournament until you
actually
are. Post the best score possible and see how things shake out.
Photo By: Getty Images
Think One Shot AheadWhile Els played loose and aggressive from behind,
Adam Scott
showed signs of panic. Tied on the 18th tee, he (and veteran caddie Steve Williams) went with a 3-wood instead of sticking with an iron as they had all week or pulling driver to clear a group of pot bunkers. The selection wound up causing Scott's ball to find one of the deep fairway hazards and led to a bogey to cap a stunning collapse. Take the advice of Tom Watson -- a man familiar with British Open success -- and
plan on where you want to hit your next shot from
in advance.
Photo By: Getty Images
A Turnaround Is Closer Than You ThinkPerhaps more than in any other sport, success in golf is linked directly to confidence. Take
Martin Kaymer
, who was literally on top of the golf world early in 2011 when he became No. 1 in the Official World Golf Ranking on the heels of his win at the 2010 PGA Championship. A rough patch followed, though, including an
embarrassing showing in the marquee group
the first two days at this year's PGA at Kiawah. He barely qualified for the Ryder Cup and was considered Europe's weakest link, but when he had a chance to shine on Sunday, he
made the biggest putt of 2012
. A month later, he won in South Africa and now the German appears to be on his way back to elite status.
Photo By: Getty Images
Matches Are Won Around The GreensThose were
Ian Poulter's
own words from an instruction article in Golf Digest's December, 2011 issue. And boy, did he
back them up at this year's Ryder Cup
. With Europe facing a deep hole late Saturday afternoon, Poulter played -- and looked -- like a man possessed, as he holed five straight birdie putts to pull out an unlikely win and give his team momentum heading into Sunday. His hot short game led Europe's charge in singles play, as he chipped in on the first hole (
left
) in his match against Webb Simpson. Poulter would win his match and his squad would match the biggest comeback in event history. Knowing he can make up shots around the green, Poulter isn't intimidated when he plays against bigger and better ball-strikers. Nor should you be.
Photo By: Getty Images
Sometimes You've Got To FlopThe highlight of Tiger Woods' year? His holed flop shot from a downhill lie behind the 16th green at the Memorial. The unlikely birdie led to his second win of the season and prompted tournament host Jack Nicklaus to proclaim: "I don't think under the circumstances, I've ever seen a better shot." So how did he pull it off? His instructor, Sean Foley, says you need to
open your stance, hinge your wrists quickly on the backswing, and cut across the ball
with a lot of clubhead speed. Of course, having the guts to pull off such a shot is also an integral part of the equation.
Photo By: Getty Images
Don't Throw Away Your Long PutterThe
USGA/R&A's proposed ban on anchored putting
was a huge story in 2012. However, it's important to note that the rule changes how you are allowed to stroke the ball, not what equipment you are allowed to use. Matt Kuchar, for instance, will still be able to use his long putter -- even if the ban starts in 2016 -- because he
props it up against his left forearm
, rather than anchoring it to his stomach or chest. This is just one alternative method of putting that would still be legal, so if you really like the length/weight of a long putter, explore your options. This year's Players champion (
left
) proved how valuable these clubs can still be.
Photo By: Getty Images
Tempo Is Key On ChipsBrandt Snedeker gets a lot of attention for his fast pace of play, but speed also plays an important role in his chipping. Sneds' crisp, firm hit on the ball, which he likens to striking a match, leads to better and more consistent contact. Known mainly for his putting stroke, it was Snedeker's all-around short-game prowess that paid off in a big way when he
chipped in for birdie on East Lake's 17th hole
to help wrap up the Tour Championship. The title also made him the FedEx Cup champ, bringing him a $10 million bonus. If that's not motivation to practice your short game, we don't know what is.
Photo By: Getty Images
Great Ball-Striking Goes A Long WayUnfortunately for
Keegan Bradley
, he has become the face of the anchored putter issue. Fortunately for the 2011 PGA Championship winner, there's a LOT more to his game than just his belly putter. Through his work with Jim McLean, Bradley has become one of the best ball-strikers on the PGA Tour. Among his
keys to solid strikes
are an inside-to-inside swing path and full commitment to every shot. That same full commitment to improving should make Bradley a star for years to come and is something every amateur can learn from as well.
Photo By: Getty Images
Be Smooth On The GreensIn 2012, Stacy Lewis won four times to become the first American to win the LPGA Player of the Year since Beth Daniel in 1994. How'd she do it? Improved putting certainly helped. Lewis has bettered her putts per greens in regulation every year, coming in third on tour this past season. To avoid three-putts,
Lewis suggests taking a longer backstroke on those short second putts
. This helps to keep her from making a quick, jabbing stroke forward and gives her a more even tempo back and through. The best part? It's also a simple adjustment that can help you.
Photo By: Getty Images
Sometimes Playing It Safe Can Pay Big DividendsIn a playoff at the Northern Trust Open,
Bill Haas
found himself just off the green at Riviera's famed short par-4 10th. But with a treacherous back pin position and with his opponents (Phil Mickelson and Keegan Bradley) yet to hit their second shots, Haas took bogey out of play by playing away from the hole with his pitch. Moments later, he looked like a genius when he
drained a 43-foot birdie putt
for the win. Of course, average golfers can't count on such heroics, but they can still benefit from adding a similar dose of discipline to their games.
Photo By: Getty Images