FedEx Cup Playoffs
Birdies & Bogeys: The Barclays
The winners and losers from the first week of the FedEx Cup Playoffs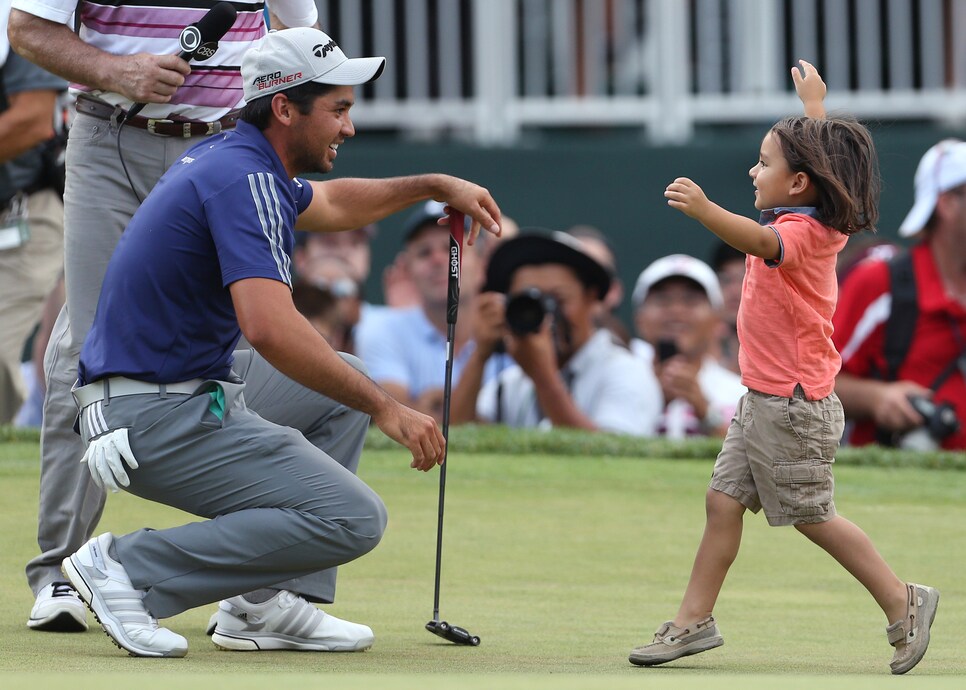 Birdie: Jason Day
Day destroyed the field at Plainfield CC, winning by six shots and picking up his fourth PGA Tour title of 2015. His victory also helped him leapfrog Jordan Spieth in the FedEx Cup standings. Speaking of Jordan. . .
Photo By: AP
Bogey: Jordan Spieth
In his first tournament as World No. 1, Spieth had a rare off week. He missed the cut by five shots and matched his worst two-round total (147) of the year.
Photo By: AP
Birdie: Rory McIlroy
With Spieth's struggles, McIlroy took back the top spot in the Official World Golf Ranking -- from his home. Rory will be No. 1 when he returns to competition this week at the Deutsche Bank Championship, with both Spieth and Day having a chance to overtake him.
Photo By: AP
Bogey: Adam Scott
While we're on the topic of former World No. 1s, it's amazing to think that the man who held the spot just 12 months ago didn't even advance past the first leg of this year's playoffs. Scott's disappointing season -- the last one in which he'll be allowed to anchor his putter -- ended with a missed cut with Plainfield.
Photo By: AP
Birdie: Brian Harman
The 28-year-old tour pro finished T-30 at the Barclays, but it was he, and not Jason Day, who made it onto CBS Evening News after the tournament. Harman made TWO holes-in-one during Sunday's final round, including a make with a hybrid on Plainfield's 220-yard 14th hole. Harman is just the third player to pull off the feat in a PGA Tour event.
Bogey: Brian Harman's wallet
Making two aces in a round comes with a price. Pictured are the drinks Harman had sent to the media, and that was just the beginning. Harman said a bunch of pros planned on going into New York City on Sunday night. "It's going to hurt," he said of the bar tab. "It's going to hurt real bad."
Birdie: Zac Blair
Day and Harman earned Sunday's biggest headlines, but it was Blair who made the biggest move in the FedEx Cup standings. Needing a good week to advance to the Deutsche Bank Championship, Blair put forth the best effort of his rookie campaign with a final-round 66 that gave him a T-4 finish. In jumping from No. 106 to No. 45 in the standings, Blair also qualified for the third playoff event, the BMW Championship.
Photo By: AP
Bogey: Jason Dufner
With a chance to make a really big move of his own on Sunday, Dufner shot a closing 75 to fall 23 spots on the leader board and wind up tied for 30th. It's the latest disappointment during a tough year in which he has just one top-10 finish.
Photo By: AP
Birdie: Camilo Villegas
Villegas struggled on Sunday with a 73, but he came up clutch when it mattered most. Needing to sink a double-breaking nine-footer for par on No. 18, Villegas made it to stay just inside the top 100 (No. 99) and keep his season alive.
Photo By: AP
Bogey: Nick Taylor/Stewart Cink
Unlike Villegas, these guys didn't walk off Plainfield's 18th green with a warm and fuzzy feeling. Taylor (shown) missed a six-footer for birdie on No. 18 and wound up 101st in the FedEx Cup standings. Cink finished right behind him at No. 102, missing his chance of advancing in the playoffs by bogeying the drivable par 4.
Photo By: AP