The Best Style Looks Of 2013
Mr. Style takes a look back at the best-dressed PGA Tour players of the year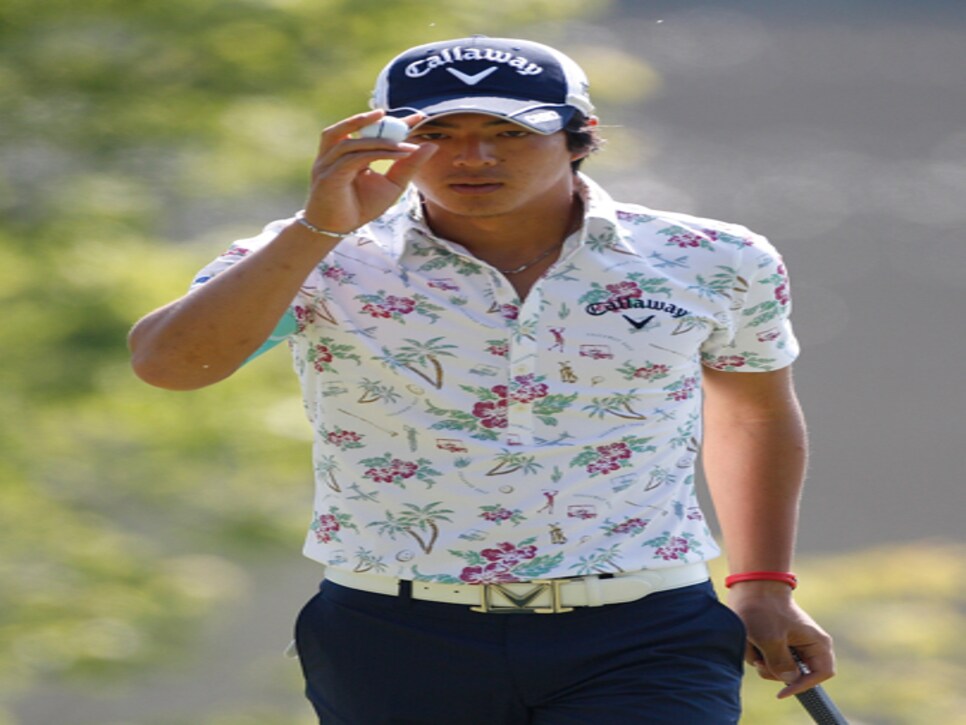 Ryo Ishikawa
There's a reason why Ryo Ishikawa always shows up on my best-dressed list. The Callaway Golf collection created in Japan is fashionable and trend-forward, so Ryo is always in product that can be seen as directional. The fit is the second significant reason. In other words, the clothes are great and the fit is absolutely perfect for a trim, athletic, young man.
Rickie Fowler
Fowler doesn't have to wear orange to look good. It's not that we dislike orange, it's just become so synonymous with Fowler it's assumed that's all he wears. Note that his shoes always coordinate with the clothing. A nice touch if you have a large closet.
Frederik Jacobson
Freddie Jac is now wearing the very popular (in Sweden) Oscar Jacobson collection. The Plus Fours (seen here) confirms that Freddie not only has great style, but also marches to his own drummer. To me, this outfit, which we got a sneak peek of at the Travelers, says in unequivocal terms, "I like to have some fun and respect the traditions of the game." It's important to note that Jacobson's look changes as his rounds progress. So by the end of the round, while he looks like a train wreck, it's a stylish look. It's sort of his unkempt style, a studied nonchalance.
Graeme McDowell
Text-book image of Graeme McDowell in Kartel and, as expected, everything's perfectly coordinated. The trim on the cardigan vest, the belt, the shoes -- it's subtle, but clear. Beautiful fabrics, well-made and well-styled on a classy guy. A fitting example of how to put it all together.
Bubba Watson
Bubba's Oakley outfit (shown here) is a preview of what golf fashion will look like in 2014. Color blocking is here to stay, and when done creatively, has just the right amount of P-O-P. I especially like the use of the orange belt, which accents the small amount of orange on the shirt.
Graham DeLaet
Graham Delaet's Sligo outfit is never short of great colors and interesting patterns. It's a young, energetic collection of fun apparel. Notice how he coordinates the belt with his shirt (as opposed to his hat or shoes). I hope this will continue to be a trend that we see into next year.
Tiger Woods
What makes this outfit interesting is the fabric that Nike has developed for this collection of shirts. The TW Jacquard golf polo with dry-FIT fabric wicks sweat away so that you'll always look cool as a cucumber. The 9% spandex gives the shirt a great range of motion and comfort while retaining the shape and fit. In my opinion, this might be the ideal shirt to pack for a golf trip. Oh, it also comes in a jillion colors -- including Sunday red.
Ian Poulter
Ian Poulter's style selections are elegant and quite simple. For example, the prince of wales tartan is recolored every season, but always remains the Prince of Wales tartan. IJP design introduces subtle changes and modifies some of the colors to keep the look fresh. A lot to be learned here: if you have busy bottoms keep the tops solid and simple.
U.S. Walker Cup Team
In my opinion, this is how every future Walker Cup team should look if they're going to hit a golf ball. Does it get anymore classic than a simple black-knit tie and navy-blue cardigan over tartan trousers? Even the belt looks perfectly coordinated. One of the signature looks of 2013.
Webb Simpson
This is the first year that 2012 U.S. Open Champion Webb Simpson has donned the youthful and fun IZOD Golf collection. The bold vertical stripe looks terrific and it doesn't hurt to have that Merion pin as the perfect accent.
Brandt Snedeker
These stylish check-patterned bottoms from Peter Millar work well with the bold pink shirt. Frankly, I think this should be Sned's Sunday look as it has lots of southern charm and energy. Nice belt, too!
Billy Horschel
Take a number, this is going to be the 987th comment on Billy Horschel's RLX octopus trousers. While he might not have played as well as he wished when he wore them, Horschel certainly deserves high marks for even trying. Horschel should use future majors to showcase fun patterns as they create a lot more smiles than your standard issue solids. Maybe the most memorable look of the year.
Adam Scott
Talk about a text book example of perfect timing. Adam Scott signing with Uniqlo and winning the Masters in the same week is nothing short of genius. The pants, belt and shirt total less than $100, but somehow look like a million bucks on your 2013 Masters champ.
Phil Mickelson
I selected this image because I thought his House of Fleming exotic-skinned belt is quite unique and works really well with the navy shirt. Watch carefully how Phil usually finds a way of adding a dash of luxury to everything that he does. Doesn't hurt to have that Rolex Celini watch on your wrist either.
Australian Fanatics At The Presidents Cup
It wouldn't be a significant golf event (year) without the Fanatics. I don't know who's doing their wardrobes, but I'd strongly recommend he keep his day job. It's all in fun, of course. I'm looking forward to seeing what they're going to do next year!