Golf Beginners Guide
A how-to guide for parents and juniors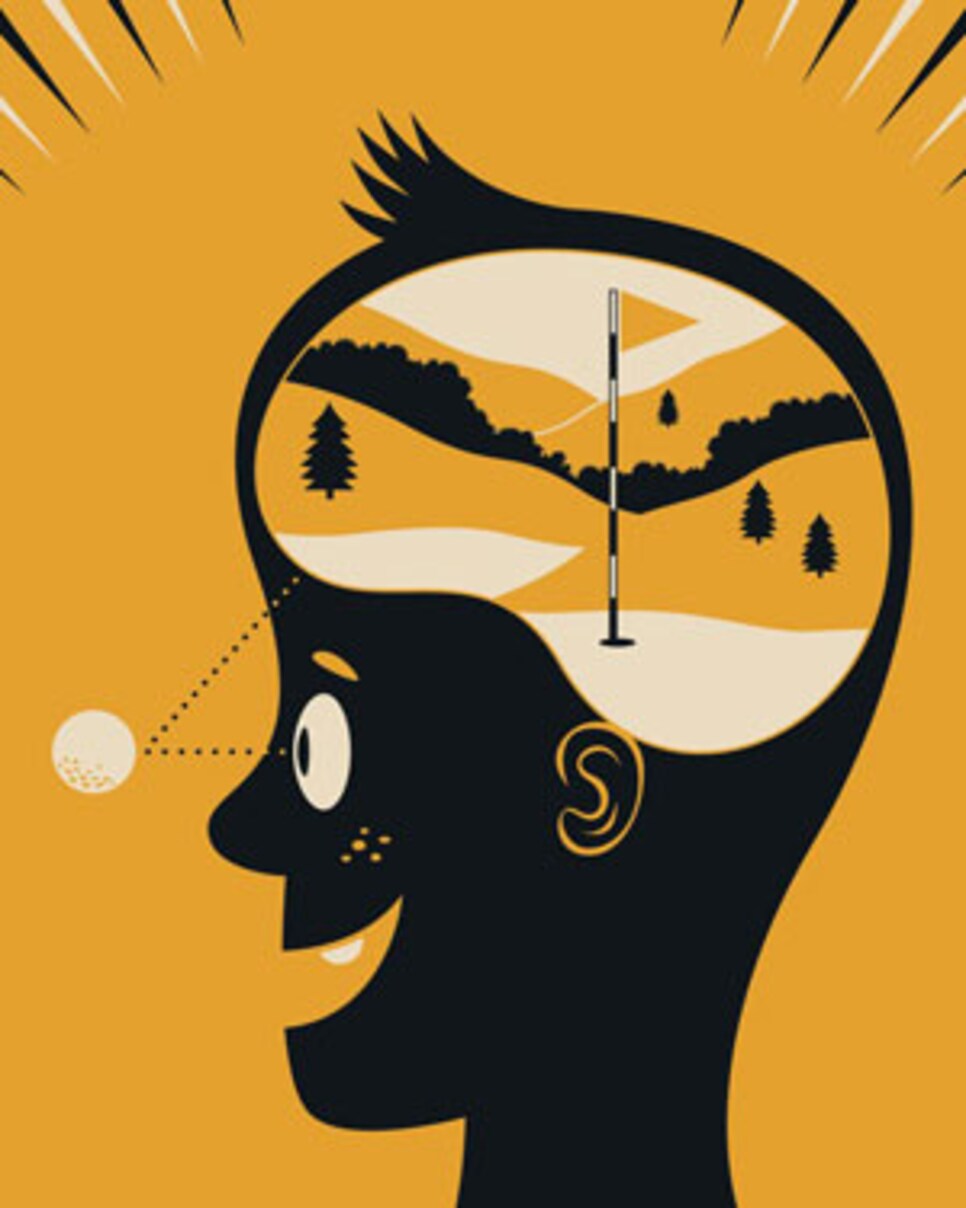 A how-to guide for parents and juniors
HOW TO MAKE GOLF FUN
Golf seems pretty dull, right? You can't act up, and you're supposed to focus all the time. BOR-ing. Teacher JASON GUSS uses games to make it more fun. First, ask the pro for two alignment sticks--long, skinny things that look like swords.To play the first game, stick the two sticks in the ground six feet apart, then walk back 10 steps and try to hit drivers through them, like a field goal. You're learning to aim and hit the ball straight.For the second game, stick the two sticks in the ground at an angle so they cross at the top and form a triangle. Take a wedge, walk back six feet and try to hit chips through the triangle. Guss says you're learning to hit it low with a short swing--the basic greenside shot.For the third game, go to the practice green and put the two sticks down four inches apart so they make a track. Try to putt balls down the middle of the track. You're learning to roll a ball where you're aiming. And if you get bored, you can always just have a sword fight, but don't tell your parents we said that.--Stephen Hennessey
PLEEEZE DON'T TELL ME THIS!
"Sorry, bud, you're too young to drive the cart."C'mon, I won't tell Uncle Sid you've been fluffing up your lies."Give me an hour in the practice bunker, then we'll hit drivers."Wow, sounds wonderful. Where do I sign up for next weekend?"OK, try it again, and this time keep the club on plane."On plane? Seriously? Do you even know what that means?"You can borrow a ball, but Titleists are for grown-ups."Then why do you keep pumping them into the woods?"For the last time, stop trying to hit the range tractor."What you mean is, I wish I could do that and get away with it.
4 RULES FOR TEACHING JUNIORS
'Kids can be shaped like a piece of putty in your hands," says JOHN ELLIOTT JR., a Golf Digest 50 Best Teacher, "but they don't learn like adults. They don't want to analyze everything. You have to help them without trying too hard." Here are Elliott's four rules for parents:1. Kids learn more from not knowing. Let them make mistakes, and try not to tell them they're doing something wrong. Only offer ways to take what they're already doing and make it better.2. Until they get to high school, most kids aren't really committed to the game. They're only dabbling. If it's not fun, they won't keep doing it. Too often we create paranoid observers, who think they're not allowed to just be themselves.3. If your kid tells you he or she wants to go hit balls, drop everything and go. They're not asking you to teach them. You're only providing them the opportunity to play. Be ready to answer questions, but only when asked.4. Golf is better when you learn it with a friend. There's protection in numbers, and the discussions will be on their level. It'll help them stay engaged--and might even get them hooked.--Jeff Patterson
WHAT TO STEAL FROM YOUR KID
It's natural to try to get your junior to copy your fully developed golf swing. But that process doesn't just go in one direction. Adults can benefit from co-opting parts of a kid's game. "Kids don't fear failure, at least until an adult tells them what it is," teacher KEVIN WEEKS says. "They don't worry about bad shots. They look at the ball, look at the target, and hit the shot. Then they go find it and do it again." The closer adults can get to that childlike mind-set, the better they'll play."The same holds true on the greens," Weeks says. "A lot of players are out there putting not to make it, but to leave themselves an easy next putt. Kids aren't thinking about the next putt, because this one's going in. That's a powerful attitude to have on your side."--Matthew Rudy
GET CLUBS THAT FIT
Your kids might be trying to sneak away with your new driver, but unless they're also sneaking up on you height-wise, tell them to settle down. Better to err with a club on the shorter and lighter side, says JOYCE WILCOX, a teacher at Cobblestone Golf Course in Kennesaw, Ga., and one of U.S. Kids Golf's Top 50 Teachers."It takes so much more effort when you add a heavy element to the swing," she says. "The right length and weight gives them a better chance to succeed." What to look for? Wilcox says when a club is too long, the player stands too tall and tends to hit the ball fat or, in an attempt to adjust, starts to top it. If a club is too heavy, the swing plane will be inconsistent and shots will miss right as the kid struggles to get the club back to square.Wilcox suggests this test: Have your child pose in the proper swing positions--halfway back, at the top, halfway down, and so on. If he or she can't hold these positions, the club is too heavy and too long. Only when your junior is noticeably bending over to reach the ball or consistently catching it thin should you consider longer clubs.--Mike Stachura
HOW YOUNG IS TOO YOUNG?
Ever hear a golfer say, "Man, I wish I started later in life?" Never. Then again, we've seen overbearing parents: "We're not leaving till you make one." Starting young is a plus, but how do you, as a parent, cultivate curiosity without overdoing it?"There's golf, and there's golf activities, and it's never too early for the latter," says ERIKA LARKIN, a Golf Digest Best Young Teacher. "At age 1 or 2, you can start by rolling a tennis ball to a Hula-Hoop or drawing pictures of golf holes with animals on them. Some kids will latch on; others will tinker. Follow their lead."When your child wants to swing clubs, Larkin says your role is not coach but cheerleader. "Simple verbal cues like 'OK, ready position,' and then 'Trophy pose' for the finish are enough. And get them in the sand; kids love sand. My rule: You get two tries to hit it out--then throw it."One more thing: Pack it in when they're still having fun, so you leave on a high note. They'll want to come back again."--JP
THE BEST SPORTS FOR GOLFERS
You might already love golf, but many juniors do best when they play other sports, too. Which ones are good for golf?"Hockey is terrific," says GREG LABELLE, one of Golf Digest's Best Young Teachers. "Skating builds the butt muscles--the kings of the golf swing--using the stick sharpens hand-eye coordination, and the slap shot is a lot like the golf swing. Basketball, too, because it emphasizes side-to-side movement, footwork and touch, and it builds stamina."But the best "sport" is making up your own games, LaBelle says. Pitching pennies teaches touch. Skipping rocks develops wrist strength. Climbing trees builds up your arms and legs. Plus, games like these make you challenge yourself.--Guy Yocom
MOVE OVER, EARL WOODS
Parenting is tough. Parenting a precocious junior can seem impossible. For advice, we turn to RANDY SMITH, who has worked with several PGA Tour players from the time they picked up the game.The secret to a good relationship between teacher and student, Smith says, is the same as it is between a parent and a junior. "Everyone has to understand that it's a step-by-step deal: You need different things at different steps. Preserve a love for the game and for the process of improvement."Smith says a good teacher will blend a junior's physical, mental and social skills. "You're a guidance counselor, invested in the person, not just the player. It's having as much pride in getting the last spot on the high school team as looking like the next Tiger Woods."--MR
WHY DOES MY KID DO THIS?
To small children, golf is a revelation. It's a revelation for parents, too, when they try to decipher the curious ways tots do things. __SCOTT DAVENPORT__t, head pro at Quail Hollow Country Club in Charlotte, explains what's behind a child's first instincts."Most small kids will grip the club cross-handed," Davenport says. "Placing the leading hand lower on the handle gives them a feeling of leverage. Don't correct them. They'll outgrow it as they get older."Kids also move their feet around during the swing," he says. "I wouldn't change that, either. They're learning to stay balanced. And if you make them keep their feet planted, they might get discouraged and lose interest."And what about their proclivity for looking up--sometimes even during the swing? "They're just eager to see where the ball goes," Davenport says. "Add that to the list of things not to correct. With young kids, remind yourself that fun and freedom are more important than good technique."--GY
WHAT IT TAKES TO PLAY COLLEGE GOLF
Sure, you want to strut your stuff in college. You get the school golf bag, get to play all over, get free shirts--maybe a scholarship. But are you good enough? HANK HANEY, former men's coach at SMU, sends more than a dozen students a year to college programs from his International Junior Golf Academy. He says D-I players have certain hallmarks. "The ability to hit it long enough is a prerequisite. Reaching the occasional par 5 in two is a good test. Then I look at your swing and the shots you can hit--up, down, left, right. Can you consistently shoot a few over par or better, sometimes under?"But attitude and work ethic determine your ultimate potential, and it's super competitive out there. You better be good."--MR
BEHAVING BADLY
Only so much can be blamed on developing hormones. Take a hard line if your kid starts acting like one of these.The Hothead: "Son, spare us the psychological meltdown. And don't worry, you've got a whole lifetime of triple bogeys to pout about."The Lil' Tiger: "Consecutive junior club championship wins or not, there's no reason for black slacks in the middle of July. And by the way, you're not sponsored by Nike."The Tosser: "Better make it a good one, because I promise you this'll be the last club you ever throw. Try me."The Punk: "I know the XXL shirt is a cool look, but tuck it in. Let's see that belt I got you."The Cheat: "If you get used to gimmes and preferred lies at your age, you'll have no room to mature as a player."--Max Adler