Academy Awards
And The 2016 Golf Oscar Goes To...
What if golf handed out movie-themed awards? In honor of this weekend's Academy Awards, here are the winners of the 2016 Golf Oscars.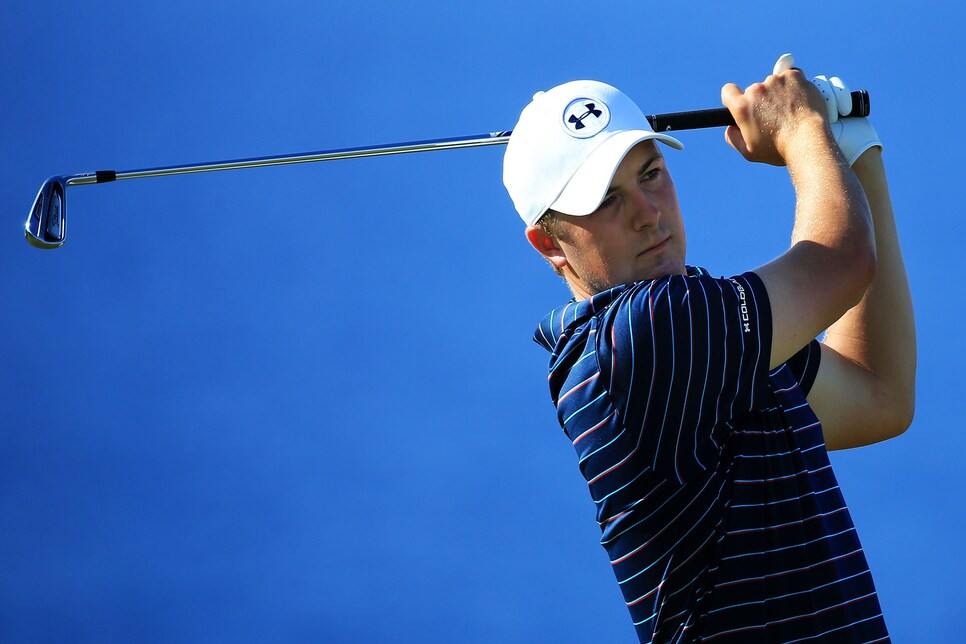 Photo By: 2015 Getty Images
Photo By: 2016 Getty Images
Best Actor: Jordan Spieth
This reminds me of the 2000 Oscars. Tom Hanks was really, REALLY good in Cast Away, and in any other year, would have won the statuette. But Russell Crowe's Gladiator performance was a once-in-a-lifetime, tell-your-kids-about-it experience. Which is how we'll remember Spieth's 2015, where he grabbed the first two majors, barely missed out on a playoff at St. Andrews, finished second at Whistling Straits and won the FedEx Cup. And yes, Jason Day is Hanks in this scenario. - Joel Beall
Photo By: Getty Images
Best Actress: Lydia Ko
Ko continued to set all kinds of age-related records over the past year. From the youngest golfer ever ranked No. 1 to the youngest golfer to win a major to the youngest athlete to win a player-of-the-year award in a major sport, Ko has set the bar high for future phenoms. She may only be 18, but she's the LPGA's leading lady. And no, that's not prop money. - Alex Myers
Best Supporting Actor: Zach Johnson
The headliners at the Old Course were Jordan Spieth, Dustin Johnson, Jason Day and -- briefly -- amateur Paul Dunne. But it was an ancillary character, Zach Johnson, who turned in the best performance of the cast, shooting 66 on the final day and besting Marc Leishman and Louis Oosthuizen in a playoff for the claret jug. And let's not forget Johnson's Presidents Cup contributions: Although partner Phil Mickelson is the bigger name, ZJ did his part to help the duo go 2-0-1 in South Korea. - JB
Best Supporting Actress: Inbee Park
Like Zach Johnson, Park often remains under the radar despite consistent, brilliant play. Lydia Ko may have edged her for player-of-the-year honors, but Park won two majors to lead the way in that category, giving her seven for her career and making her just the seventh LPGA player to complete the career Grand Slam. Just call her "Winbee." - AM
Best Picture: The U.S. Open
Say what you will about controversial Chambers Bay, but the relatively unknown course provided a stunning backdrop to the most exciting – and gut-wrenching – tournament of 2015. There was the unlikely challenger, Branden Grace, saying goodbye with a wild drive onto the train tracks. Jason Day staying in contention despite toppling from vertigo-like symptoms. A wild birdie-double bogey-birdie finish by eventual winner Jordan Spieth. And of course, Dustin Johnson turning a putt for his first major title into a three-putt and yet another heartbreaking finish. Get Chambers Bay's greens rolling a little smoother, and we have no problem with the USGA going back there in the future. - AM
Best Villain: Suzann Pettersen
As we've seen with Gordon Gekko, Hannibal Lecter and Darth Vader, sometimes the bad guy can steal the show. This was the case at the 2015 Solheim Cup, as European player Suzann Pettersen hoodwinked Alison Lee regarding a gimme putt. The American squad surmounted a storybook comeback to win the event, but Pettersen's action -- which was
universally condemned
, including by her own teammates -- was the prominent plot twist that still has people talking. - JB
Photo By: 2015 Getty Images
Best Screenplay: The Presidents Cup
Bill Haas may be best known as that guy who hit that shot out of the water to win $10 million, but the moment that is the most special of his career came at the Presidents Cup while playing for his father, Jay, the U.S. captain. Put in the pressure-filled position of playing in the final singles match on the final day (Thanks, dad), Haas came through with a win over Sangmoon Bae on the final hole (You're welcome, dad). Tears flowed from the two to give us the perfect Hollywood ending in South Korea. Well, at least, from an American perspective. - AM
Photo By: AP
Best Ending: Vaughn Taylor
When Taylor teed it up at the AT&T Pebble Beach Pro-Am, he was the 447th ranked player in the world, hadn't won on the PGA Tour since 2005 and had lost his tour card. Hell, he missed a minor-league cut just two weeks prior. That Taylor was even playing golf was a minor miracle, as he had almost lost his life in a
boating accident
. Yet, in a star-studded field, it was the 39-year-old journeyman who came out on top, with his final-round 65 the type of finish only found in a movie script. - JB
Photo By: Getty Images
Best Short Film: Tiger Woods
With two words and one 13-second video, Woods emerged from his latest disappearing act to let the world know he's still alive and that rumors of a poor recovery from two off-season back surgeries had been exaggerated. The mass hysteria caused by the quick clip – reactions from "He's back!" to "His swing looks terrible!" – proved he may not be golf's lead actor anymore, but he's still its biggest star. And no, he didn't use a stunt double. - AM
Best Animated Feature: John Daly
With old age comes a more level-headed disposition. Or, at least, that's what's supposed to happen. After dumping three balls into Lake Michigan at the par-3 seventh at Whistling Straits, Long John
helicoptered
an iron into the water, proving that, even as he nears 50, Daly remains one of golf's most animated characters. - JB
Best Revival Performance: Phil Mickelson
Mickelson came in second at the 2014 PGA Championship and 2015 Masters, yet failed to finish inside the top 60 in FedEx Cup standings the past two years, seemingly signaling the end was near for Lefty. However, Mickelson showed he's not ready to give up just yet with a strong showing at the 2015 Presidents Cup. He has carried this prosperity into the beginning of 2016 (T-3 at the CareerBuilder Challenge, second at Pebble Beach), proving he's still worthy of top billing. - JB
Photo By: 2016 Getty Images
Best Hair and Makeup (Non-WAG division): Boo Weekley
We've seen Weekley with interesting looks before, but this beard really turned heads, including those at PGA Tour headquarters. Other than losing his razor or just being lazy, the only logical explanation for this look is Boo was trying out for the part of the bear in "The Revenant." - AM
Best Costume Design: Bryson DeChambeau
Rickie Fowler's high-tops, as well as a number of WAGs, made this a highly contested category. But for the fact that DeChambeau, as an amateur, is single-handedly reviving the Hogan cap look, he gets our nod. - JB
Photo By: Getty Images
Best Original Song: "Triumph of the Spirit"
OK, so Fox's new U.S. Open theme music was the only fresh entry in this category. Still, composer Brian Tyler's effort deserves credit. "Triumph of the Spirit" is no Yanni's "In Celebration of Man" (What is?), but it's a suitable replacement – especially that great title. - AM
Best Voiceover: Jim (Bones) Mackay
Bones has risen to prominence as Phil Mickelson's looper, but Mackay showed he's more than just a caddie this year, as he stepped behind the mic at the RSM Classic. Mackay was articulate, informative and detailed in his analysis at Sea Island, and also displayed his infamous wit. Whenever Mickelson hangs it up, there will be a broadcast opportunity waiting for Bones. - JB
Best Cameo: Paul Dunne
A third-round 66 put Dunne in the spotlight at St. Andrews, becoming the first amateur since 1927 to lead the Open heading into the final day of play. Alas, Dunne's presence on the main stage was brief, quickly slipping out of viewers' screens as he stumbled down the leader board thanks to a 78. - JB
Best Cameo (Celebrity Division): Justin Timberlake
First, the popular entertainer took a wait on a tee box during the AT&T Pebble Beach Pro-Am and turned it into an impromptu performance of one of his songs (We're still trying to figure out how that guitar got inside the ropes, but we're not complaining). Then, he teamed up with Alfonso Ribeiro to do the famed "Carlton" dance from The Fresh Prince of Bel-Air. Talk about versatility in front of the cameras. - AM
Worst Cameo: Greg Norman
The Shark's debut as a full-time announcer generated plenty of buzz, but wound up only lasting one year. After a first U.S. Open telecast in which he received mixed (to be kind) reviews, Fox Sports let the two-time major champ go. Something tells us his replacement, Paul Azinger, is going to last a little longer at the job. - AM
Best Director: Jay Haas
At the helm of the Presidents Cup American roster, Haas made some controversial calls in selecting Phil Mickelson and his own son Bill for the team. The gambles paid off: Mickelson earned 3.5 points for the U.S., while Bill won the final match to clinch victory for the red, white and blue. Yes, we already mentioned that, but if movies can win multiple awards, so can golf moments. - JB
Photo By: AP
Best Foreign Film: Jason Day
Jordan Spieth was the clear choice for player of the year, but Day at least made things interesting. The Aussie won four events over a two-month span in the summer, including his first major at the PGA Championship and back-to-back six-shot romps in the FedEx Cup Playoffs that took him to No. 1 in the Official World Golf Ranking. Day matched Spieth with five overall PGA Tour wins in 2015 as the pair became just the sixth and seventh players to accomplish that feat in the past 40 years. Again, it's not the best actor nod he was hoping for, but at least he walks away with something. - AM
Best Child Star: Dash Day
The only person who got as much air time on the 18th green throughout the summer was Jason's adorable son. Dash hammed it up for the cameras and even made it onto the January cover of Golf Digest. - AM
Best Stuntman: Ellie Day
Or should we say, stuntwoman. Being a stunt performer is a thankless job, and one that puts its incumbent in harm's way. Ellie, the wife of Jason Day, found herself in such a position at a Cleveland Cavaliers game, as superstar LeBron James trucked into her courtside. While a scary moment, Ellie walked away (relatively) fine, and the sequence proved an awesome action scene in the process. - JB
Worst Stuntman: Rory McIlroy
Did he injure himself jumping out of a burning building? Did he get sent to the hospital after a "Fast and Furious" car chase? Is he on crutches following a climatic one-on-one street fight? Nope; McIlroy was put in a boot by . . . soccer. On the bright side, Rory can say he does his own stunts during his next press tour. - JB