PGA Championship
2016 PGA Championship: Sunday Birdies and Bogeys
Who were the winners and losers on Day 4 of the 2016 PGA Championship at Baltusrol? Let's take a look with our daily roundup of birdies and bogeys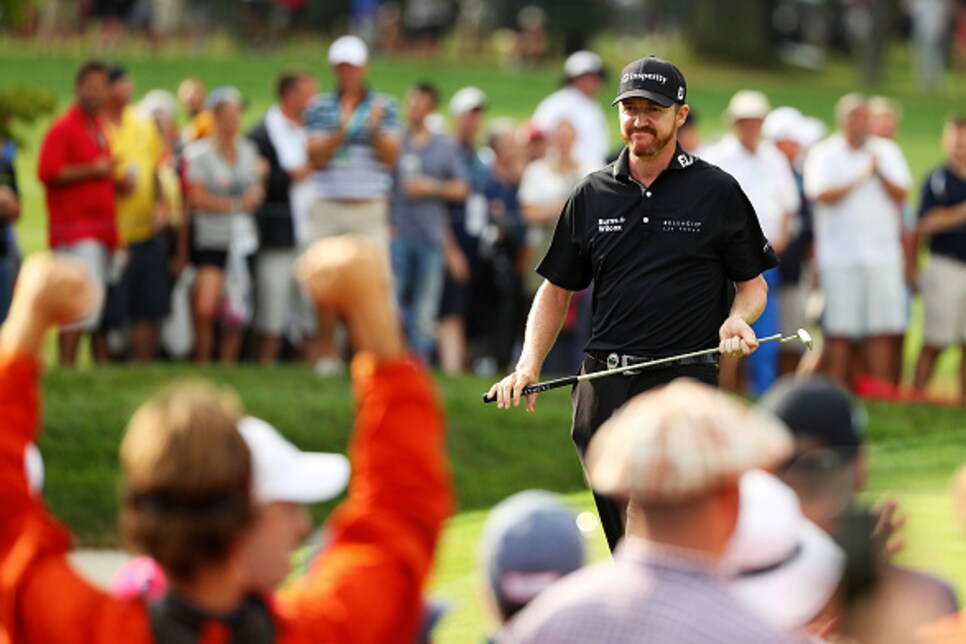 Birdie: Jimmy Walker
The game doesn't make any sense sometimes. Jimmy Walker had missed the cut in three of the last four majors, and hadn't had a top 10 anywhere since March. And yet on the eve of the first round at Baltusrol, Walker's coach, Butch Harmon, acknowledged that of all his high-profile students heading into the season's major, Walker appeared in the best form. The newly-minted PGA champion looked the part on Sunday. In a 36-hole slog in which he was pushed by the best player in the world, Walker's closing 67 was brilliant. After nine pars to open,
he holed out from the bunker on the par-4 10th for one birdie
and added another one on 11. Late in the round when he'd be excused for feeling nerves, Walker was unflappable, ultimately rolling in a 12-footer for birdie on the 17th that proved the difference over Jason Day. His bogey-free round was his first since the Players in May, and his first time ever in a major. It came at the most opportune of times, allowing the 37-year-old Texan to become the fifth consecutive first-time major winner. -- Sam Weinman
Birdie: Jason Day
As electric as Jason Day's eagle was on the 72nd hole, it wasn't quite enough. Jimmy Walker's gutsy up-and-down denied Day the defense of the Wanamaker Trophy, and sent Day looking to 2017 for his second major. Still, what a year it has been for Day. He took over the World No. 1 title and has earned three PGA Tour wins already. The final-round 67 was particularly impressive given he opened with bogeys on two of his first three holes. If not for those, he might have ended the 2016 major season the way he finished the last one. --Stephen Hennessey
Photo By: Getty Images
Bogey: Sunday's Awkward Conclusion
We realize the PGA of America didn't have much control over the weather, and given the predicament it faced after much of Saturday play was washed out, officials should be commended for getting this thing in. Still, it made for a strange dynamic when the third and fourth rounds were being played simultaneously the final day -- half the field playing "lift, clean and place" -- and the leaders scattered throughout the pairing sheet. One of the most exciting scenarios in golf is when players are bunched together with the same stretch of holes before them, but the bad weather made for one of the most disjointed finishes to a major in the television era. --S.W.
Photo By: Getty Images
Birdie: Finishing At All
With that being said, for all the talk about storm cells and poor forecasts, a Sunday ending to this PGA Championship looked grim for much of the weekend. There ended up being no delays on Day 4 at Baltusrol, and just enough daylight to crown a champion. The maintenance staff at the noted New Jersey club deserves a ton of credit for keeping the course in good enough shape for a marathon day of golf in soggy conditions on Sunday. And we even got a little drama, thanks to Jason Day and Jimmy Walker, down the stretch. --S.H.
Photo By: Getty Images
Bogey: Henrik Stenson
We witnessed Henrik Stenson make history at Royal Troon, so it wasn't a stretch to figure he'd factor down the stretch at Baltusrol. But after flirting with the lead most of Sunday, Stenson's hopes of back-to-majors derailed with a double bogey on the 15th hole. He finished T-7, but with a closing 71, he was the only player in the top 41 to shoot a round over par in the final round. --S.H.
Photo By: Getty Images
Birdie: Brooks Koepka's Ryder Cup chances
Thursday's round was Koepka's first 18 holes since the U.S. Open, as he missed the past month to tend to torn ankle ligaments. The only reason he decided to play this week was the tournament's reward of double Ryder Cup points. Koepka, who was bypassed for last year's Presidents Cup, desperately wants to be at Hazeltine. After reaching as high as third in team standings this season, his absence dropped him off automatic qualifying. But with a strong performance at Baltusrol, Koepka likely secured his spot on the American squad for the fall event. --Joel Beall
Photo By: Getty Images
Bogey: Brooks Koepka's finish
Koepka, who entered the final round two shots back, seemed poised to make a run at the Wanamaker following a Sunday morning 66. Instead, Koepka failed to muster a single birdie on the first 10 holes despite soft conditions. Worse, he took a bogey on the 11th thanks to an unsuccessful punch-out. In his defense, 36 holes on a bum ankle was a mighty endeavor; conversely, Koepka himself said: "I've got 18 holes to win a major. I'm pretty sure I can explode off it." In short, Sunday was a lost breakthrough opportunity for the 26-year-old. --J.B.
Photo By: Getty Images
Birdie: Daniel Summerhays
Summerhays, who at one juncture this season was 155th in the world rankings, has two top 10s on his campaign. Both have come at major championships, as a final round 66 vaulted Summerhays to a third-place finish at Baltusrol. The 32-year-old, who came in eighth at Oakmont, rode his flatstick to climb the leader board, finishing the week second in strokes gained/putting. Don't be surprised to hear Summerhays' name in the upcoming weeks: Last year, he logged top 10s at the Barclays and Deutsche Bank Championship. --J.B.
Photo By: Getty Images
Birdie: Branden Grace's early charge
Somebody from the front of the pack was bound to be the rabbit, jumping out ahead of the leaders on Sunday at Baltusrol -- to give them something to think about. It happened to be a guy who is getting used to knocking on the door at major championships. The 28-year-old South African, teeing off two hours ahead of the final group, played the final nine holes of his third round in four under in the morning, then kept the momentum going with four more birdies on the first 13 holes of his final round. The run moved him from T-28 at daybreak to T-2 and a stroke off the lead. With three holes to play, Grace, who had top-five finishes in the three of his previous six majors, looked ready to set the target and cement his up-and-comer status . . . --Ryan Herrington
Photo By: Getty Images
Bogey: Branden Grace's finish
Then Grace's run came to a crashing halt. Hitting the green but leaving his tee shot on the par-3 16th 37 feet from the hole, he left his birdie try four feet short, then missed the par putt, carding his first three-putt since early in Round 2. The step backward meant it was even more critical to birdie at least one -- if not both -- of the closing par 5s. But when his drive on 18 found the water left, he mustered two too-little, too-late pars. Grace was upbeat afterward ("When I tee it up now, I feel I can win a major," he said), but he'll be left wondering what might have been had he closed things out better and put a little more pressure on the final groups. --R.H.
Photo By: Getty Images
Birdie: William McGirt
The 37-year-old McGirt had played in one major championship prior to this season, and when he got to play two more following his breakthrough win at the Memorial, he didn't make the cut in either the U.S. or British Open. Given that, McGirt couldn't have expected much when he showed up at Baltusrol this week. Instead, he found himself briefly in contention when he shot 66 in the third round. His closing 70 wasn't enough to make a run at the leaders in the final round, but with a T-10 finish, the one-time journeyman was still able to taste major golf in a big way this week. --S.W.
Photo By: Getty Images
Bogey: Hideki Matsuyama's Putting
Matsuyama finished with a two-under 68, but the Japanese star is leaving Baltusrol wondering what could have been. That sentiment derives from Matsuyama's putting performance, or lack thereof. Despite leading the field in strokes gained/tee-to-green, he ranked T-47 in birdies, unable to convert his iron darts with the putter. It was a performance so putrid that CBS commentator Ian Baker-Finch remarked "I feel sorry for him" after another missed putt. He's one of the best ball-strikers in golf, but until he develops a short game -- he ranks 134th in strokes gained/around-the-green and 148th in three-putt avoidance -- Matsuyama won't crack the ranks of the sport's best. -- J.B.
Photo By: Getty Images
Birdie: Tyrrell Hatton
Tyrell Hatton will be sad to see the calendar turn to August, as July was easily the most successful month of the 24-year-old Englishman's career. He capped it off with a tie for 10th at Baltusrol, finishing at seven under in his first-ever PGA Championship. Hatton has the Scottish Open to thank, as his second-place finish earlier in the month qualified him for both the British Open and the PGA. In addition to Sunday's top-10 finish, he tied for fifth at Royal Troon, allowing his world ranking to jump from 98th to 53rd. He's sure to crack the top 50 with his latest finish, opening up all kinds of playing possibilities. --P.K.