Year In Review
15 Pictures That Tell The Story Of 2015
If you only saw these images, you could be sufficiently caught on everything that happened this year.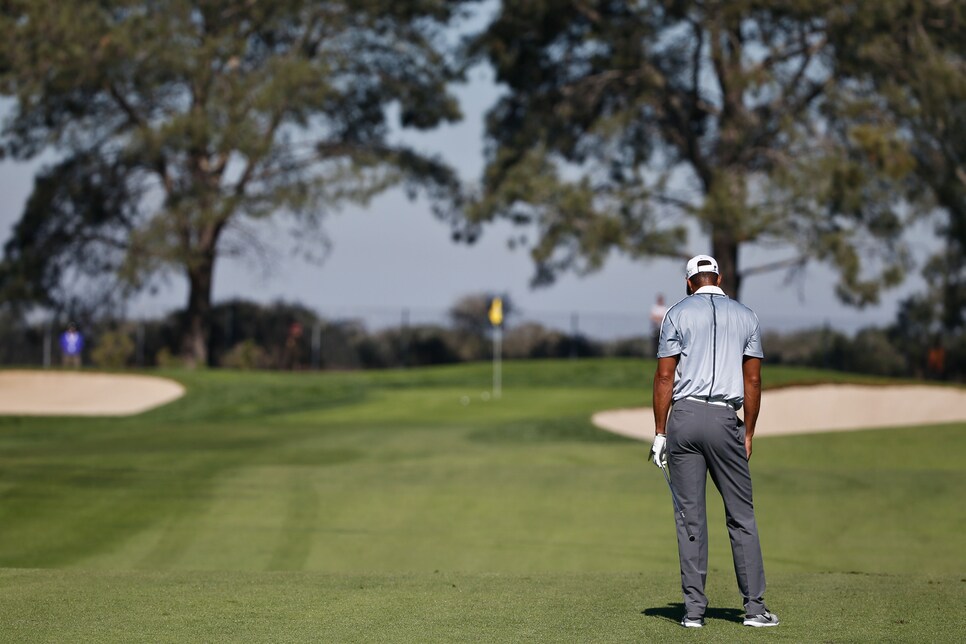 Photo By: 2015 Chris Condon/PGA TOUR
Photo By: WARREN LITTLE/R&A/R&A VIA GETTY IMAGES
Photo By: 2015 Getty Images
Tiger Woods withdraws from the Farmers Insurance because of back pain, sending year into tailspin.
Donald Trump seems to be everywhere in golf, for better or worse.
Jordan Spieth wins the Masters, seems pretty happy with his lot in life.
Woods shows signs of life at the Masters, then gets hurt again. Rinse and repeat.
Rickie Fowler puts "overrated" tag to bed, birdies the 17th hole at Sawgrass three times on Sunday to win the Players.
Photo By: 2015 Chris Condon/PGA TOUR
Jason Day collapses at the U.S. Open, bravely completes round, then contends over weekend.
Rory McIlroy introduces American golf fans to the phrase "kickabout," reveals it will cost him shot at Open Championship.
Zach Johnson spoils Jordan Spieth's party, rolls in birdie putt on 72nd hole to enter playoff (he won).
Photo By: WARREN LITTLE/R&A/R&A VIA GETTY IMAGES
Jason Day proves he can handle the big moment after all, wins first major at PGA Championship.
blog-jason-day-celebrate-0818.jpg
Suzann Petterssen sets off kerfuffle at Solheim Cup by not giving two-foot putt, igniting inspired U.S. debate and setting off grill room debates worldwide.
Photo By: 2015 Getty Images
Peter Malnati leaves dramatic recovery shot in hazard, flips out, wins fans.
Barack Obama provides fodder for Republican critics and wedding purists by crashing a wedding post-round at Torrey Pines.
Paige Spiranac becomes best known women's mini-tour player on planet, misses cut in pro debut at the Dubai Ladies Masters.
Photo By: Getty Images
Bill Haas spares father (and U.S. captain) Jay endless charges of nepotism, comes up big in final match to clinch Presidents Cup for the Americans.
Lydia Ko wins first major and a million dollars in the season-ending tournament, becomes queen of the victorious "I got mine" selfie.
Photo By: @lydsko