Each week our Mr. Style, Marty Hackel, weighs in on the fashion highs and lows from around the golf world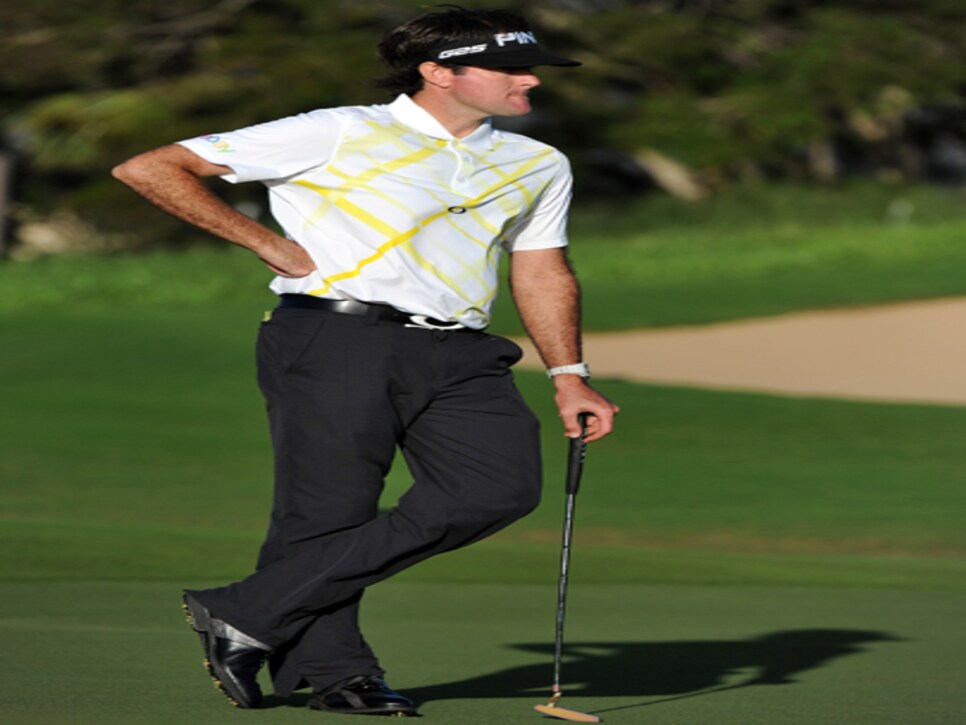 1.9.13
Bubba Watson: The 2013 edition of "Mr. Oakley" Bubba Watson. Hey check out that eBay logo on the right sleeve.
1.9.13
Golf clubs in the hotel lobby: Golfers from Japan aren't bashful about bold colors in their golf bags and head covers.
1.9.13
Webb Simpson: The U.S. Open champ is IZOD's newest team member.
1.9.13
David Choi: K.J.'s son stylin' bright colors. Looks like the apple didn't fall far from the tree.
1.9.13
Nick Watney: The California native joins the Nike Team head to toe, and mellow too.
1.9.13
Johnson Wagner: New season, no mustache. And speaking of facial hair...
1.9.13
Grant Berry: Carl Pettersson's caddie's new year's resolution is to be clean shaven every day! Is that a misquote?
1.9.13
Zach Johnson: Zach's been wearing Oakley sunglasses for seven years -- now he's wearing the clothes as well.
1.9.13
Kyle Stanley: Like Watney, Stanley has joined Team Nike. Here, he shows off some of his new threads.
1.9.13
Scott Piercy: The Las Vegas native rocking the IZOD stripes. Of course, ex-soccer players can become winning PGA Tour golfers.
1.16.13
Russell Henley: Great win! You might want to consider going down one size in shirts and shortening those trousers. That said. . .
1.16.13
...your shirt on Saturday was right on trend (modern and graphic).
1.16.13
Scott Langley: The "other" American rookie from the Sony Open understands fit with a great modern look. Well done.
1.16.13
Rory McIlroy: And in the least surprising news of the week, Rory and Nike have committed to one another, and it looks great so far. Notice the shirt. It's a classic design, very throwback. Santander on the bag; that's one of the Ferrari Formula 1 sponsors. I wonder if the other side has a big swoosh?
1.16.13
Jesper Parnevik: Another sponsor move came this week as Jesper Parnevik signed with Cobra Puma Golf. Who can forget Parnevik's turned up bill on his cap? (When he first came over to the States in the winter from Sweden he wanted to get a tan so he turned his bill up.) Always a colorful character, remember those pink trousers he wore when he won the Byron Nelson Classic in 2000? Puma and Parnevik are an excellent match as both are hip, bold, and fun. Watch for his Puma debut at the Humana.
1.16.13
John Daly: Just when you thought Daly and Loudmouth could not extend the "look" any further, they have! Has anyone seen where I put my sunglasses?
1.16.13
Webb Simpson: Wearing the young and bold IZOD. We like the new look; it's clean and makes you look young and thin -- we already know you're rich.
1.16.13
Wait a second, am I seeing double? Scott Piercy sporting the same shirt, and notice once again how great the fit is. And is that an IZOD belt buckle too?
1.16.13
Facial Hair: Golf is not a contact sport, and now that many watch on high-def monitors this unshaven/NHL look is not good! Unless you're the former University of Hartford hockey player Jerry Kelly, never show up looking like you overslept.
1.23.13
Ryo Ishikawa: No. 1 on this week's style leader board, Ryo always looks great. It doesn't even make a difference whether he's wearing a liberty-print shirt, or...
1.23.13
...pink pants, he really makes it work. Hope Callaway brings this great look and style back from Japan. P.S. -- He can get away with a white belt.
1.23.13
Jesper Parnevik:
No. 2 on this week's style leader board, Jesper in Puma looking good! I guess all that
Gangnam's
got you in shape. Hey, how come no one's talking about that cargo pocket on his right leg? And are those knee pads?
1.23.13
Rory McIlroy: Attention someone at Nike: Please reconsider selecting patterned trousers that have no definition on television. Think they missed a huge opportunity to showcase Rory's distinct style in his Nike debut.
1.23.13
Rory McIlroy: This is how we want to see him; bright orange shirt, cool shoes (notice that fluorescent lime). Clean and modern, now we're talking!
1.23.13
Tiger Woods: We love Tiger wearing a bright yellow shirt. Is agent Mark Steinberg now wearing red on Wednesdays?
1.23.13
Martin Kaymer: Everyone take note, this is the new color for 2013.
1.23.13
Jason Dufner: I guess when you're the No. 11 golfer in the world, they even take pictures of you warming up and stretching.
1.23.13
Sohail Al Marzuqui: The 20-year-old amateur representing the United Arab Emirates in Abu Dhabi is looking good in a great fitting shirt and color combination with his pants. He might want to check the length of the trousers, however.
1.23.13
Francesco Molinari or Leonardo da Vinci? Pick 'em.
1.23.13
Branden Grace: Despite the fact that he has a white belt, this look is modern and trim -- and the fit is pretty close to perfect.
1.23.13
Justin Rose: Your Ashford shirt is terrific, but make sure those pants don't get too long. If in doubt, check Jamie Donaldson's length. By the way, Donaldson loved those Galvin Green white pants so much, he wore them everyday.
1.23.13
Bob Estes: Looking great to start the season. All we need to do now is work on the fit of that shirt. Those sleeve openings look huge, don't they?
1.23.13
Michael Bolton: Hate to tell you, but it's 2013 and those belts with the silver-tipped ends have been out for a number of years. That's right, years!
1.23.13
Kevin Stadler: Please wear this look 24/7. Nice subtle, tonal combination, which, for a big man, is great.
1.23.13
Russell Henley: You are on a style streak! Another week for bright, sunny conditions. The Nike yellow really pops.
1.23.13
James Hahn: The white belt is out!
1.23.13
James Hahn: The darker belt looks solid and makes a subtle statement.
1.23.13
Bryce Molder: Smooth. We all know what I think about white belts, but it almost works with white pants.
1.23.13
Scott Stallings: Good selection as these Under Armour stripes are striking and bold. You're looking trim and fit for the '13 season.
1.23.13
Gary Woodland: Looking great in Callaway. Glad to have you back.
1.30.13
J. Lindeberg won the award for "Best Striped Shirt," and as an added plus, the blue beauty is spot on the color trend.
1.30.13
Billy Draddy has created a special collection for Summit Brands. These 100% Peruvian Pima cotton self-collared shirts are super soft and will feel like your favorite old shirt right off the rack.
1.30.13
RLX Ralph Lauren's Merino Camo sweater makes a stylish statement. Talk about being on trend; as Nick Wooster says: "Camo is the male version of leopard."
1.30.13
FootJoy has always been a major player in outerwear. They offer a huge assortment of styles to enable you to build a portfolio of products to deal with the elements.
1.30.13
FootJoy continues to create practical and colorful outerwear. The three on the left are from the new DryJoys Tour XP collection, and all are on my favorites list.
1.30.13
As expected, Puma leads the way with headwear.
1.30.13
I especially loved the new trucker styles.
1.30.13
Oakley introduced a full collection of sublimated print shirts.
1.30.13
Because the print is in the fabric, these Oakley shirts are extra soft.
1.30.13
Club Glove introduced a doctor's bag that will become the new duffel bag standard. All of the Club Glove gear is top notch and has the highest quality materials and workmanship, so this beauty will be in your collection for a long time.
1.30.13
The Ecco Biom Zero shoe is a featherweight beauty. It amazes me how they manage to create compelling new styles every year.
1.30.13
To me, one of the biggest stories at the PGA Show was the dominant presence of colorful products. G-Fore continues to lead the trend with this knock out collection of footwear. If you want to make a statement, The Gallivanter is "IT." It comes in six cool colors, and have you ever seen anything from Mossimo Giannulli that isn't cutting edge?
1.30.13
OMG, aren't these killer? The new short socks introduced by Kentwool look fantastic. Question is, will Bubba Watson wear the green ones at the Masters?
1.30.13
Color had a major presence at Kentwool with the 19th Hole Collection. My only comment is why save these for the clubhouse? I plan on wearing these beauties on the course, too!
1.30.13
True Linkswear's Sensei shoe works on course and in addition is a great running shoe. All of the True shoes share the same philosophy of keeping the toe and heel on the same level. Name me another golf shoe that has run the Portland Marathon.
1.30.13
If you look up "Great Knit Headcovers" in the dictionary, you will see an image of these Jan Craig beauties. You can create your own color combinations. My only problem is trying to decide which to buy!
1.30.13
Martin Golf continues to impress with its woven "popover" shirts in great patterns and colors. This is a classic menswear style and these all-cotton shirts are beautiful.
1.30.13
Linksoul by John Ashworth has come full circle and this collection reminded me of why John made such an indelible impact on the golf apparel lifestyle. Relaxed and perfect both on and off course, every style seems to have a patina of ageless style (just like John himself).