1 / 9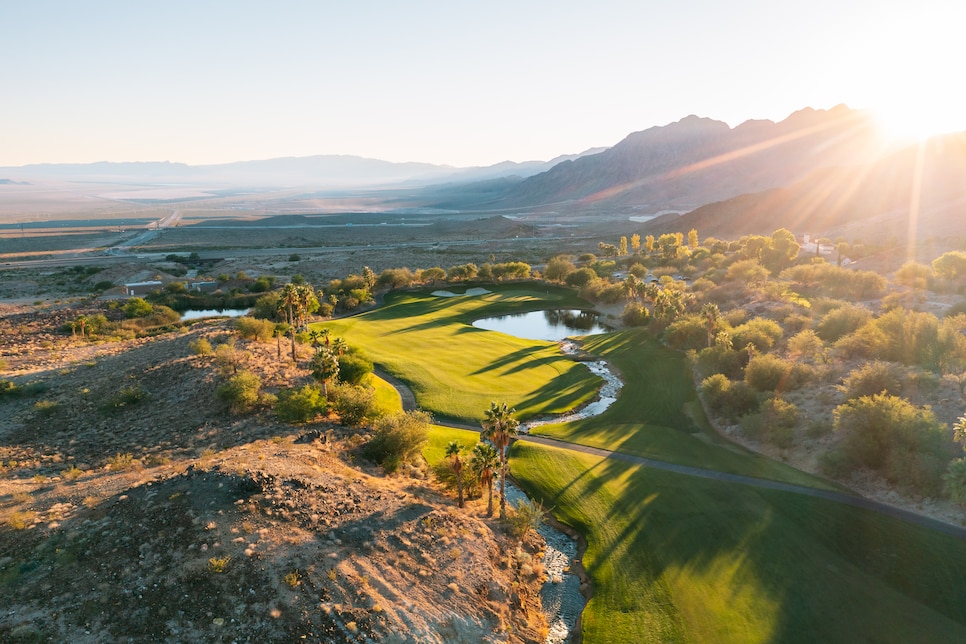 2 / 9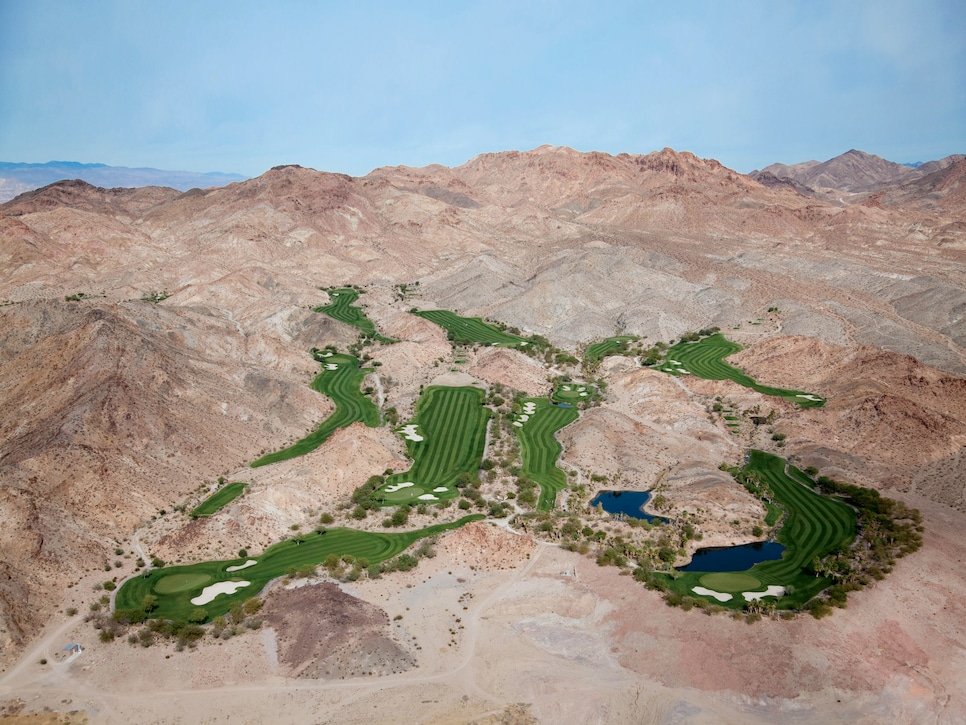 3 / 9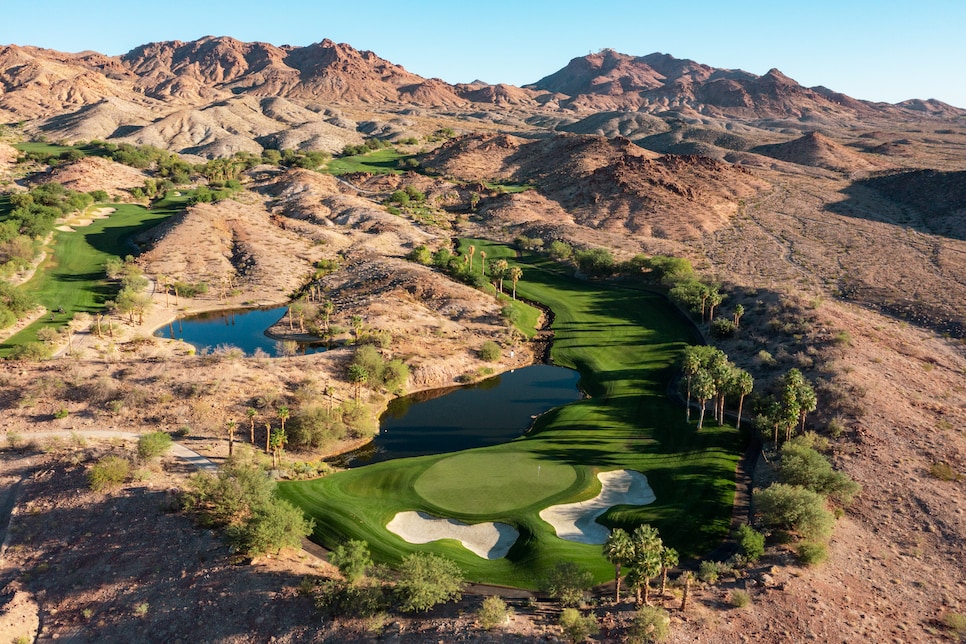 4 / 9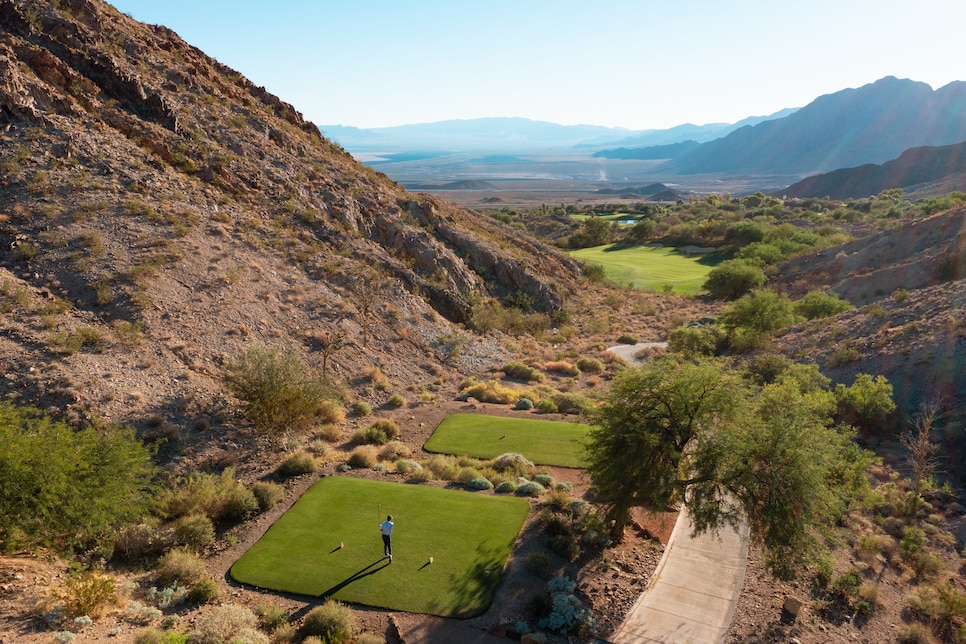 5 / 9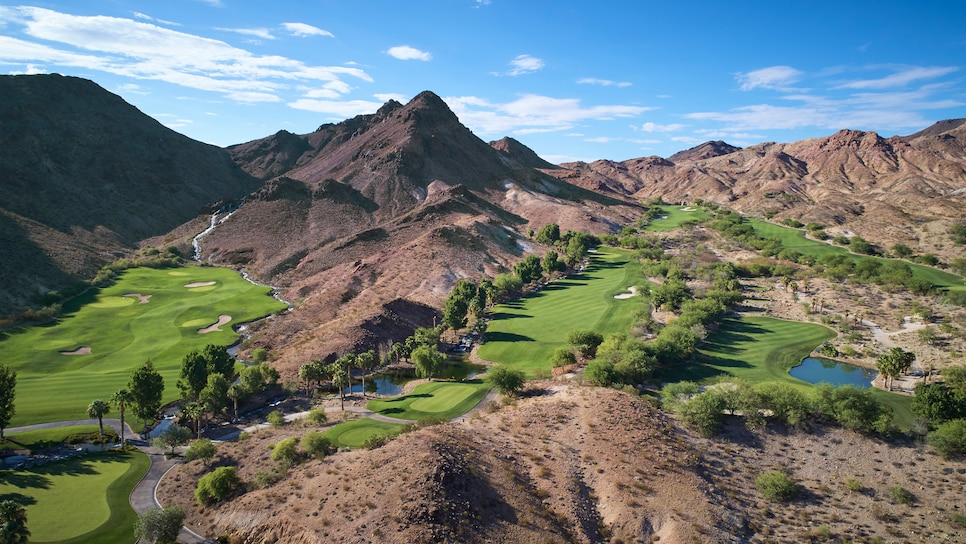 6 / 9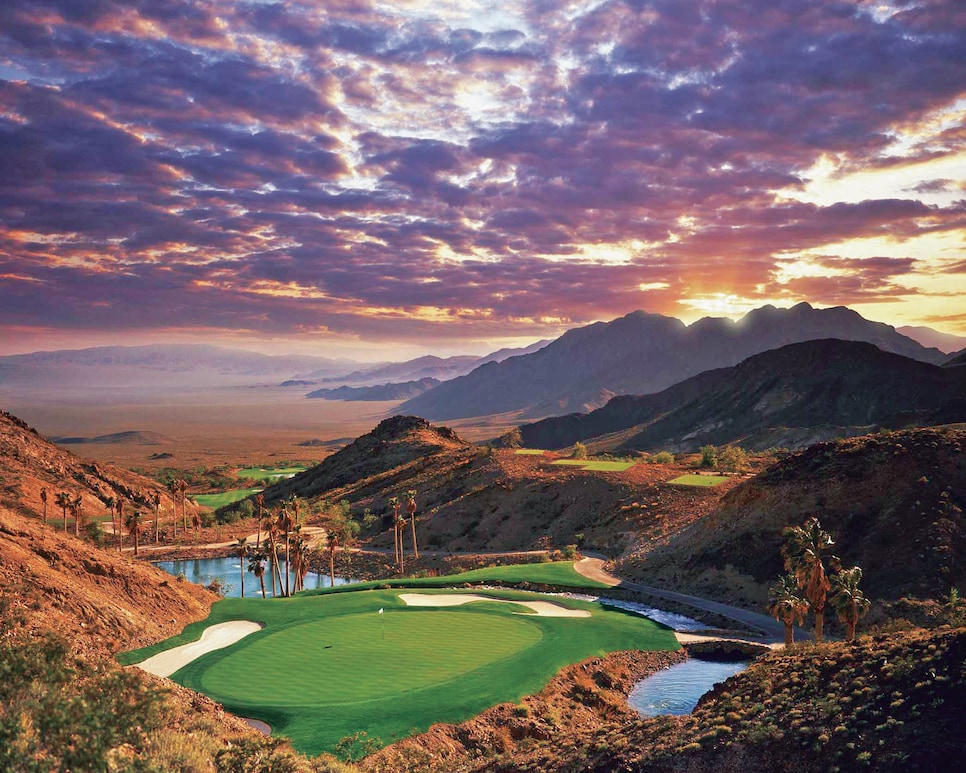 7 / 9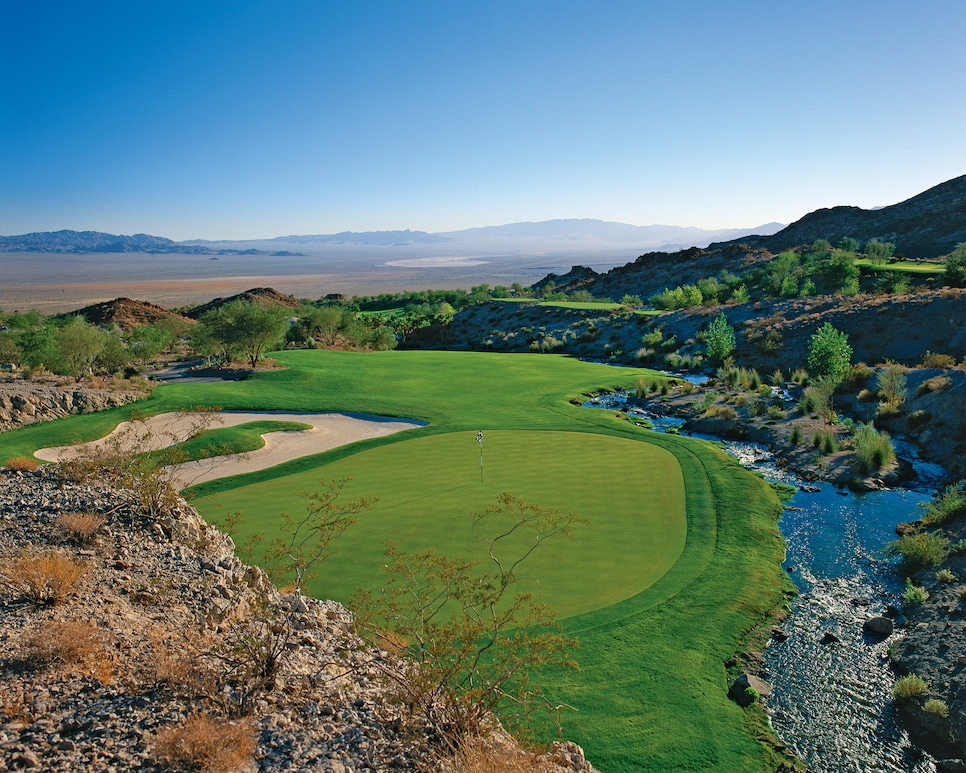 8 / 9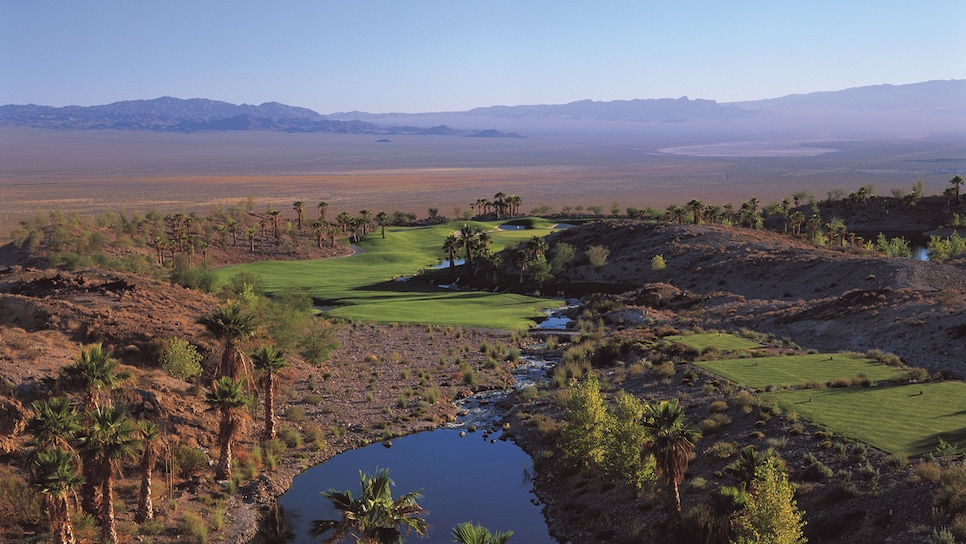 9 / 9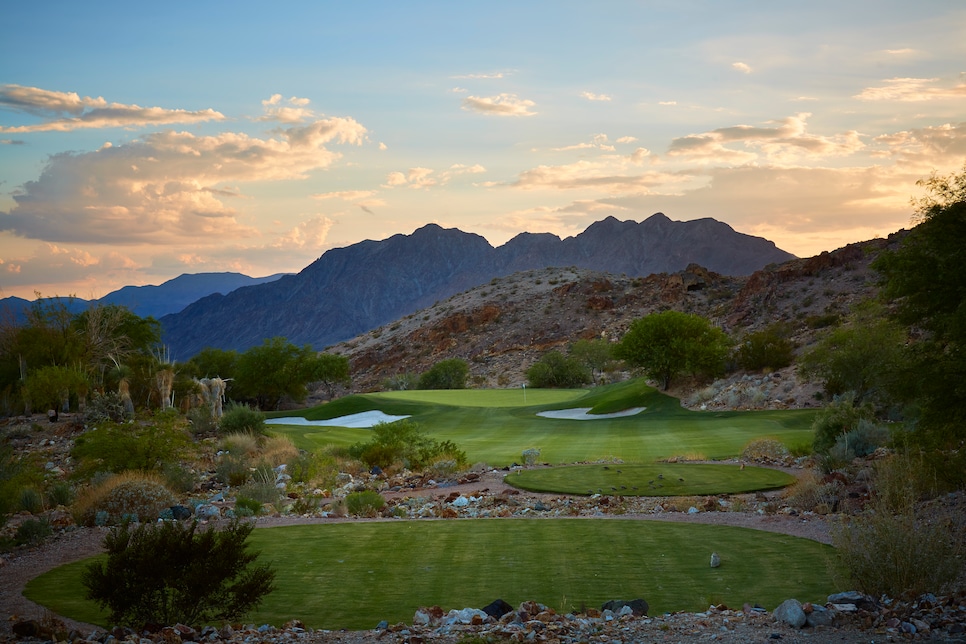 Overview
One of the great engineering feats in golf thus far in this century, Cascata climbs up and down a steep, rocky mountain hillside southeast of Las Vegas. It's authentically Nevada on the edges, the barren areas akin to Wolf Creek in Mesquite, but its turfed areas, planted with date palms, ironwoods and willows, and crossed by endless babbling brooks, is something of a salute to nearby Shadow Creek. Cascata plays mostly uphill on the front (the ninth tee is 600 feet above the clubhouse), downhill on the longer back nine.
About
Designer
Rees Jones, ASGCA
Awards
Second 100 Greatest: Ranked 180th, 2013-'14. Ranked 189th, 2015-'16.
100 Greatest Public: Ranked since the inaugural edition in 2003.
Highest ranking: No. 46, 2015-'16.
Previous ranking: No. 70.
2023-'24 ranking: No. 61.
Best in State: Ranked inside the top five, 2011-'14. Ranked inside the top 10, 2015-'24.
2023-'24 ranking: 6th.
Panelists
Ratings from our panel of 1,900 course-ranking panelists
100 GREATEST/BEST IN STATE SCORES
Reviews
1 / 14
Review
"Italian for "waterfall", Cascata is a glitzy upscale public course just outside Las Vegas. Featuring one of the nicest clubhouses and amenities of any public course in America, Cascata is not cheap but is well-worth a play in Vegas. The course winds up and down a mountain and features amazing views for miles of the surrounding desert. The course is difficult but fair and features some really memorable holes such as the par 3 7th or par 4 16th."
Read More
2022
2 / 14
Review
"Not many flat lies at Cascata. Your round gently traverses the mountain and its man-made lakes and waterfall. The average golfer may find this course too expensive with the mandatory forecaddie, but the advice is well worth it. The rocky areas of Cascata provide a stadium effect for many of the downhill holes, which offsets some of the tighter driving holes."
Read More
2022
3 / 14
Review
"Unusual layout, you don't see the club house once you leave the first hole until the 18th."
Read More
2021
4 / 14
Review
"Great golf course, good conditioning, excellent customer service. Higher price point, but worth the expense."
Read More
2019
5 / 14
Review
"High end course that has an awesome clubhouse. Course has a few really good holes."
Read More
2018
6 / 14
Review
"Very hard to find a course with more WOW factor as you enter the facility. Amazing service welcomes you into a amazing clubhouse, followed by one of the most scenic driving range you will ever see. The course design makes it feel as though you are on your own private golf course. The high price green fees is not for everyone, but is definitely something you have to do if you are in Nevada and want a top notch golf experience."
Read More
2018
7 / 14
Review
"Very scenic desert course. One of the best places to play in the Las Vegas area. Unique clubhouse with a waterfall in the middle."
Read More
2018
8 / 14
Review
"Very nice desert course. Upscale."
Read More
2018
9 / 14
Review
"Fun place. Spectacular mountain course with waterfall through clubhouse! Only reason it is not 5 stars is that too many holes go up and down the mountain. Otherwise, a great place to play golf!"
Read More
2018
10 / 14
Review
"Good solid design. One of the coolest clubhouses I've seen with a river running right through the middle of it."
Read More
2018
11 / 14
Review
"Great course on the hillside about 35 mins from the strip. Holes run up and down the mountain side with 900 feet elevation changes within the course. Waterfall come down the mountain and the center of the clubhouse. Great conditions!"
Read More
2018
12 / 14
Review
"Great, well kept course. Artificial features are amazing. Creek running through clubhouse next to indoor cart path is so unique. Pro shop offers great products. A little quiet for clubhouse atmosphere."
Read More
2018
13 / 14
Review
"While a few of the holes, and occasionally the green speeds, are "over-the-top," this is a first class experience regardless of how you react to the course itself."
Read More
2018
14 / 14
Review
"This is not Shadow Creek, but it is a great way to spend the day. The caddies are excellent and the course routed on a side of a hill. It is great fun and a very good test of golf while also being user friendly. The clubhouse is grand and the food excellent."
Read More
2018
Readers
Collection of reviews from our readers
There are no reader ratings yet
Reviews
There are no readers reviews yet. Be the first to write a review.