Mid Pines Inn & Golf Club
Southern Pines, NC • Public
1 / 1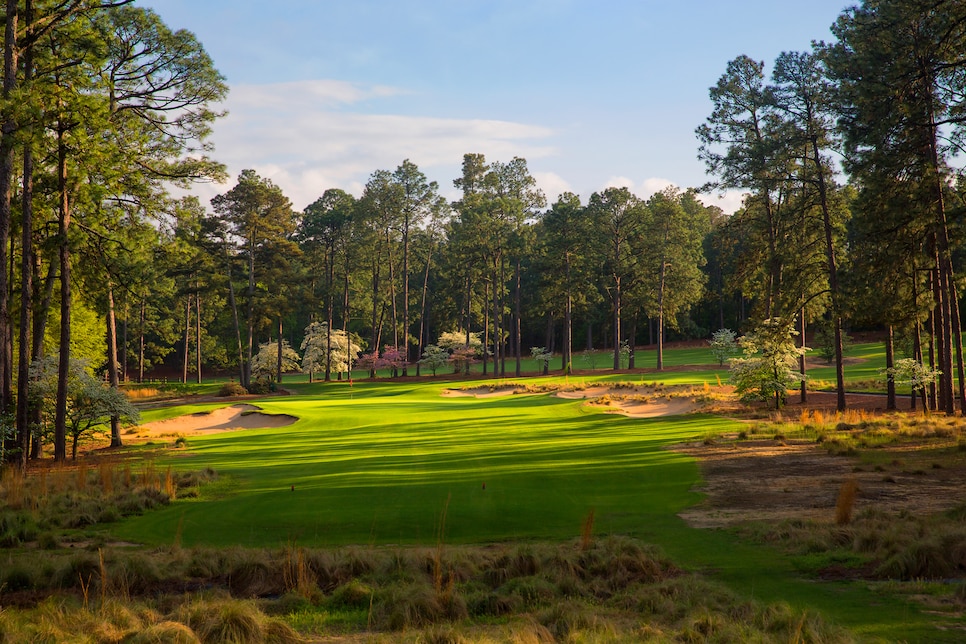 Courtesy of Mid-Pines GC/kevinmurraygolfphotography.com
Overview
What began as a private retreat called Knollwood, funded by Roaring Twenties millionaires like James Barber, Horace Rackham and Henry Ford, is now a charming public Donald Ross design, revitalized by young first-time designer Kyle Franz in the style of Pinehurst No. 2, where Franz had worked on the restoration. Mid Pines is pure elegance and beauty. The routing is spellbinding, with holes that stretch out into corners at the property's high points, then fall back down to intersect at junctions across the calmer interior. Franz's 2013 work expanding greens and restoring the perimeter sandscapes has greatly enhanced one of Pinehurst's most refined golf presentations.
About
Designer
Donald J. Ross, ASGCA/(R) Kyle Franz
Awards
100 Greatest Public: Ranked since 2017.
Highest Ranking: 86th, 2023-'24.
2023-'24 ranking: 86th.
Best in State: Ranked Top 25 in North Carolina since 2019.
2023-'24 ranking: 24th.
Panelists
Ratings from our panel of 1,900 course-ranking panelists
100 GREATEST/BEST IN STATE SCORES
Reviews
1 / 11
Review
"Beautiful Ross design cut through the pine woods, very little appears to have changed since the original but conditioning is outstanding. Beautiful property "
Read More
2022
2 / 11
Review
"Along with its sister courses Southern Pines and Pine Needles, Mid-Pines is a terrific old-school Donald Ross course in the Pinehurst area. While the overall course is not as cohesive as the others at the Resort, there are some terrific holes here. In particular, the par fours are a strong group from the fantastic opener to the risk-reward 4th and downhill 16th. The closing hole finishes at the base of the hotel and is one of the most iconic closers I've played."
Read More
2022
3 / 11
Review
"Very nice layout, but tight fairways make it important to be straight off the tee."
Read More
2022
4 / 11
Review
"I would love to play this course often and get to learn it. One time is just not enough. I think this is the kind of course that grows on you the more you play it. It is not easy the first time as you really need to know what type of shots to hit into the hills to avoid running into the pines and waste areas which are very difficult to recover from."
Read More
2022
5 / 11
Review
"Great old Donald Ross course recently renovated. This is old-world golf at its best. It's not long but every hole is interesting and it is a ball to play."
Read More
2019
6 / 11
Review
"Just a fabulous setting for a golf course. Wonderful Donald Ross green complexes and a world-class set of Par 3 holes would be enough to draw any golfer here. The fabulous mix of Par 4s and some good Par 5s are just a bonus to an overall spectacular ambiance."
Read More
2019
7 / 11
Review
"Recent renovation by Kyle Franz has greatly improved course, which is now a must play on any trip to Pinehurst."
Read More
2018
8 / 11
Review
"Simply horrible condition--greens were punched and bare in spots. Fairways were punched and very soft, bare in spots. Tee boxes were raw dirt in some cases. Decent layout but tee boxes and greens are very close, noisy, and distracting...and in some cases a little dangerous. Good Donald Ross original design, but will be worth playing again after condition improves."
Read More
2018
9 / 11
Review
"A must play since redesign completed. Hotel has rich tradition. Very playable. Great service."
Read More
2018
10 / 11
Review
"great restoration work by Kyle franz"
Read More
2018
11 / 11
Review
"A joy to play while in the Pinehurst area. Wide fairways but tough shots to the green on most holes."
Read More
2018
Readers
Collection of reviews from our readers
There are no reader ratings yet
Reviews
There are no readers reviews yet. Be the first to write a review.