Tour Life
This tour pro and his caddie have the most interesting side bet going in golf right now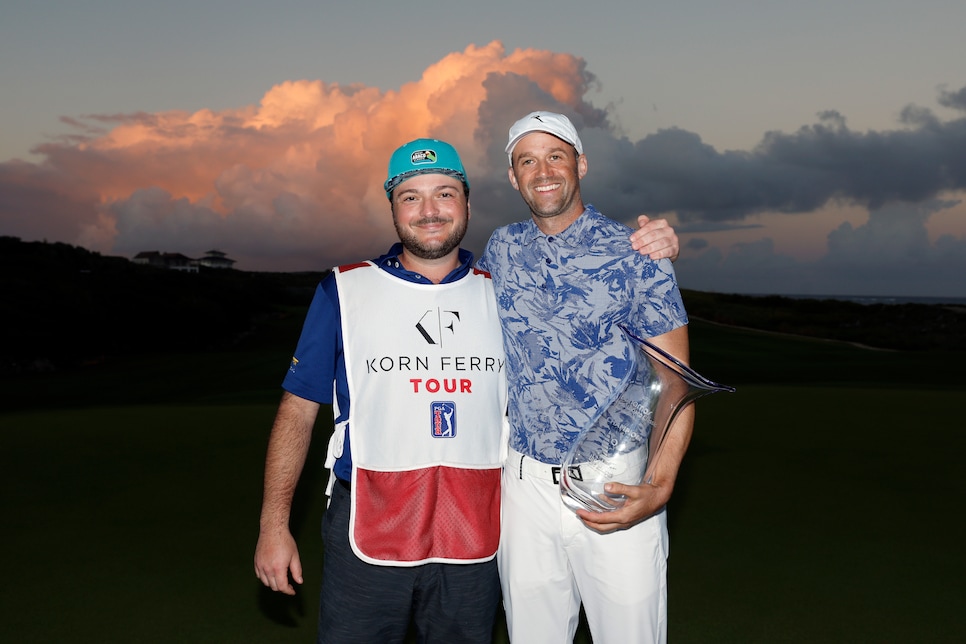 Ben Silverman's fantastic season on the Korn Ferry Tour has already wrapped up a return trip to the PGA Tour in 2024. But on Wednesday he arrived at the range ahead of the Nationwide Children's Hospital Championship looking like he just came from a kids birthday party.
Needless to say, the 35-year-old Canadian needed to explain the situation. And, yes, the balloon-animal butterfly wings were part of a side bet. And a rather interesting one at that.
It turns out that Silverman and his caddie have a "birdie-bogey" bet. "Last week, Ben and I made a bet that any bogey he made, he had to do something kind of embarrassing of my choice," his caddie says in a video shared by the Korn Ferry Tour. "And then every birdie he made, I have to do 25 burpees. So he made four birdies and two bogeys last Sunday, so I've knocked out 50 burpees so far, and he's holding up his end of the bargain."
I'll say. Although, Ben definitely got the better of that deal. Burpees are the worst. Anyway, here's the video:
Hey, it's a long season so sometimes you need to shake it up to keep things interesting.
Silverman spent two full seasons (2017-2018 and 2018-2019) on the PGA Tour and is currently No. 4 in the season-long Korn Ferry Tour standings. But he's probably best known for being Aaron Rodgers AT&T Pro-Am partner this year when the two won the team competition despite Silverman missing the cut—prompting Keith Mitchell to complain about the quarterback's "crap" 11 handicap.
On Wednesday he was all smiles again despite the interesting look. Because A.) he's going back to the PGA Tour, and B.) he doesn't have to do any burpees later.